Are you a secondary school student or teacher looking for a challenge that will stretch and inspire you?
If you are keen to travel and change lives, become part of our unique and rewarding adventures.
Take learning beyond the classroom and spend 2 incredible weeks of fun in Tanzania or Peru, surrounded by fascinating history, natural beauty and incredible cultures, and supporting vulnerable communities living in poverty!
Begin your school's Vine Trust adventure and help us to deliver significant and sustainable development to those who need it most.
Start your school's adventure today. Contact us to arrange a unique trip to Tanzania or Peru:
Email Us
8
Schools volunteering in Tanzania or Peru in 2019
142
School Volunteers will travel in 2019
905
School Volunteers in Total
What is a School Expedition?
Vine Trust's School Expeditions provide an exceptional opportunity for students to engage in sustainable international development while making incredible friendships and memories.
Support the construction of orphanages and small family homes in the Kilimanjaro region of Tanzania, and community projects and children's homes in Arequipa and Lima, Peru. Through Vine Trust's hands-on projects, in partnership with local organisations, we enable students to become active global citizens through enacting and empowering vulnerable communities, leading to significant change.
Start your school's Vine Trust adventure, .(JavaScript must be enabled to view this email address).
Make friends and memories which will last a lifetime.
Cultural learning
In addition to volunteering on sustainable development projects, your school will also discover more about the culture, history and nature of Tanzania or Peru. In Tanzania, students will go on an organised safari, learning about the country's amazing geography and biodiversity, hoping to catch sight of as many of the "Big 5" as possible!
For schools visiting Peru, there is the opportunity to learn more about the history of the ancient citadel of Machu Picchu and explore the incredible geography of the country.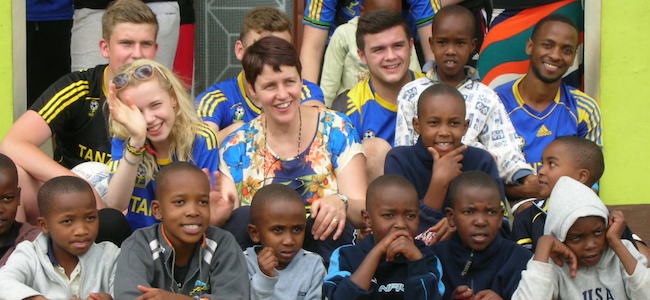 School Expeditions to Peru
If you're looking for the school trip of a lifetime with added South American flare, then join us on a Vine Trust School Expedition to Peru!


Working alongside local organisations, we help to provide children and adults with access to education facilities and a safe and loving home where they can stay.

Working with Mensajeros de la Paz (Messengers of Peace) in the Lima shanty town of Chorillos, your school will help build small classroom units to enable children and parents to gain an education, improving their quality of life and teaching the community new skills.

The New Hope children's home in Arequipa is a warm and welcoming centre for between 40 to 50 orphaned children. School Expeditions will help maintain and develop the centre through renovation, landscaping and construction, ensuring the children have the best possible start in life. You will be able to get involved with sport, crafts and game activities with local children on both projects, ensuring it is rewarding and enjoyable for everyone.
School Expeditions to Tanzania
Go on an African adventure to Tanzania and experience the vibrant life and colour this continent has to offer!
Vine Trust's School Expeditions work in partnership with in-country organisations to build individual homes for families, and larger homes for orphaned children. These life-changing homes, built in the Kilimanjaro region, provide shelter, security and hope to some of the world's most vulnerable families living in poverty.
You will visit children's homes and centres for children orphaned by HIV, AIDS, TB and other, often treatable diseases. The work you undertake during your visits will help to make a significant and lasting difference to these children's futures.
What skills will students develop?
In addition to making a significant difference to vulnerable communities, School Expeditions are an invaluable way to enhance students' personal skills while learning about other peoples and cultures. Our volunteering programme will encourage you to recognise the diverse challenges faced by communities across our world, and ask you to consider how the actions of individuals and communities affect others.
Students will:
become active global citizens
develop leadership skills, becoming confident and responsible citizens
actively engage with global issues and use teamwork to discuss solutions and improvements
make a practical difference to the lives of marginalised children and families
become ambassadors for change, representing those living in poverty
experience another culture, and learn from collaborating with local people
overcome cultural and language differences to support and complete projects
have fun and change lives while working together as part of a team
Frequently Asked Questions