Medical Services
There are many isolated parts of the world where people live with little or no access to medical services. High mortality rates and suffering could easily be combated by some basic but regular medical attention and accompanying health education.
In response to this need, Vine Trust works with partners to strengthen health systems for some of the most vulnerable communities in the world, primarily through the use of medical ships.
Medical Ships
The use of a medical ship provides a unique and innovative approach to providing an itinerant health care service to isolated communities. Taking into account that many remote communities cannot travel to the nearest hospitals or clinics due to distance, financial or climatic factors, the ship provides a safe and hygienic facility which can easily be accessed by patients throughout the year.
All the ships are specifically equipped with medical consultation areas, dental clinic, minor surgery room, pharmacy, laboratory and all instruments and equipment necessary to provide a quality service in primary health care. The use of a ship also ensures that all staff are able to work and be accommodated in a secure environment, allowing the participation of a sizeable team of health professionals from a variety of medical specialities to join the regular expeditions.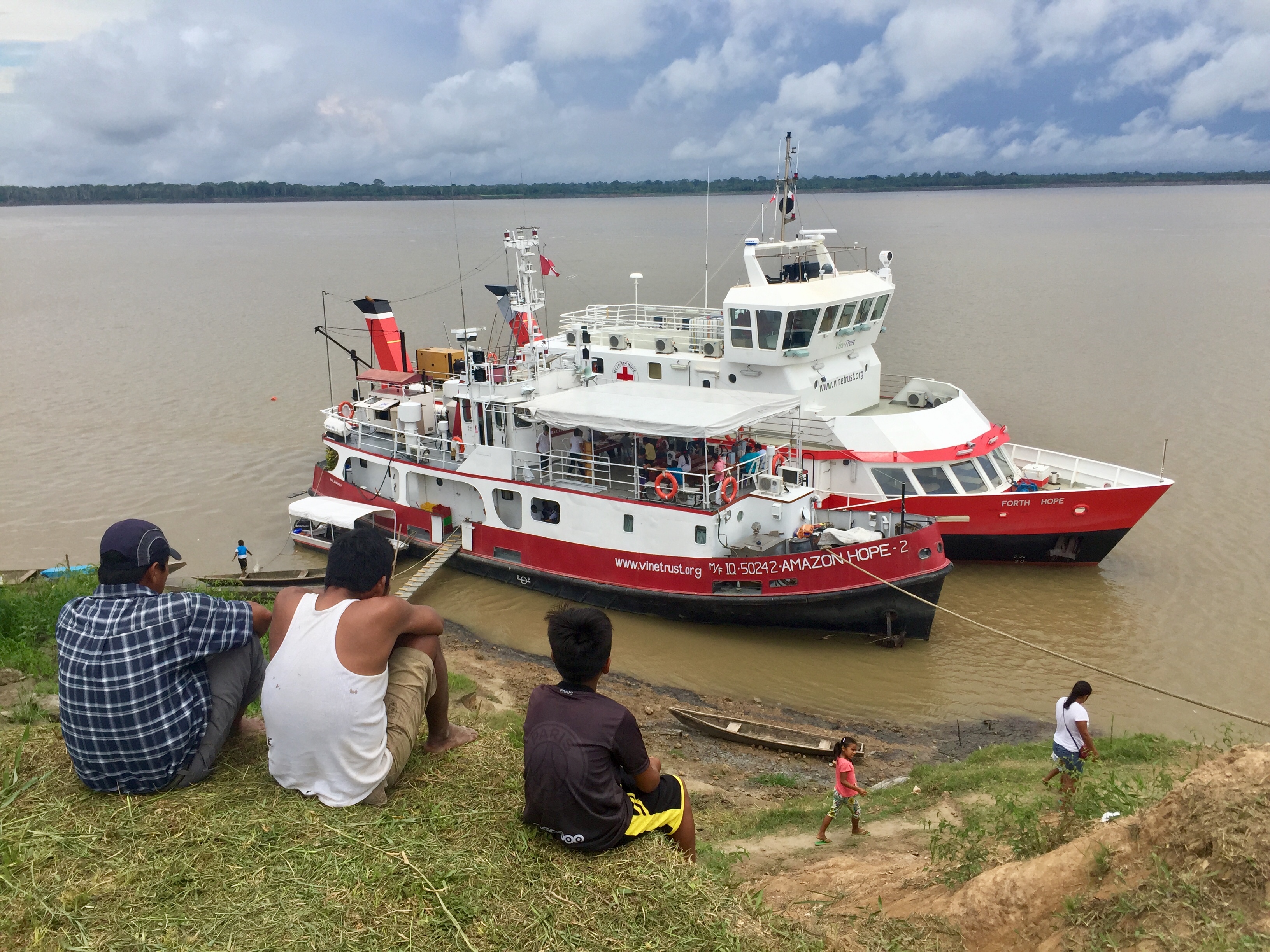 Tanzanian Lake Victoria
The Jubilee Hope Medical Programme is a collaborative project between Vine Trust and Africa Inland Church Tanzania which has been working with islands communities of the Muleba District in the Kagera region of Tanzania since 2015. These vital primary health care services provide a range of facilities for patients, with a particular emphasis on HIV/AIDS due to an estimated 20-30% of the islands population being infected. In 2016, support groups were started for women living with HIV (who face stigma, prejudice and the high risk of violence) by empowering them through education, orientation and access to microloans.
Peruvian Amazon
The Amazon Hope Medical Programme began in 2002, steadily growing each year so that by 2013 the program was working in six river basins (Amazon, Manití, Ucayali, Puinahua, Tigre and Marañón). In 2014 the Programme increased its collaboration activities with the Regional Government of Loreto through its teams of Comprehensive Health Care for Excluded and Remote Populations (AISPED).
As a result of this successful collaboration, in 2017, this work was expanded to coincide with the arrival of Vine Trust's latest medical ship, the MV Forth Hope which more than doubled the capacity to provide health services to the riverine communities. By the end of 2020, the Amazon Hope Programme will have provided over 1.7 million consultations since its services began.
Collaboration
Collaboration is fundamental to everything Vine Trust does through its medical programmes. This can be clearly evidenced through the participation of overseas volunteers (1425 medical volunteers from 19 different countries), the building or refurbishment of its medical ships (over 30 business were involved in supporting the recent MV Forth Hope project) and in the delivery of medical services and development of the medical programmes' services and activities.