Latest News:
Medical Conference 2023
We are delighted to announce that Vine Trust will be holding its 5th Medical Conference on Saturday 11th of March 2023 For the first time, representatives of both the Amazon Hope and Jubilee Hope medical programmes will be in attendance to share updates on the work, with a particular focus on how partnerships and collaboration have been so important to the progress of the work they are doing in Peru…
Find Out More
Latest News:
A record year for the Amazon Hope Programme!
A record year for the Amazon Hope Programme! Congratulations to the Amazon Hope team on their amazing achievement of providing 192,687 consultations during 2022, which is the highest ever annual total in the programme's 21-year history! During the month of November, the programme also passed the 2 million consultations total since the services began! The success of the programme has, once again, been down to the incredible dedication and hard…
Find Out More
Latest News:
Welcome to Vivian Onyeneke
We are delighted to welcome a new member of staff to Vine Trust, Vivian Onyeneke. Vivian has joined as key member of the Admin team at the office in Edinburgh, supporting the ongoing development of our partnership programmes and volunteers expeditions. Welcome, Vivian!
Find Out More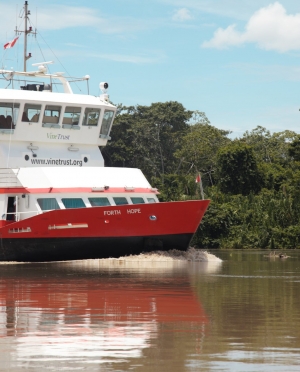 Latest News:
2023 Forth Hope Expeditions Now Available
We are delighted to announce that applications to join the Forth Hope Medical Programme, Peru in 2023 are now open. An expedition with the Forth Hope Programme not only gives you the chance to learn about local health needs and use your medical skills to support the services. It's also a great opportunity to discover more of the local culture from the excellent Peruvian team who manage and deliver the work…
Find Out More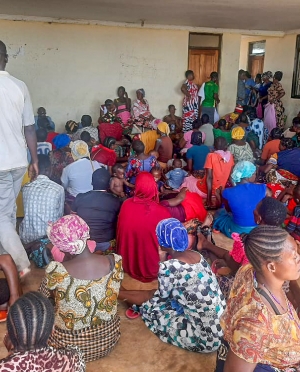 Latest News:
Jubilee Hope visits Goziba Island
After Jubilee Hope's most recent expedition, Programme Manager, Patrick abula reported that "there was great excitedment on the return of the ship to the island of Goziba. There was a huge crowd of patients". Dr Uzia Mohamad, Head of Medical Services, noted that "there has been great team spirit and team work, with quality services offered to patients".
Find Out More