Home-Building Expeditions
Home-building Expeditions
Make a real difference to Tanzanian communities living in severe poverty and change the lives of some of the world's most vulnerable children and families.
Provide shelter, security and a sense of hope through the construction of individual family homes and larger children's orphanages, empowering communities to overcome severe poverty.
You don't need any previous experience of construction or working in a developing country, just a desire to help make a difference. Whether you join a volunteering team, or tailor a bespoke Vine Trust expedition for your organisation, you will play a key role in promoting sustainable, community-led development in Tanzania.
Dates
There are a number of general home-building expeditions in 2017/18:
8 October - 21 October 2017
31 March - 13 April 2018
25 July - 7 August 2018
6 October - 19 October 2018
Apply Now
80
Home-building Volunteers in 2016
20
Individual Family Homes Constructed in 2016
79
Small Family Homes Built in Total
What is a Home-Building Expedition?
Our 2-week Home-Building expeditions are a unique and rewarding way for you to make a practical and long-lasting impact in local Tanzanian communities. We collaborate with our local partners, Tanzania Women Research Foundation and Evangelical Lutheran in Tanzania, and local communities to ensure we best support the most vulnerable children and families through effective and sustainable change.
Get your hands dirty alongside a team of 20-25 volunteers, digging foundations, mixing cement and building brick walls in conjunction with our local builders.
Engage with the local community and meet the people you are building for.
Immerse yourself in the colour and culture of Tanzania while learning about the harsh realities of extreme poverty.
Why not extend your adventure with our "Build Your Own" options, or challenge yourself to climb Mount Kilimanjaro?
Download our Expedition Handbook, or take a look at our Expeditions Blog.
For further details about costs and travel, please read our FAQs or .(JavaScript must be enabled to view this email address)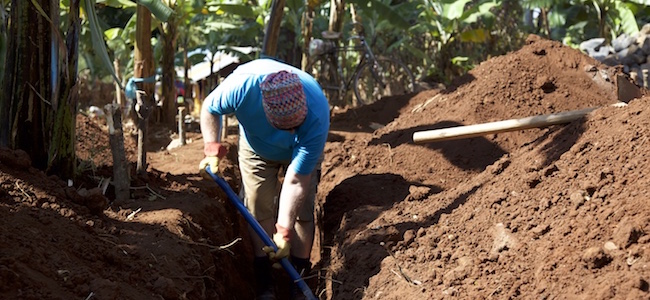 Exploring Tanzania
The focus of your expedition will be on construction, but there are also opportunities to discover the local history, culture and wildlife. Trips to a variety of cultural visitor attractions are included in the expedition, and there is also a chance to sign up for an optional safari to view Tanzania's stunning landscapes and incredible wildlife.
You can also tailor your expedition by combining your trip with our "Build Your Own" Expedition options or by trekking to the summit of Mount Kilimanjaro!
Cost
The cost per person is £1,400. This includes:
transport within Tanzania, food and water, accommodation, entry to visitor attractions, support from UK based and Tanzania Vine Trust staff and a minimum £400 contribution towards building materials and wages for local builders in Tanzania
Not included:
international flights (we will book the flights to access charitable rates), any immunisations and anti-malarial tablets required, visa entry (currently $50 USD), the optional safari with KLM Safaris, any additional "Build Your Own" options or a Kilimanjaro Trek.
Help Build a Brighter Future
"Build Your Own" Expeditions
Use your skills and interests to benefit sustainable projects in Tanzania!
Our "Build Your Own" Expedition options enable you to combine our Home-Building projects with other volunteering opportunities in the local area. Get involved in an individualised experience in one of the following:
supporting staff in local schools in a range of subjects such as English, IT or tailoring
the day to day care of children in children's centres and homes
sports coaching or sports event organisation at a school or children's centre
assisting children with creative arts
supporting environmental projects
fundraising and managing for local development projects
international development work with local projects
You can extend your stay beyond the usual 2 week expedition if you want to devote more time to these additional projects.
.(JavaScript must be enabled to view this email address) to find out more about building your own unique expedition.
Team-Building for Organisations
Vine Trust offers Home-Building Expeditions tailored for teams from companies, organisations and community groups. These programmes provide a unique opportunity to build stronger working relationships and to enhance personal and professional development.
Working with a group of 18 to 25 volunteers, we can arrange an expedition that suits your team. We will work closely with you to organise a bespoke placement that is challenging, fulfilling and enjoyable for everyone involved.
Supporting communities at local, national and international levels, our expeditions are able to meet many organisations' corporate social responsibilities.
Climb Mount Kilimanjaro
Have you got what it takes to reach the "Roof of Africa", the peak of Mount Kilimanjaro? Challenge yourself and help raise funds for our building projects.
KLM Safaris, our trek providers, are offering you the opportunity to conquer Africa's highest mountain as part of a sponsored event in October 2017. Taking the Machame route, one of the more accessible paths, you will spend a week on the mountain, camping for 6 nights. After you have recovered from your trek, you'll join with our Home-Building Team to support their efforts on the work sites.
KLM Safari's experienced guides will take great care of you but climbing this giant is no picnic! You will need to undertake frequent training hikes, while a generally high level of fitness, including a regular aerobic fitness regime, will help you to reach the summit.
Are you ready for the challenge? .(JavaScript must be enabled to view this email address)
Frequently Asked Questions