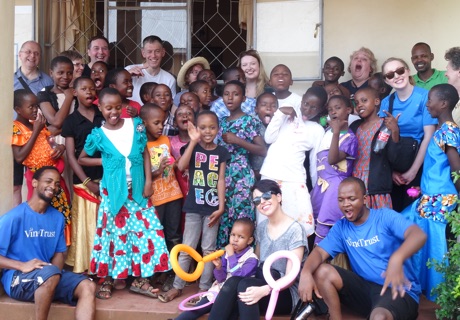 Celebrating 30 years
In celebration of Vine Trust's 30th Anniversary, we are delighted to launch Vine Trust 300, a group for 300 dedicated supporters.
Vine Trust 300 is open to any individual, company or group willing to join us on our journey to change the lives of some of the poorest communities in the world, by committing to raise at least £1,000 annually for the next 3 years.
The funds raised by Vine Trust 300 will support all aspects of the Trust's projects, from providing medical care on our ships on the Amazon and Lake Victoria, to building homes for vulnerable children in Tanzania and Peru.
Vine Trust's Chief Executive, Reverend Willie McPherson, says "we have achieved so much in our first 30 years and with the launch of Vine Trust 300, we hope to inspire others to join us on our journey. We cannot do everything, however we can all do something, and Vine Trust 300 are truly embracing this belief".
Your Commitment
As one of our Vine Trust 300 supporters you will:
Commit to support the work of Vine Trust for a minimum of 3 years for at least £1,000 per year.
Vine Trust 300 benefits
In recognition of your support, you will receive
Certificate of appreciation
Invitation every 6 months to attend an evening supper for an update on activities
Invitation to attend a Vision Trip to Tanzania or Peru to see first-hand the activities of Vine Trust
Annual gift of coffee ground by Mama Rosa supported by our partners and Vine Trust in Tanzania
Monthly email or letter with up-to-date news
The knowledge that you are helping change the lives of some of the poorest people in the world.
Become a Supporter
To become a Vine Trust 300 supporter, please download and fill in a commitment card and return to the address below.
There are then a variety of ways you can fulfill your pledge:
Cheque
Cheque made payable to 'Vine Trust' and sent to: The Vine Trust Barge, Prince of Wales Dock, Edinburgh, EH6 7DX
Credit/debit card
You can make your donation securely online on our giving page
Standing Order
If you would like to make a regular donation to the Vine Trust, then please download and complete this Standing Order form
Fundraising Page
Set up a
Fundraising Page
(please reference Vine Trust 300)
Don't forget your Gift Aid declaration! If you are doing a sponsored event, by using this sponsor form, we can claim Gift Aid on the sponsorship you receive.
For further details on Vine Trust 300, please contact Heather Bingham, Vine Trust 300 Coordinator. .(JavaScript must be enabled to view this email address), call 0131 555 5598 or write to The Vine Trust Barge, Prince of Wales Dock, Edinburgh, EH6 7DX
"I was inspired by the work of Vine Trust and wanted to do more than just give a one off donation. By joining Vine Trust 300, I feel like I'm taking part in their journey to work with some of the poorest people in the world and make a real difference."
Duncan Skinner
Vine Trust 300 Supporter