Our first Whitburn Academy blog comes from Cameron O'Boyle, giving you a bit of insight into the team's journey and first day in Peru:
"We all arrived at Edinburgh airport at 3:30am and were ready and excited to jet off to Peru! Our first flight to Paris was very short and we were all still buzzing that, after 2 years of preparation and fundraising, it was actually time to go to Peru. We then boarded our jumbo jet to Peru which had all sorts of freebies and movies which was a relief for everyone. We arrived in Lima at around 4pm and met with Louise to set off on the bus to our hotel. On the bus we were all very excited and the traffic was shocking and amusing to us all. We saw some very unconventional things on the bus journey, including people selling all sorts of things in the middle of the crazy roads, very run down areas right next to big fancy casinos, which we all picked up on. We also saw the Peruvian police in action arresting someone on the streets! As we arrived at the hotel, everyone was shattered so we had some pizza, went over the itinerary for the next day and all went to sleep.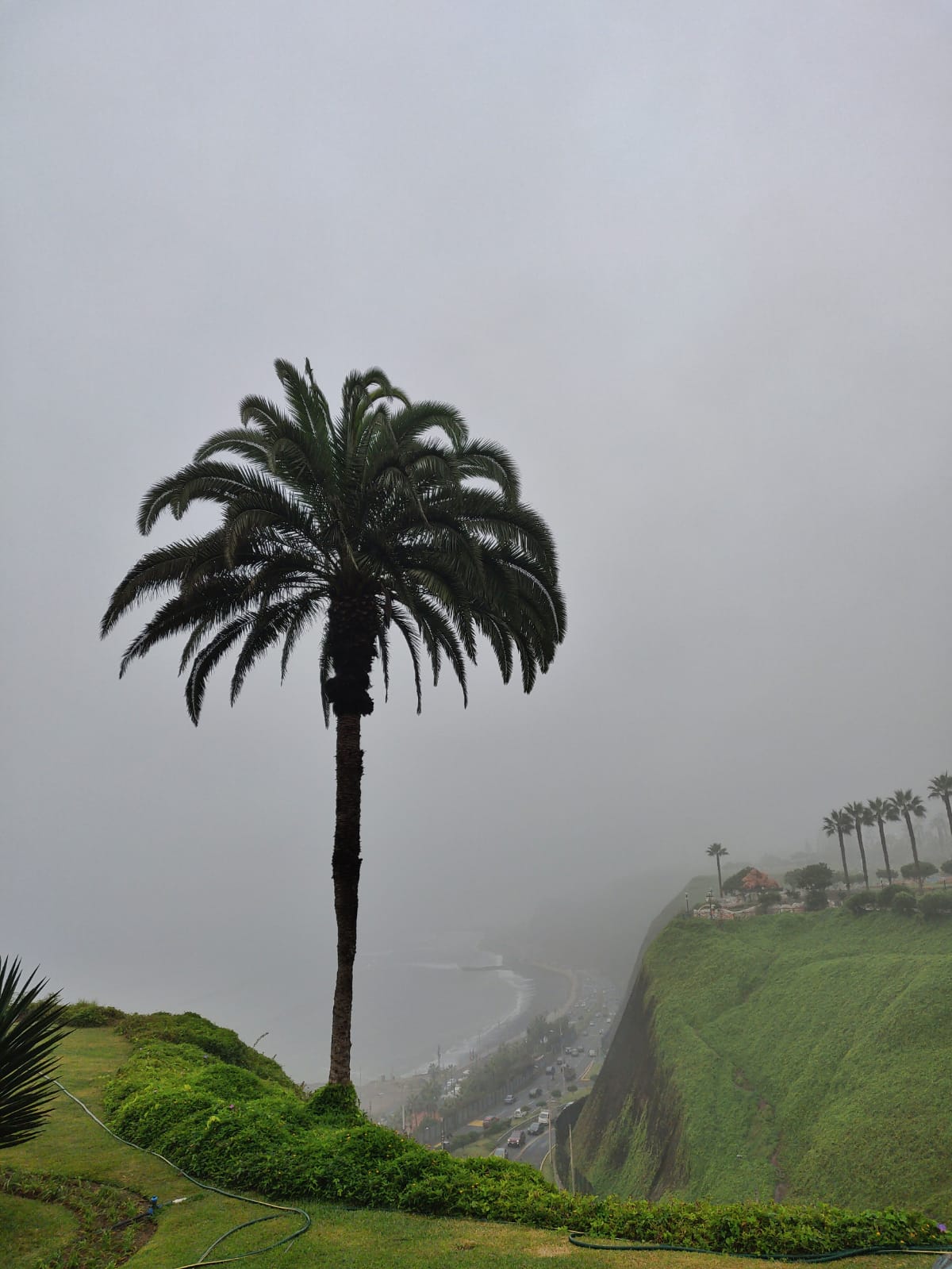 The next morning we all caught up with the jet lag and woke up at around 5am; we all messaged each other wondering if everyone was up, and it turned out we were all in the same boat! We then all came together and had breakfast and we were all excited and talking about our weeks ahead, which was really great to have a sit down with everyone and share our excitement. We then went on a walk around the local area of our hotel and saw the beautiful love garden in Miraflores which was great for our first sight.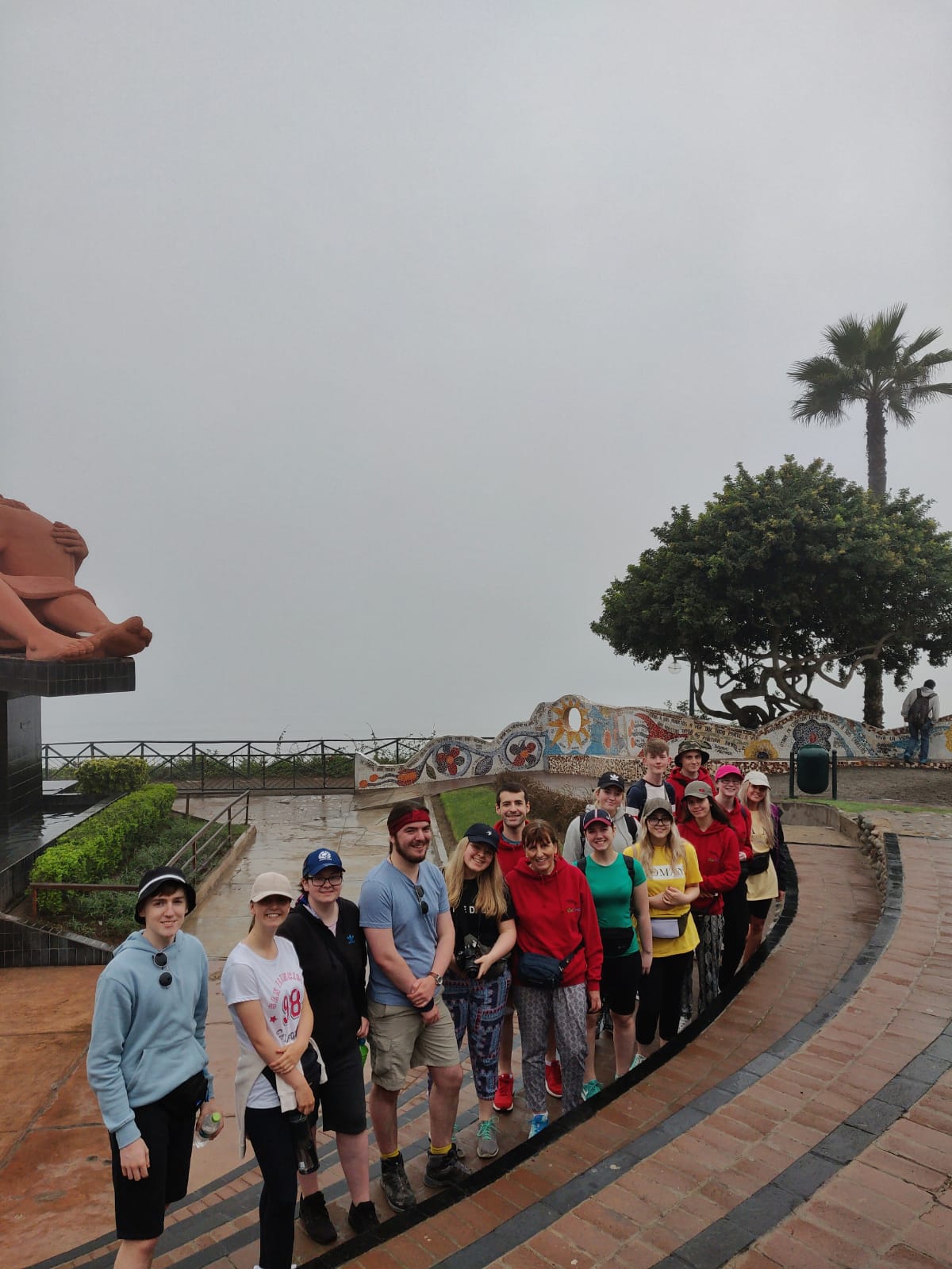 We then went to a supermarket and had a 30 peso budget to grab something for lunch so we all shared our budgets to create the perfect baguette! We then boarded the bus and set off to Lima's historic centre. Again, we were all really excited and had a great time on the bus chatting and pointing out things from the window.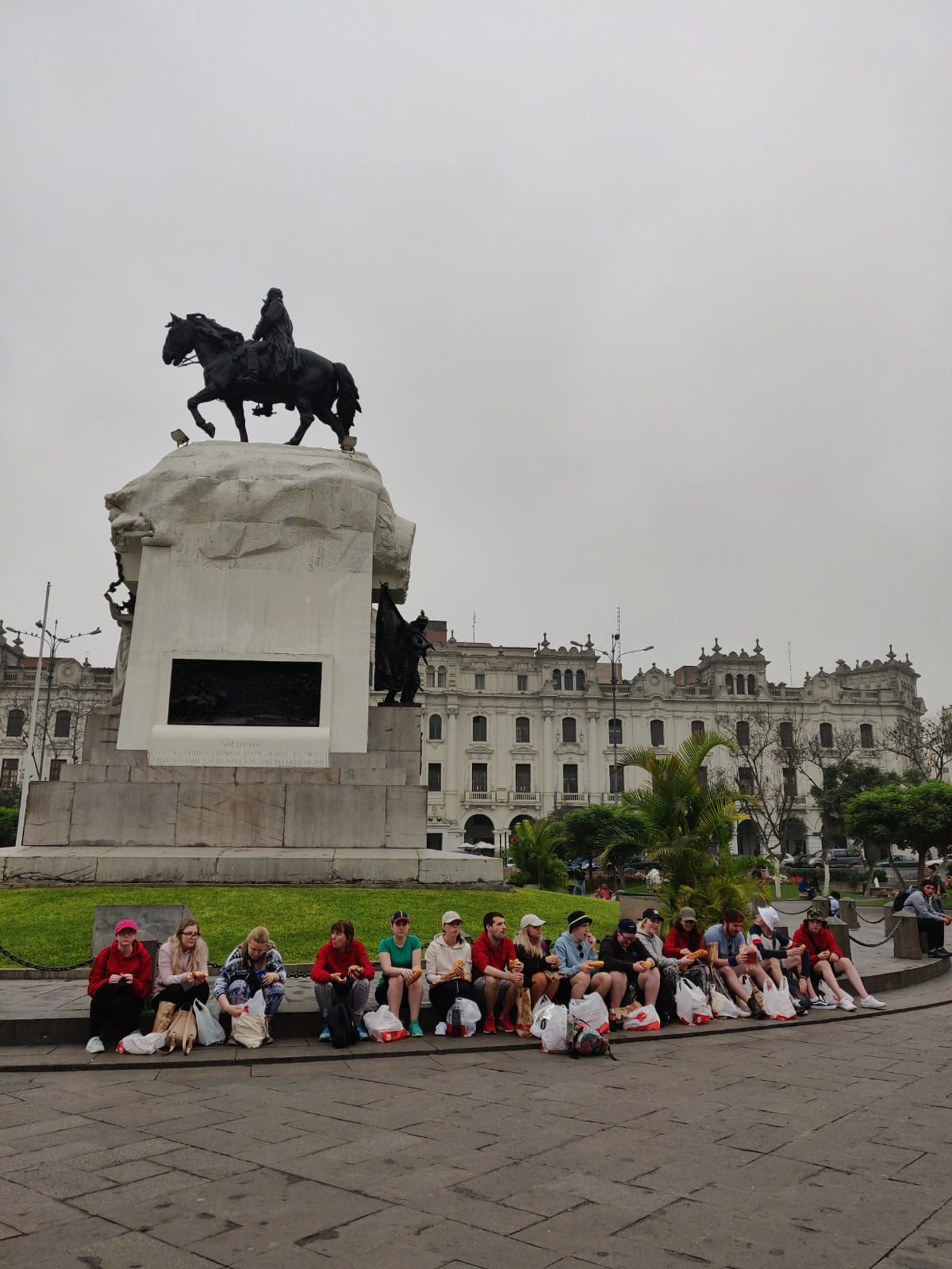 We then sat down in the middle of Plaza de San Martín to make up our baguettes, much to the amusement of the locals. After we had our lunch, we had a walk down to the main square with the spectacular parliament palace and had a great time looking around, taking pictures and chatting to the local police officers!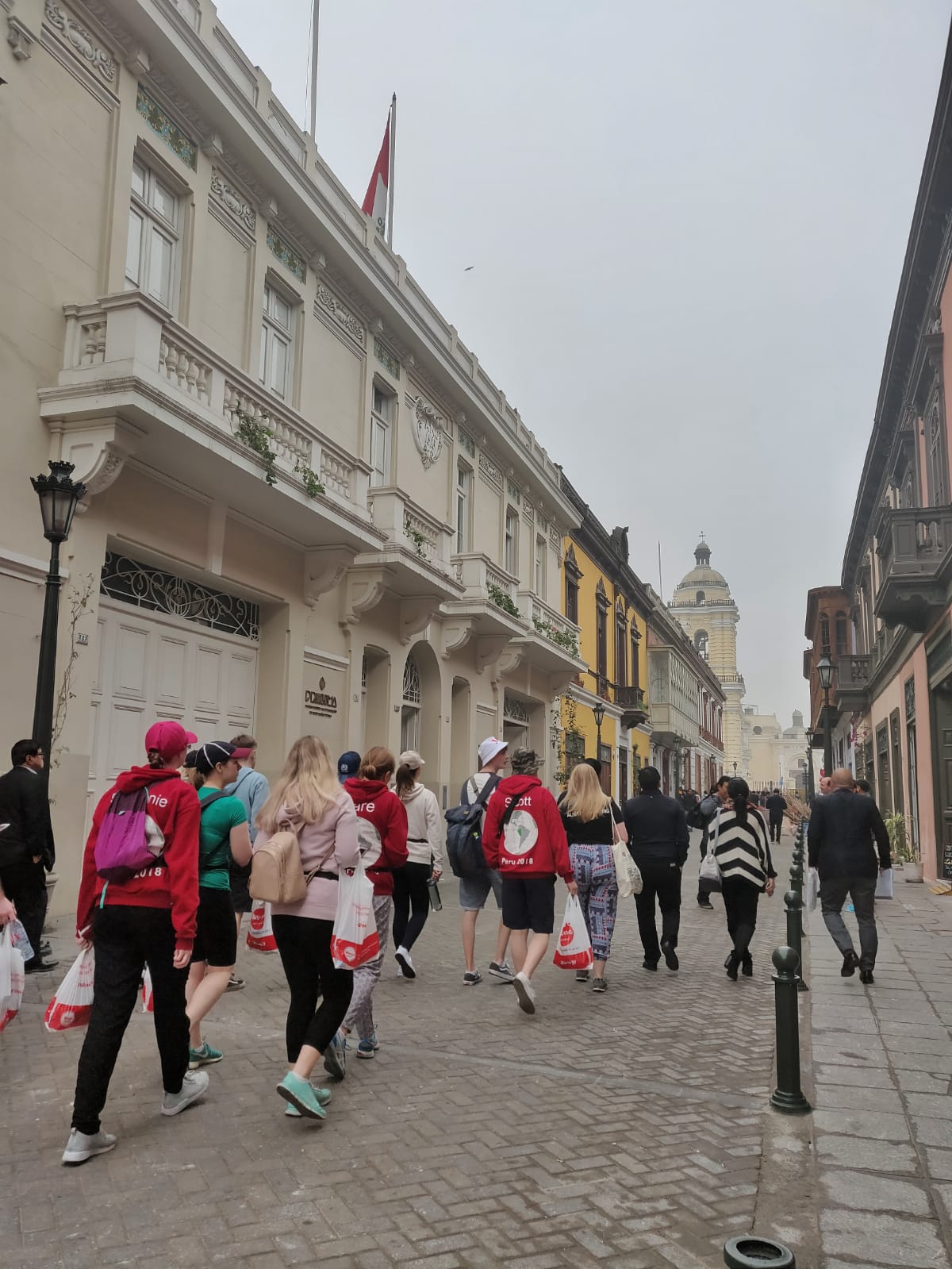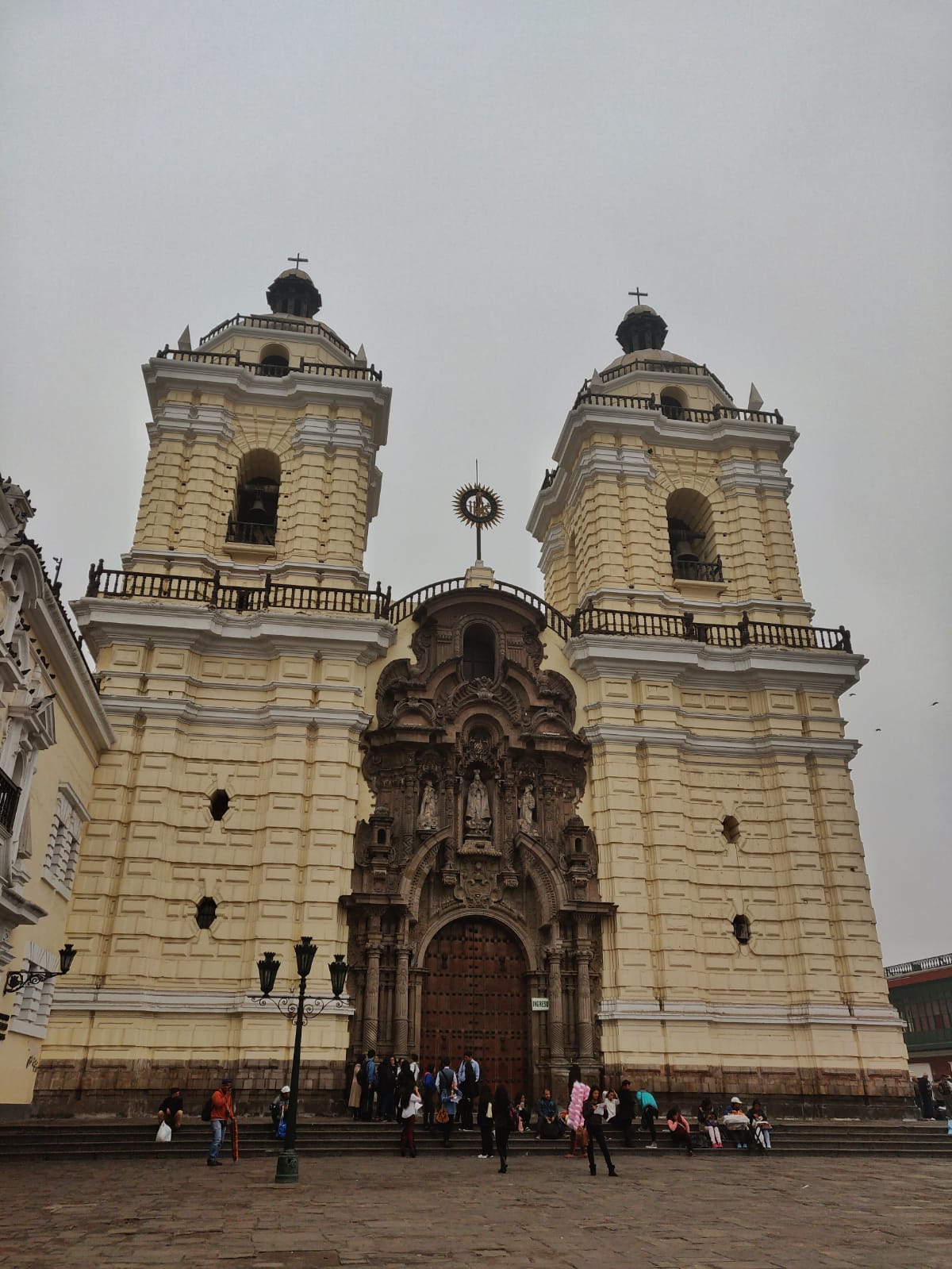 We then went to the San Francisco Balisco catacombs, with a breath taking library that contained books over 500 years of age and an eerie underground space with skeletons, which was admittedly pretty scary! We all thoroughly enjoyed ourselves and then got the bus back and went out to eat and had a great time chatting about our day. We are now all raring to go on our adventure to New Hope Children's Home in Arequipa tomorrow morning!"
Thursday 7th June
Cameron gives an update on what the team have been doing the past few days. Ellie, our unofficial team photographer, captured the excited atmosphere:
"On Thursday, we all had breakfast at the hotel in Lima and boarded the bus to Lima airport at 9am. When we got to the airport, we all had something to eat and got ready to set off for our flight to Arequipa. The flight to Arequipa including breath-taking views of the mountains which we all enjoyed.
We arrived in Arequipa airport and all were so excited to get to New Hope children's home. We met Matt and Ryan at the airport who took us to New Hope by bus which showed us the big difference between Miraflores in Lima, and the neighbourhoods of Arequipa. As we arrived at New Hope, some of the younger girls living there were just arriving home and gave us a hug which was a really warm welcome.
Matt then gave us a tour of New Hope and we saw the amazing facility they have developed for the kids. We all marvelled at how warm and homely the individual homes were; rather than have one large home, the children are separated into "casas", or houses, with a maximum of 7 or 8 children each and a house mum.
We then got to play with the kids and had a massive ball fight and played football which was great and the kids were all so nice and easy to bond with despite the language barrier.
We then came up and had our dinner which was a kind of cinnamon rice pudding, which was really nice.
The next day we were given an amazing breakfast and were all set and ready to go for our first day of work.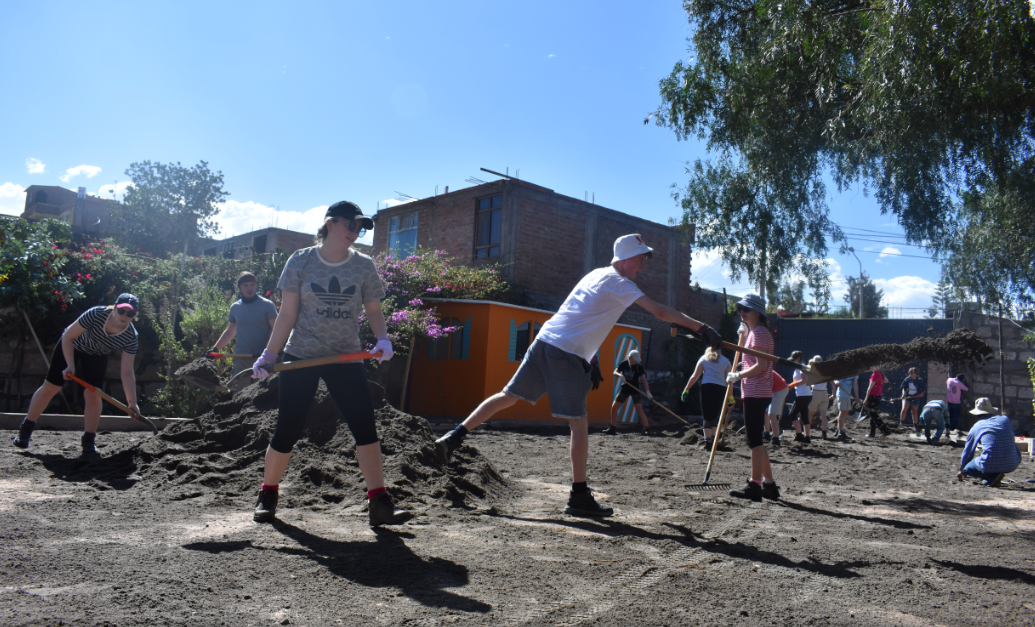 Our work project is to bricklayer a driveway for the centre, so we began by flattening and distributing sand all over the area which took us up to our break where we were fed a hot dog type of roll. We are working alongside Peruvain builders to keep us right!
We then set off again but we had to flatten a different area of the outside area as the Peruvian workers had taken an early lunch.
After this we had an hour to relax and then went for our lunch in which we split up into separate groups and all had lunch with different houses within the home. This gave everyone a great time to interact and bond with the kids as we all had a translator there.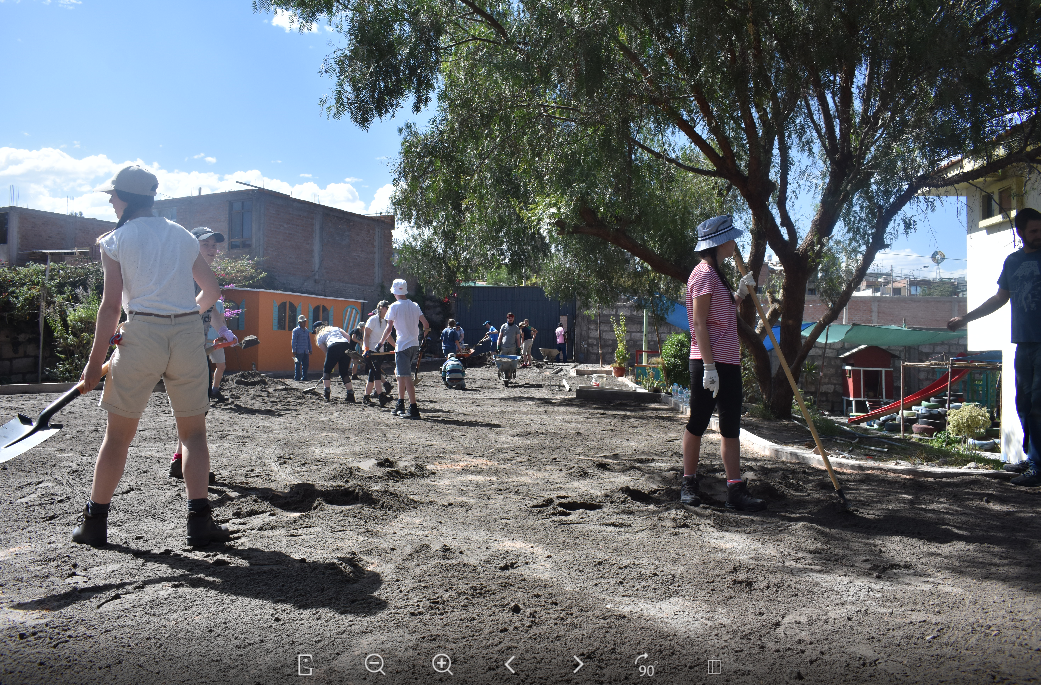 After this we organised or activities for the next day and had a laugh re-enacting the games of our childhood which we plan on playing tomorrow and our group bond has grown so much. We then separated off and some of us went to play with the kids and then we went to Rodrigo's 8th birthday party and had such a great time dancing and playing with the kids and just soaking in the atmosphere. We were really starting to get a feel for the place and all agree how much of an amazing space this is for the kids and how much the volunteers and missionaries care about the children, and how nice the children are.
Finally, we had dinner with our homes in the groups and bonded further and had a great time with them. We then chatted in the living area of our living area and had a good time getting to know each other further."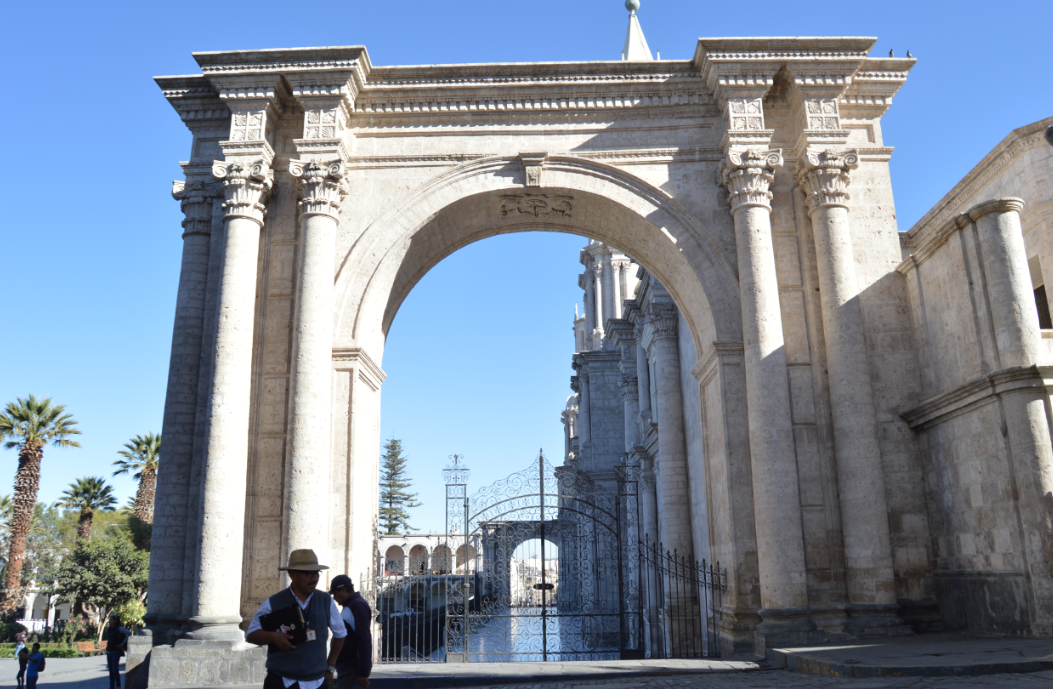 Saturday 9th June
Today (Saturday) the team are spending the morning beginning to lay the bricks of the driveway. This afternoon we will head to a local park with the children to play some of our favourite games.
We have had a busy few days at New Hope! To update you on what we've been up to, our next blog installment comes from Andrew, Ellie and Abigael:
On Saturday morning we woke to the sweet smell of pancakes, which was considerably better than the smell of eggs (especially for Andrew, egg intolerant).
This set us up well for what would turn out to be a very long day. In the morning we worked on the driveway; the bricks arrived late but we worked hard to make up time. We split into two teams, one which was laying bricks and another which was flattening the ground for the bricks to be laid on.
We finished work around 12 then headed up for a shower. With bags packed and bellys full we piled onto a bus destined for the "green space". This was a strip of land that much like the name suggests was green, with incredible views accross the mountains. Here we split into two groups, one played rounders with the older children and the other played games with the younger children that involved a parachute.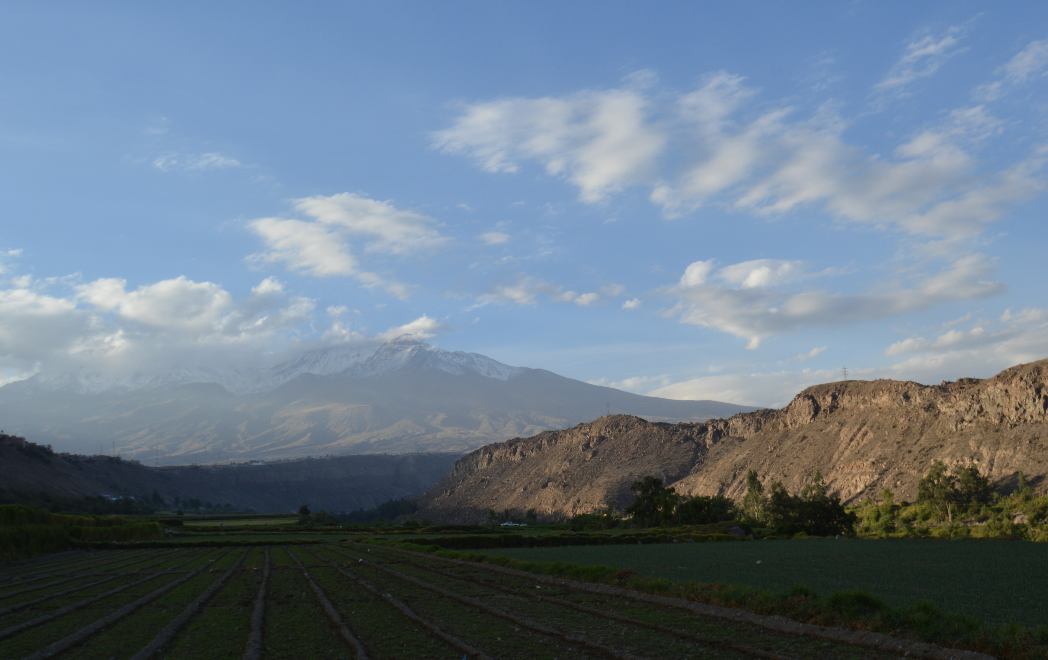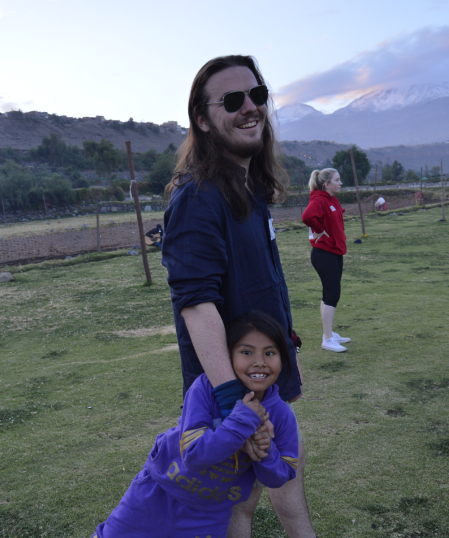 Once everyone was thoroughly exhausted and the sun began to set we all crowded around the bonfire which was prepared Matt and Ryan.
After some really tasty s'mores we packed everything up and headed back to the bus which took us back to New Hope for a relaxed Saturday night.
Sunday 10th June
On Sunday we all woke up ready and rearing to go on our first Arequipa tour. Guided by the wonderful Matt and Ryan, we began our tour by visiting the Santa Catalina plaza. We saw a fascinating march, featuring various levels of the Peruvian government, from the military to business men.
Shortly after we cooled ourselves down with massive Oreo McFlurrys and climbed on the open top tour bus for the first stop of our guided tour. The bus tour allowed us to explore the Yanahuara district of Arequipa, where you can find sticking arches made out of volcanic ash.
The (breezy to the point of freezing) tour then took us to view the local Arequipanian Volcanoes, Piccu Piccu and our married pair Misty and Chachani.
We then visited Alpaca Land! To see our favourite Peruvian animals: the alpaca, Llama, vicuña and guanaco. At this stop we learned that only the wild vicuña and guanaco are spitters. They are native to Peru spit in the faces of people who approach them. Finally our tour look us to a beautiful water mill, in which we saw more guanaco (and managed to fool a couple of our gullible volunteers into feeding them). Entering this scenic mill we were pleasantly surprised by two baby alpacas, in which most of our group couldn't resist taking a picture and having a cuddle with.
Upon returning from our tour we journeyed back into Santa Catalina plaza for a tasty lunch out. Many of our group chose to stick to home comforts of pizza and pasta, however our more adventurous diners chose a more exotic option of Alpaca stake and cuy (google if you dare). Later in the evening we celebrated two birthdays of the group Andrew (the one with the allergy) and Duffy (the world's greatest mimer) with an interesting triple milk cake, made at a bakery nearby. We ended our evening with laughter from two truths one lie and witnessing Duffy being cake-faced.
Monday 11th June
Monday was the third day of laying bricks. It was really hot but we managed to make a lot of progress.
After a few hours of working we got ready for lunch. At lunch we went to the houses again to eat with the kids. When we arrived we noticed the house mum was different from the one we had met beforehand. They explained that this was because they have a house mum from Monday to Thursday then they swap over for the weekend so that the house mums have days off. After eating we washed up and went outside to play volleyball with the kids. We found out that the kids play volleyball at school which is why they were so much better than us, and made us look awful.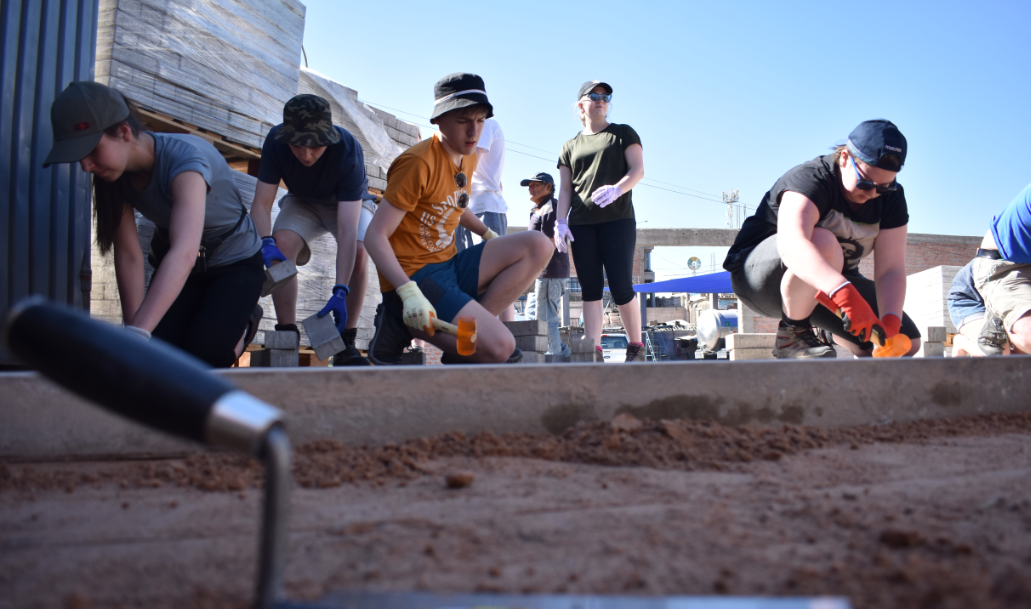 Tuesday 12th June
While some of the team continued work, a couple of us were able to support Matt & Ryan in the returning of 4 girls who lived at New Hope two years ago. Having returned to live with their families, unfortunately due to a continued difficult living situation with their family, it was necessary that the girls return to New Hope. Cameron and Scott were able to spend some time with Matt, Ryan and the girls in the centre to make the re-integration into life at New Hope easier on all of them. We followed this up with a pizza night for everyone at the home on Tuesday evening.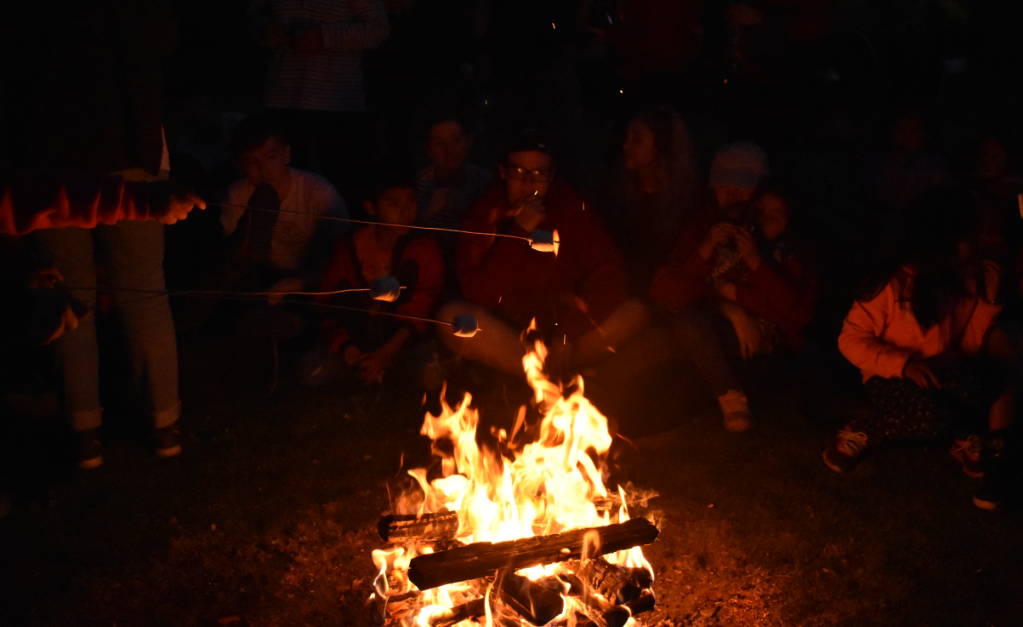 Wednesday 13th June
After continuing to make great progress in the morning, the team enjoyed a tasty lunch in the centre and then a tour around the Santa Catalina Monasty.
With only two days left at New Hope, the team are excited to see their hard work come to an end result, but sad to think of leaving the children's home.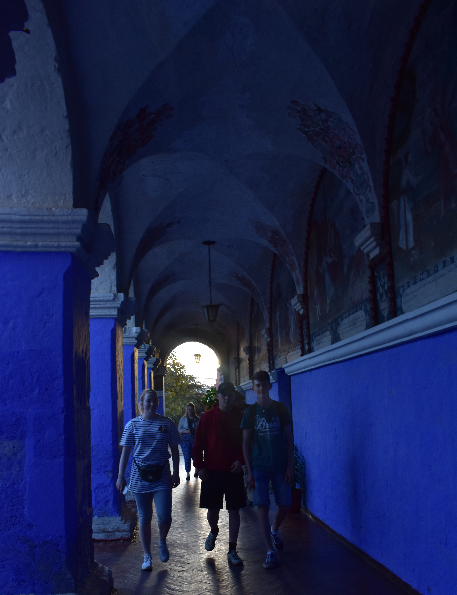 Our Whitburn Academy team have been working exceptionally hard on the driveway over the past couple of days as we approach the end of our time at New Hope Children's Home in Arequipa.
Thursday 14th June
Today was a full day in the sun as we moved bricks in from the street to lay the last section of the driveway. The team worked seamlessly together to make incredible progress during their second last day at New Hope.
We were spurred on by the arrival of some of the children from school.
For lunch we had a typical dish from Arequipa, "Rocoto Relleno"; minced meat in a tomato sauce is stuffed inside hot peppers and served with a side of sliced potatoes cooked with cheese and cream. The team very much enjoyed this traditional dish!
At the end of the day, there were only a small number of layers of bricks left to complete before the diveway would be finished. The team spent the evening playing sports outside with the New Hope children and playing a team game of "Empty Cup Pong", which resulted in some forfeits such as Cameron doing a lap of the football pitch with a cardboard box on his head!
On Friday, our last day at New Hope, the team were in great spirits as they danced their way to completing the driveway well before lunch.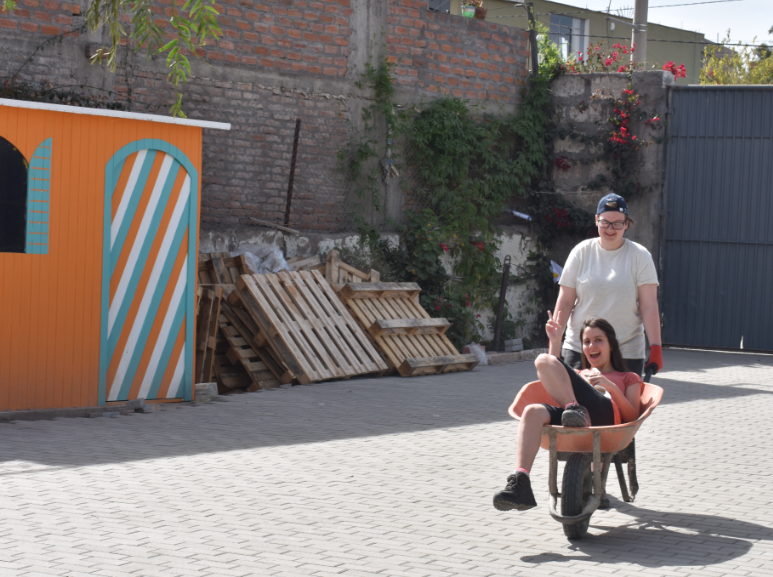 With a huge cheer, the last brick was laid! We had completed the driveway in an exceptionally short week.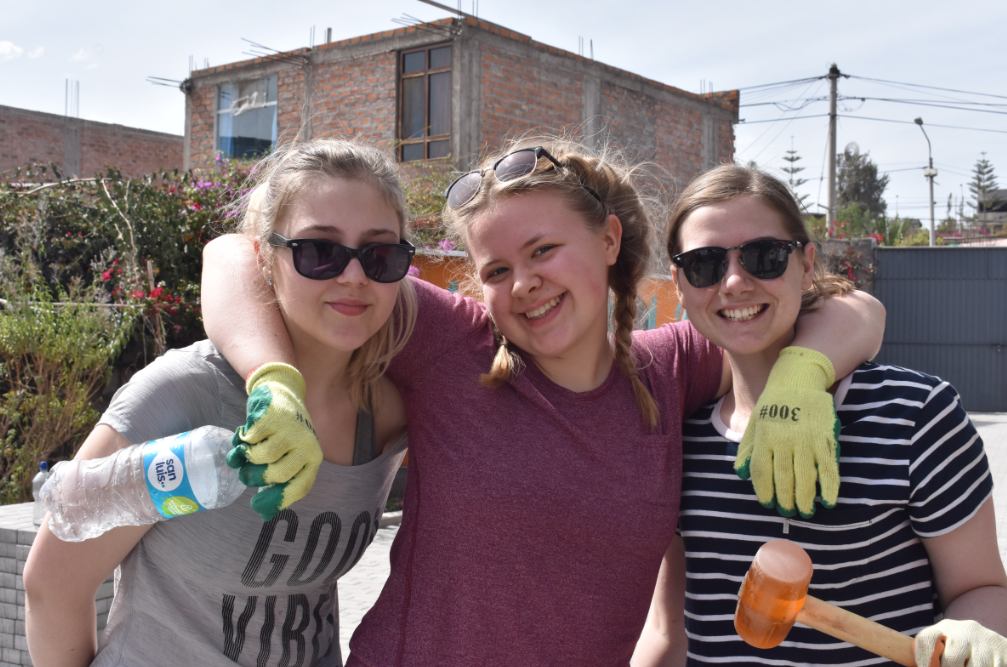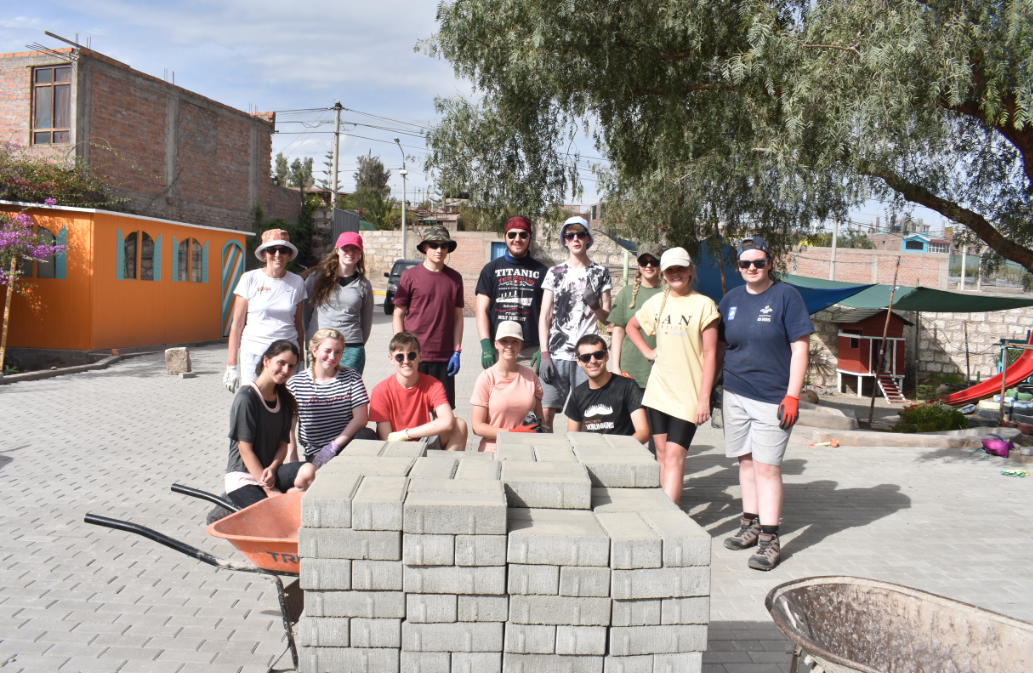 After a lot of singing and dancing in celebration, we headed into town for some much-deserved souvenir shopping. We had a lot of fun buying Peruvian ponchos, jumpers, scarfs and mini alpaca soft toys for friends, family and, of course, ourselves.
As the sun set, we all headed out onto the beautifully laid new driveway for a farewell bonfire with the friends we had made at New Hope.
We sang songs and then a number of the children from New Hope stood up and gave very heartfelt thank yous to our wondeful team. Through tears, our team in turn gave speeches of gratitude for the time they had been able to spend with the children, the friendships they had made and the incredible warm welcome they had been given by the New Hope family.
After lot of hugs and goodbyes, the team headed off to bed before an early start the next day.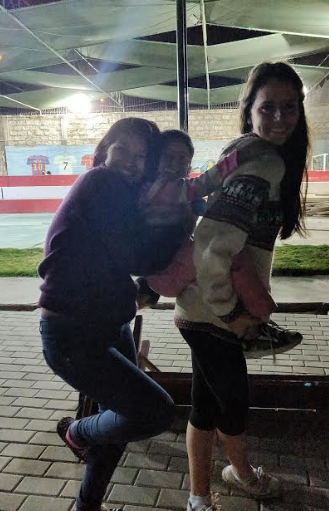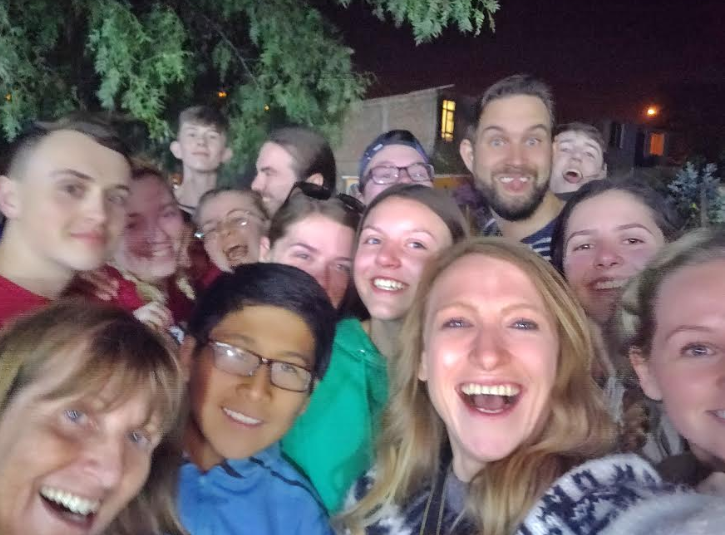 With an early start Saturday morning, we will head to Cusco to discover this beautiful city and prepare for the trip finale, Machu Picchu!
As our team from Whitburn Academy return to life in Scotland, we look back on their last days in Peru and their initial reflections on their experience:
On Saturday morning we left New Hope with more hugs and farewells and headed to the airport to catch our flight to Cusco. We were greeted by sunshine and warmer temperatures on our arrival. We spent the afternoon on a walking tour of the city, visiting the stunning cathedral, the bario of San Blas and the temple of the sun, Qoricancha.
On Sunday morning we woke up before the sun rose to take a 2-hour bus ride to Ollantaytambo train station, from where we took a stunning train ride through the mountains to Aguascalientes.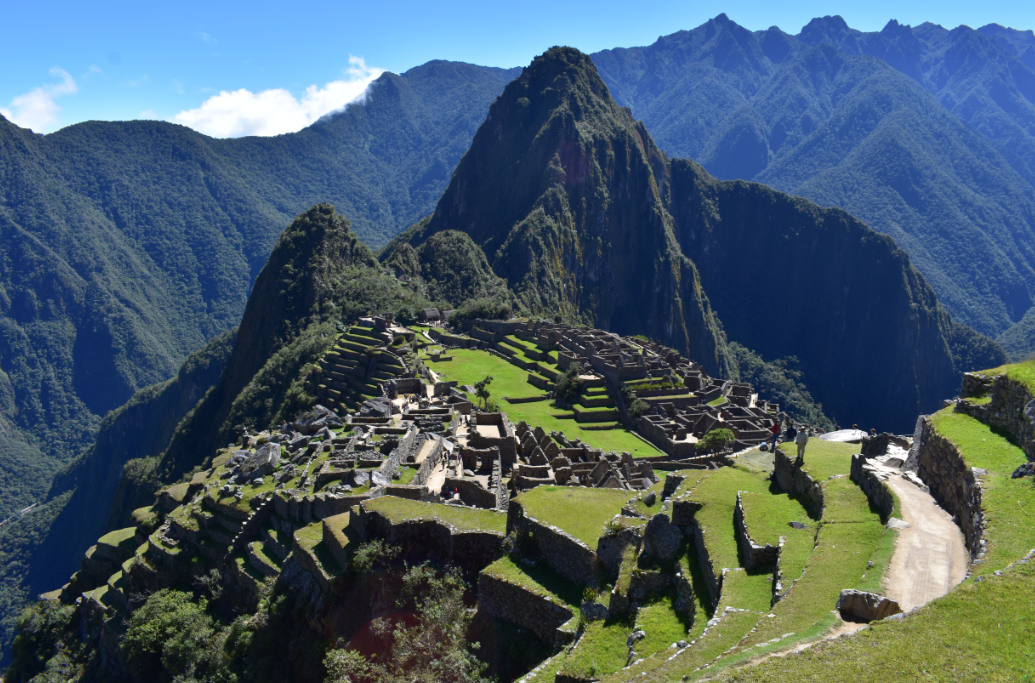 From there we caught a windy bus up to mountain to arrive to the entrance of Machu Picchu. We were met by our guides, who then led us around the incredible site of Machu Picchu. The team were amazed by the stories, folklore and secrets the guides were able to tell them as they toured Machu Picchu in spectacular sunshine.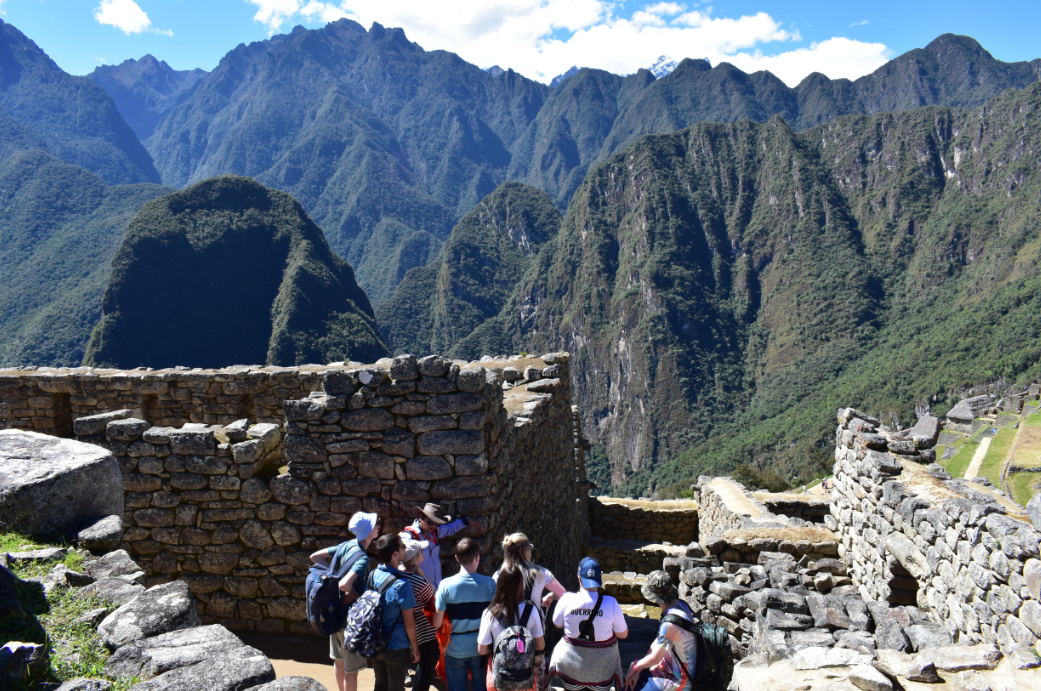 After we had built up an appetite, we headed back to Aguascalientes for a buffet lunch and some more souvenir shopping, before catching the train and bus back to Cusco. It was a long and tiring day but a perfect finale to a great trip.
As we made our way back to Scotland, the team reflected on their initial impressions of their experience and what they would take away from their time in Peru. They each noted their thoughts as we flew back to Edinburgh:
"My overall experience of the trip was amazing. I'd really like to go back to Peru as I had made bonds with the children that were in my house at New Hope. It is really worth all of the fundraising to finally seeing the finished project at the end of the trip. It has given me a different insight of how the children live their lives compared to how we live ours. I'm extremely happy with what I have gained from this trip as it is an unforgettable experience." - Emma
"My experience in Peru was better than I could have imagined. Meeting the kids and hearing their stories was shocking and opened my eyes a bit. I made some great friendships at New Hope and wish the best to all the kids there for the future. I am so glad I took this amazing opportunity and it is the trip of a lifetime that I will never forget."
- Cameron
"My overall experience of the trip was great. it has given me a different out look on life and made me appreciate the things I have. I hope that I can one day go back to Peru and see everyone at New hope as we all formed some great friendships. Although the kids have had it rough they are all so happy and seeing them so happy made the trip even more worthwhile. I'll never forget this experience." - Chloe
"My overall experience has been absolutely fantastic I have done so much more than I expected I could in the past two weeks. I had the best time ever at New Hope as the children welcomed all of us into their family and they were able to show and teach us things that we might not have known before this trip. I am so glad I have been given the opportunity to travel to Peru and do experience everything that I have done as I fell more independent and that I want to experience more of the world." - Mya
"My experience of Peru was amazing! I've gained so much from this trip and have learned to look at things differently. I had the best time at New hope getting to meet and know all of the kids and see how different people live on the other side of the world. I am so grateful to have been given this opportunity and it is something I will never forget. " - Abigael
"This trip to Peru has been an unforgettable experience; it has been heartwrenching at times whilst hearing stories of the children at New Hope's lives before coming to live at the orphanage, yet the best experience of my life. I have created unbreakable bonds with the children and my peers whom I never thought I would. I appreciate the little things in my life and this experience has been a real eye-opener, as I realize how lucky I really am. I am extremely grateful to all at Vine Trust and New Hope for enabling me to, firstly, have the opportunity to go on this expedition, and secondly, for being warmly welcomed into the homes and lives of these children. Not only have we helped them, but they have really helped me." - Amy F
"I never really knew what to expect when I set out on this journey. I think everyone is aware of the poverty that exists in our world, and the horrible circumstances that lead to it but actually sitting down with people who have lost everything and who manage to keep on smiling puts things in perspective. The only thing that I found more astounding than the children who continue to play and smile after experiences that would crush most adults were the two American Christians who gave up their very comfortable lives in the states to help these children. Matt and Ryan are doing what no one else will, not for money or fame, but because it's the right thing to do. So if anything what I've learned from this experience is that sometimes the doing the right thing can be the hardest thing to do, and you might not get recognised for your efforts, but that's no excuse for not doing it." - Andrew
"After 2 and a half years fundraising for the Peru trip I had expectations of what the trip would be like. After an amazing,life changing experience I can truly said these expectation were filled and more. No one could have prepared me for the emotional side of the trip, bonds were made between the children and I and their stories have impacted me greatly. Finishing the drive way gave my team and I a great sense of achievement and that we left our mark, we hope this helps New Hope. I hope to return to Peru or go on another excursion like this as i believe it will shape me into the person I wish to be. " - Amy B
"Peru was a culture shock from the begging. The experience of a new way of life, language and food took me by surprise. However my time in Peru has been well worth the many years of fundraising. The new experiences and memories I have made will stay with me forever and will go on to influence my life journey in the near future. I never thought I could feel so much pride over completing a task such as building a driveway, on the other hand the gratitude and happiness of the New Hope children played passionately on my heartstrings." - Ellie
"I have enjoyed my time in Peru, it was a bit of a shock seeing all the shanty towns when first arrived but I soon got used to it. It was an experience that I will not forget, and it will help me to stop taking advantage of the way I live. I have made so many memories that I will never forget. I am glad that I was able to help the disadvantaged children of New Hope."
- Stephanie
"The two weeks were quite possibly the best and most life changing two weeks of my life. The trip was an experience I will forever be thankful for. Being able to enter so many Children's lives to make a positive change was very amazing and is worth more than anything to me. I feel that this trip has not only educated me on different cultures, but also has taught me that by doing things like this, I'm making a good impact on the world."
- Matthew
"I have really enjoyed my time in Peru. It has helped me to learn a lot about different cultures which I had no idea existed, and has given me an insight into other people's ways of life. I loved helping the orphans and actually making a real difference in people's lives and it is an experience which I don't think I will ever forget." - Scott
We would like to thank our incredible Whitburn Academy team for their hard work, not only during their two weeks in Peru, but for their dedication to fundraise their trip, to enable Vine Trust to Connect People to Change Lives!