Monday 25th June 2018:
We arrived to Moshi in the dark and pouring rain on Monday night. however, after our first night's sleep we awoke to lighter skies and a huge spread of eggs and pancakes but in hindsight this was well needed to help us last until lunchtime! After a safety breifing and orientation, we took a walking tour around Moshi and marveled at the incredible sights and smells of the local markets.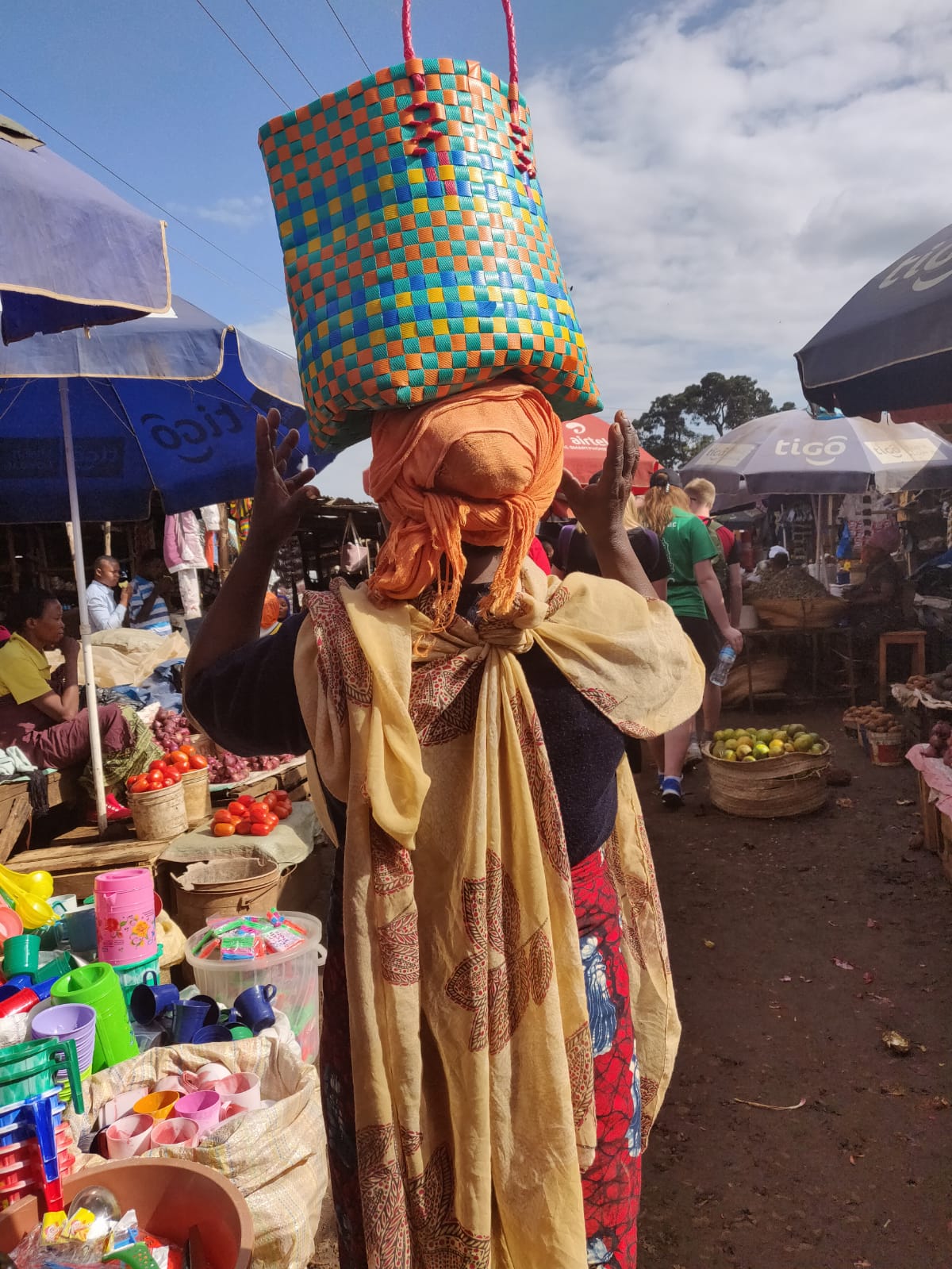 On Wednesday morning we were warmly welcomed by Dafrosa and everyone at TAWREF by an array of upbeat singing and dancing. Meeting the inspiring people involved in working behind the scenes of choosing vulnerable families alongside Vine Trust was such an honour as their positive and vibrant outlook on life was really energising to see. We then had the chance to look in their charity shop and I think nearly everyone bought a Tanzanian football strip whether they liked football or not!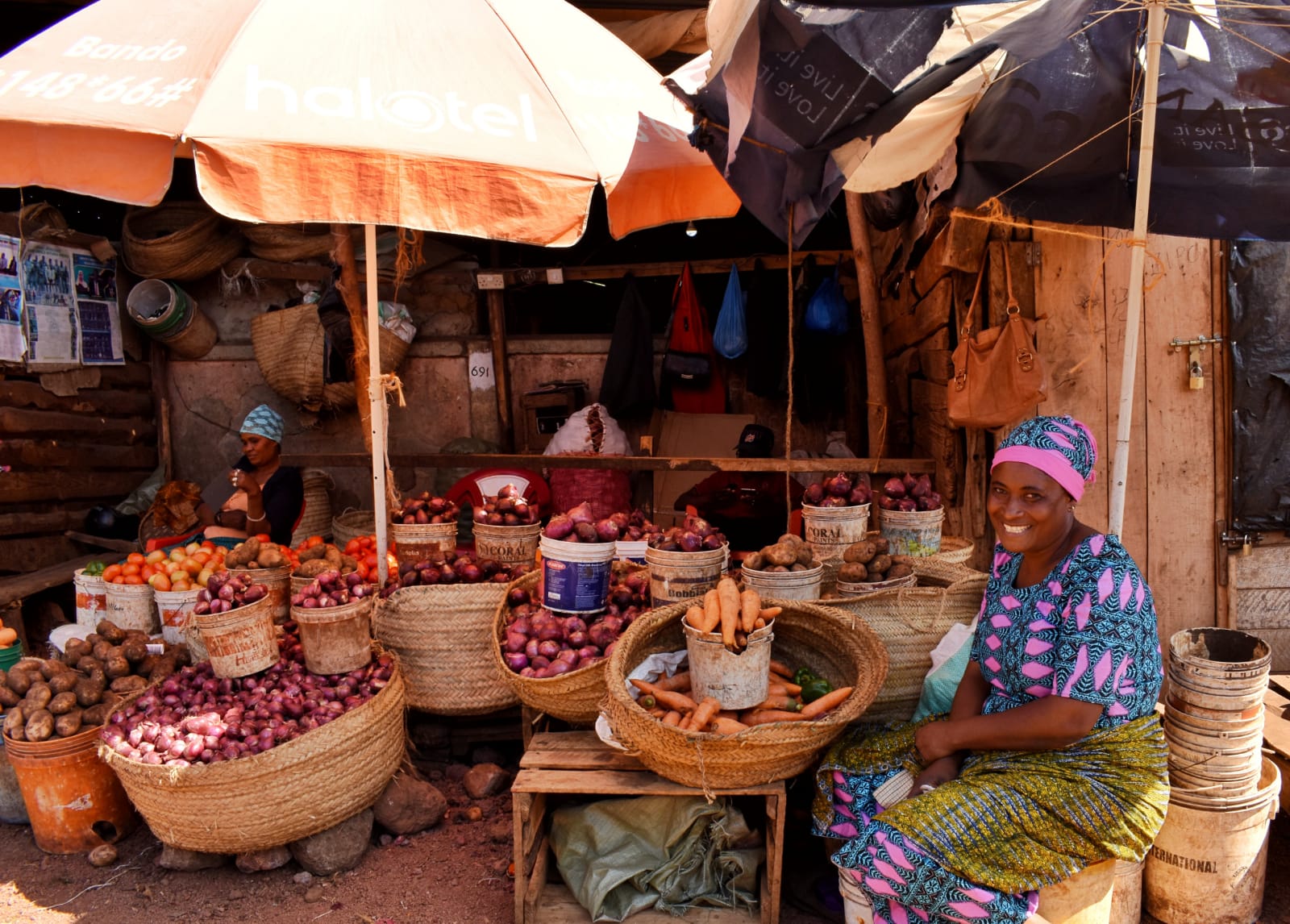 We also visited our work sites for the first time and got to meet the families in the local area. When we arrived at Frida's site there were a lot of local children who came down to welcome us on the site. Frida is 12 years old and lives with her 16 year old sister, Josephine, and their widowed mother in the lowlands of Moshi.
It was a wake up call to see that something as simple as balloons and a parachute made their faces light up and it made me realise just how much we have at home and how we take it for granted.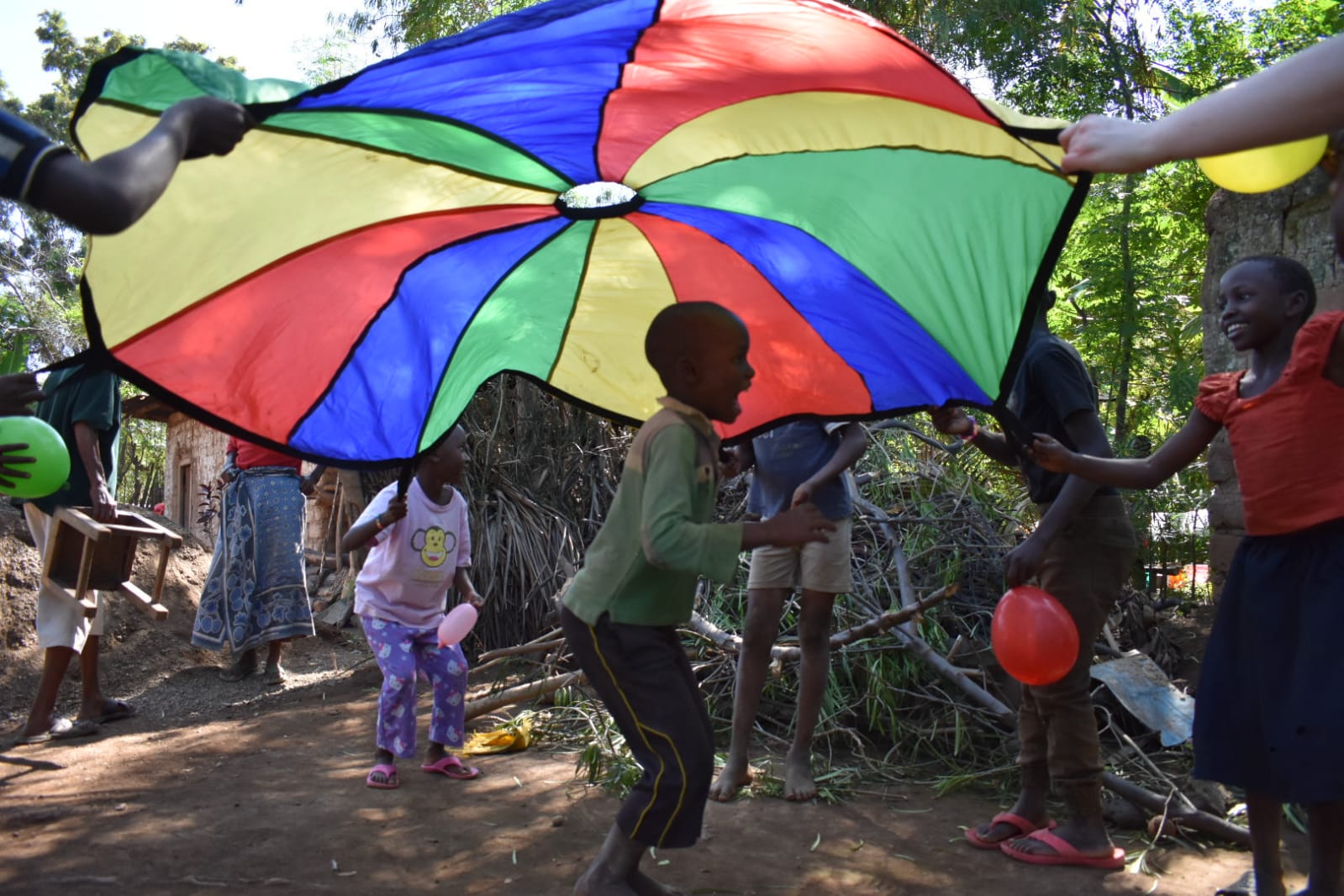 It was also special to see that despite our language barrier we could all come together to sing the JAMBO song which Ben had taught us the previous night! The group made great progress on site and managed to work together to dig out the foundations in the ground for the rocks. Altogether it was a very joyful and successful day (albeit tiring) but we are all excited for what tomorrow will bring!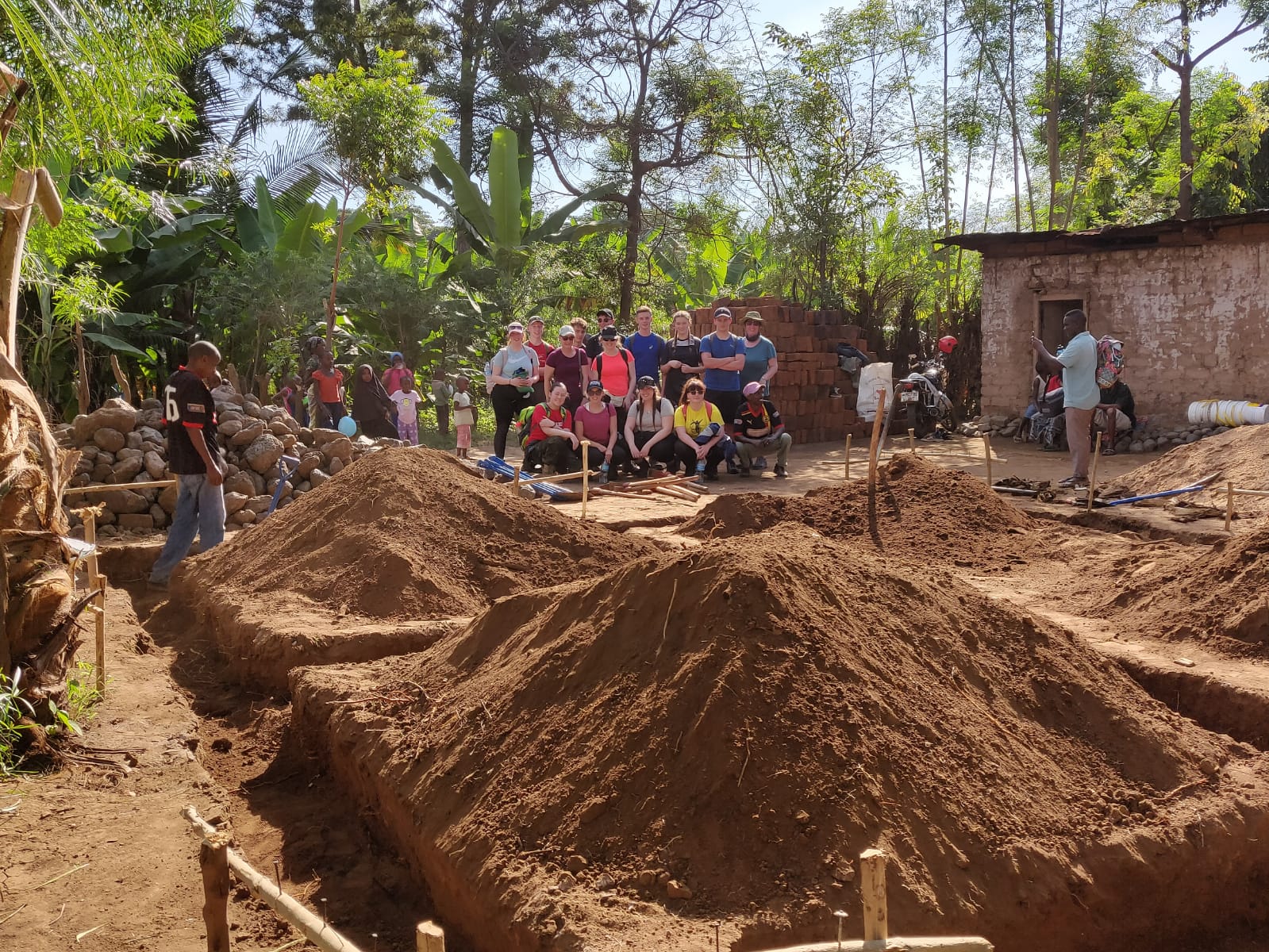 The second group arrived at the work site for Elirehema's new family home. Elirehema is 14 years old and is cared for by his grandfather and grandmother, as his mother suffers from mental ill heath and doesn't know his father.
Locals welcomed us with dancing, songs and hugging. We also were offered coffee and bananas and the local pastor blessed us. We were then introduced to Elirehema's close family and friends and then walked to his current family home which is right beside the work site for his new home. We were all shocked by Elirehema's family's current living conditions, but this made us even more determined to build a new family home. After we finished we were thanked and sung to as we left by the locals.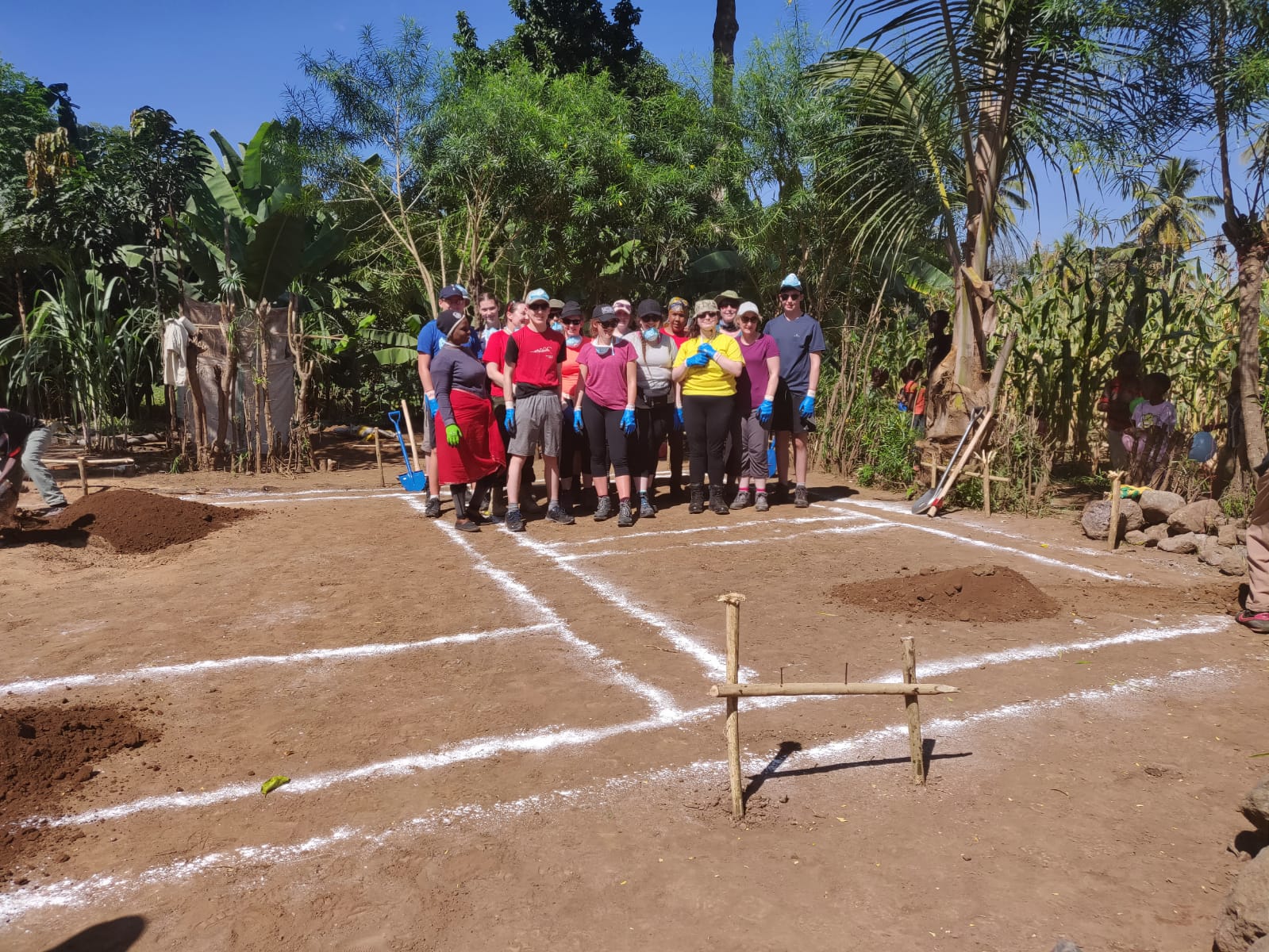 We are very much looking forward to getting back on the worksites again for our second day today!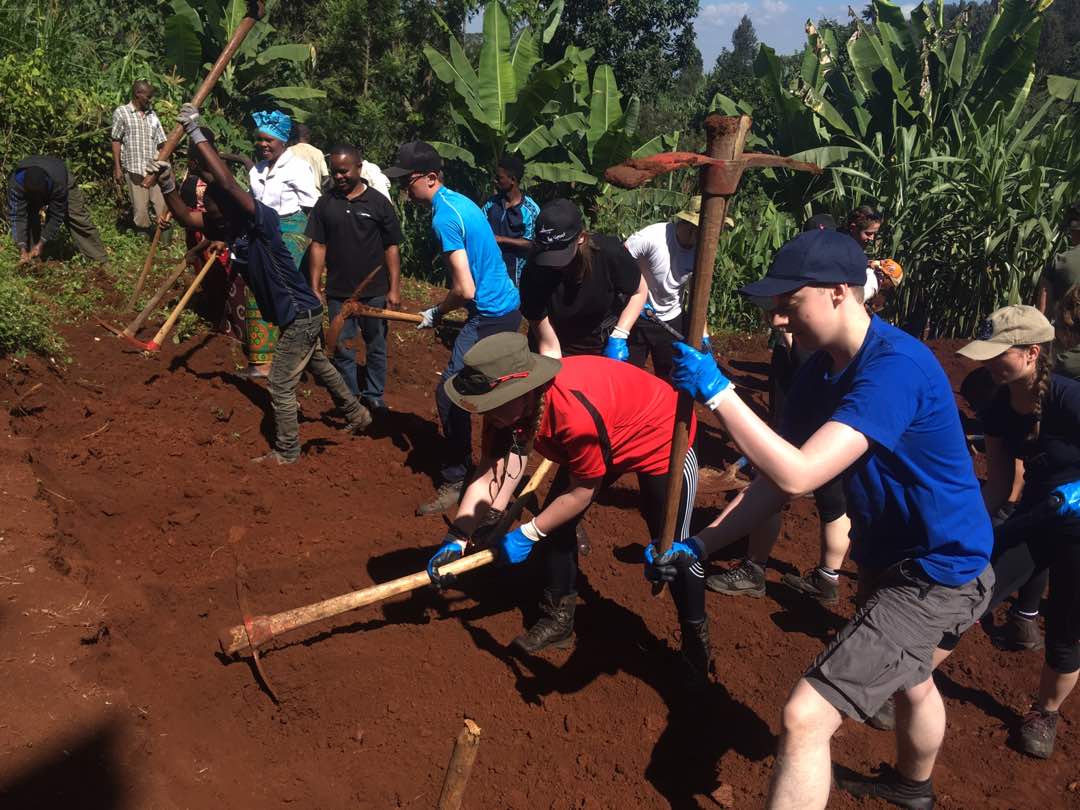 Thursday 28th June 2018
An early start to worksite 1 this morning where we were continuing to build the house for Eliherema . We left Berea by 9 am and made our way in the minibuses , 10 of us in the 'party bus' where we sang our hearts out to Bob Marley. Once we got to the area we were greeted with a more subdued welcome to yesterday, however we still said our jambos and then made our way up the hill to our site. The fundis had made some more progress on the site since we had left the day before; they had marked out where the founds were to be dug with chalk and string . We then split the team in half some to collect and carry stones up the hill , while the rest of us pick axed and shovelled the marked out areas. Lots of sweaty work going on today , we were delighted when someone shouted ' water break' . We made good progress in the 4 hours that we were there , the foundations were nearly completely dug .Through the sweaty sun and sore legs we sang through many Jambo Bwanas even though many were under the breath . A fab day on worksite 1 can't wait to continue tomorrow !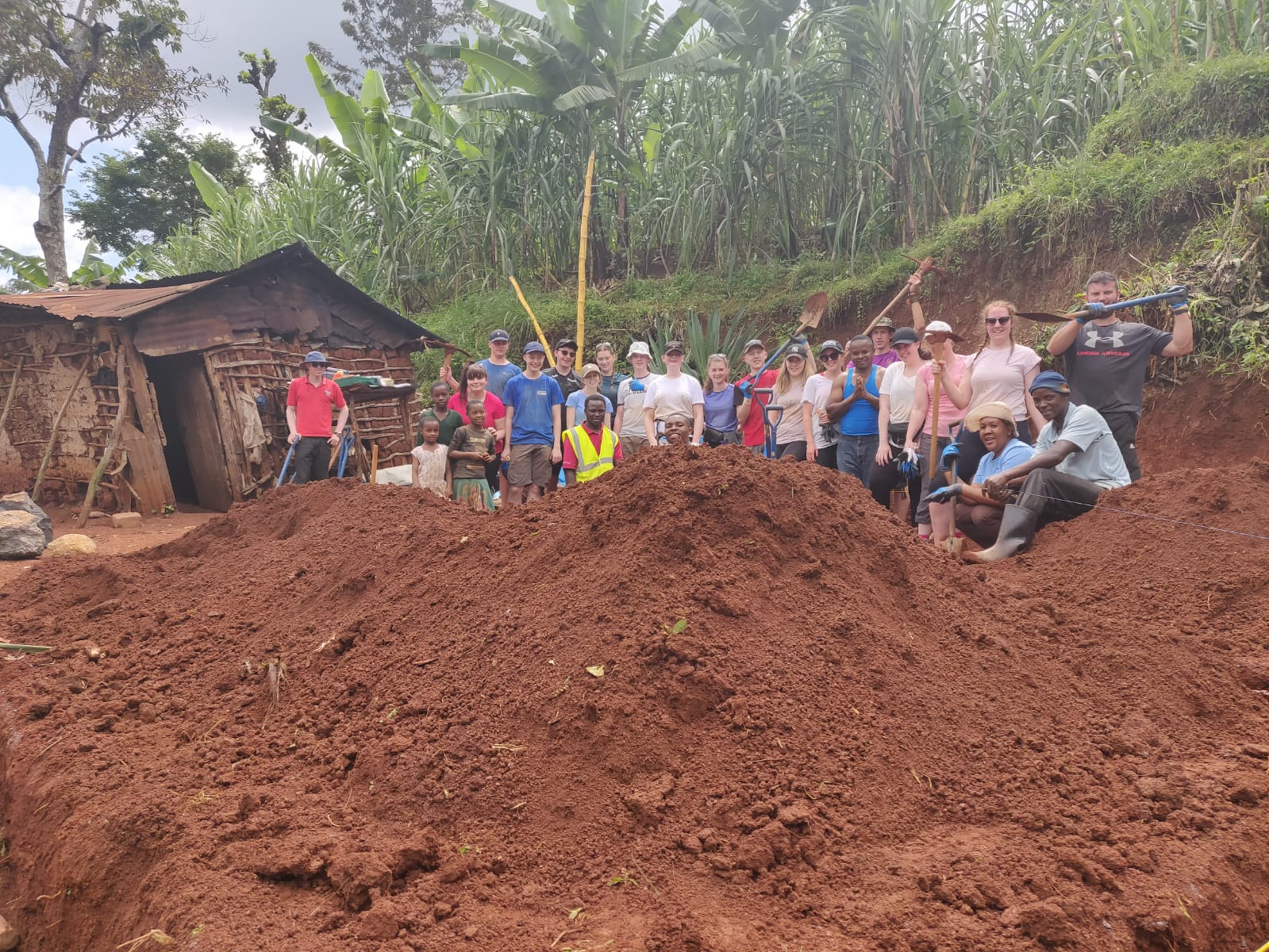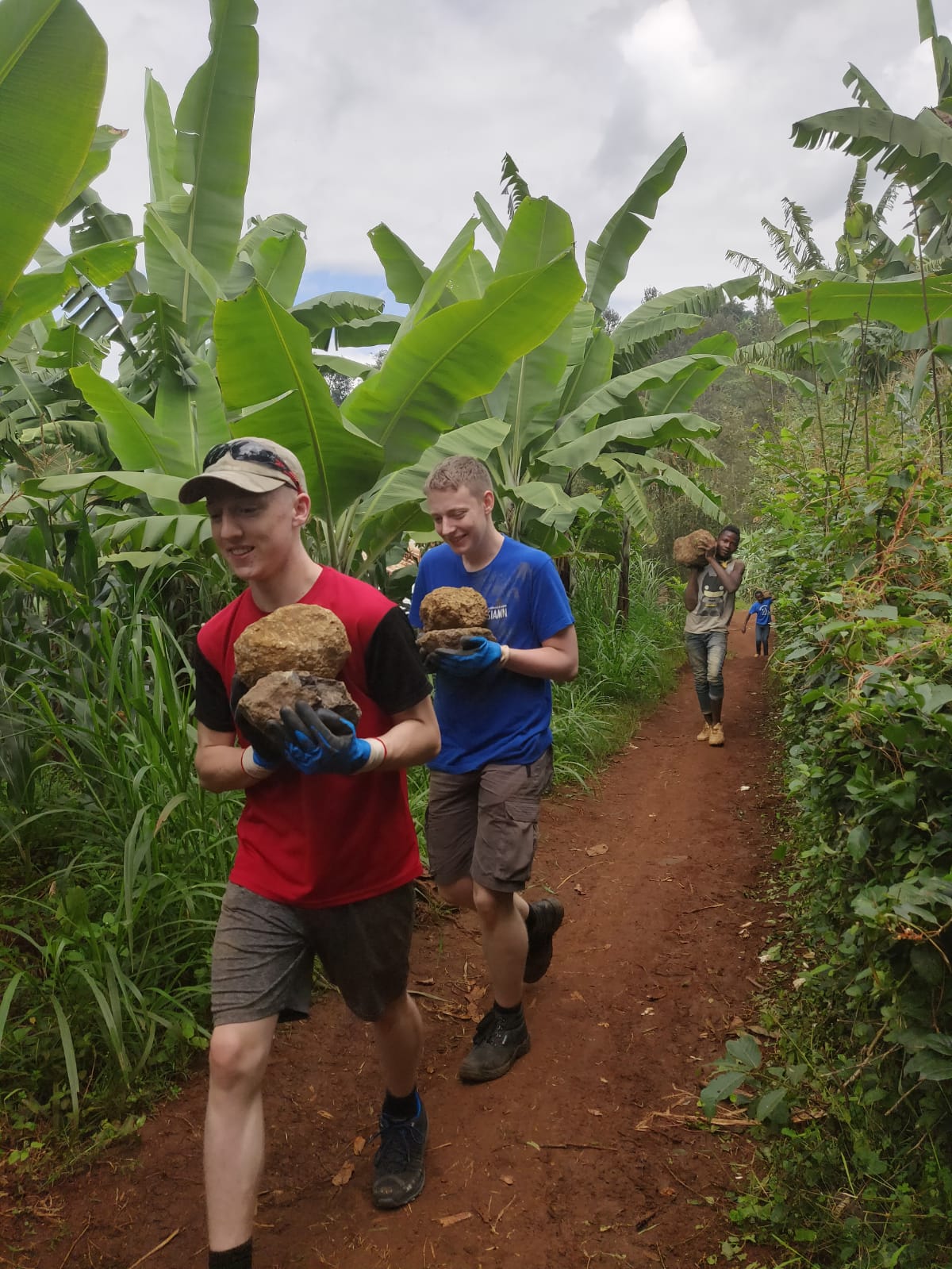 After a very bumpy drive along a dirt track to the second site we stepped off the bus and went straight into getting the risk assessment and warm up out of the way, keen to keep improving on the previous days work. The first job was to pair up and dump some larger rocks into the foundations, this was followed by filling up any gaps with smaller stones, this was hard work, but plenty singing with Ben which helped us to make good progress and keep moral high amongst us. After covering the foundations with soil we then made a chain gang carrying 10 Litre water buckets from a small pond up to the foundations to pour into the foundations. This was one of the hardest parts of the day but the small children at the site helped by getting involved and carrying the empty buckets back to the pond, one wee boy around 8-10 years old was even managing to carry a full bucket himself. It was on the way back we saw locals working in paddy fields and was something we described as a "Scene our of a geography textbook", a nice end to our day on the worksite.
Friday 29th June 2018
On site 2 on Friday, we were amazed at how much work had already been done in just 2 days. We started by moving bricks in a team, which meant that the workload was shared among the team the Fundis could build the walls of the house more easily. We then started the fill in the bottom of 3 of the 4 rooms with dirt so the floor can be put on top. This was again done as a team which meant it could be done quickly. Finally just as we were leaving the kids at the worksite taught me 1-10 in Swahili and we sang and danced in a circle.
In the afternoon we visited the Moshi a Christian Children's Centre. When we arrived at MCCC we were met with the warmest of welcomes from many smiley faces. After an entertaining introduction of singing and dancing we led 4 separate activities: Sports, arts and crafts, dancing and music. The children were great and were eager to get involved in as much as possible, even after a hard fought football match which resulted in a fair 3-3 draw. It was really amazing to see that despite everything the children had been through, they all conveyed such a positive energy. Everyone was smiling, laughing and happy which in turn made us happy too! Being able to see what our fundraising efforts have enabled us to do is a real treat in itself.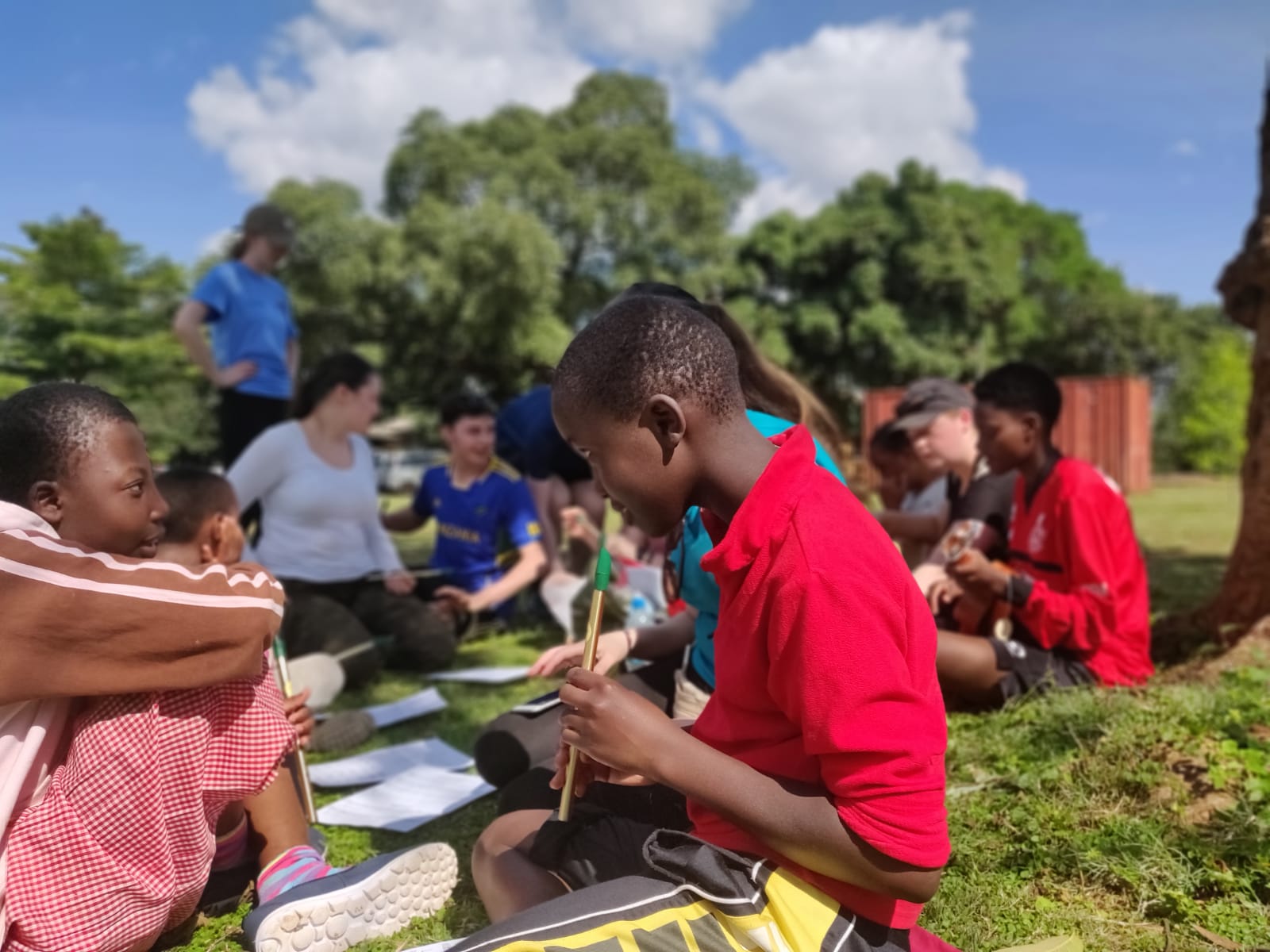 It was hard to say goodbye after managing to form strong bonds with the children in such a little space of time. However we hope that our time spent together today will create new and enjoyable memories for everyone to hopefully remember forever!

Saturday 28th June 2018
Today was an earlier start time with breakfast beginning at 7.30am. We all filled ourselves up with a mixture of delicious sausage, eggs and toast to keep us going during the half day on the worksite.
On worksite one we continued the procedure of shifting heavy bricks and buckets of sand up the hill for the fundis (local builders). However, it didn't feel like a half day of work at all; more like a quarter day! Turns out time flies when you're busy heaving over 200 bricks in a chain formation.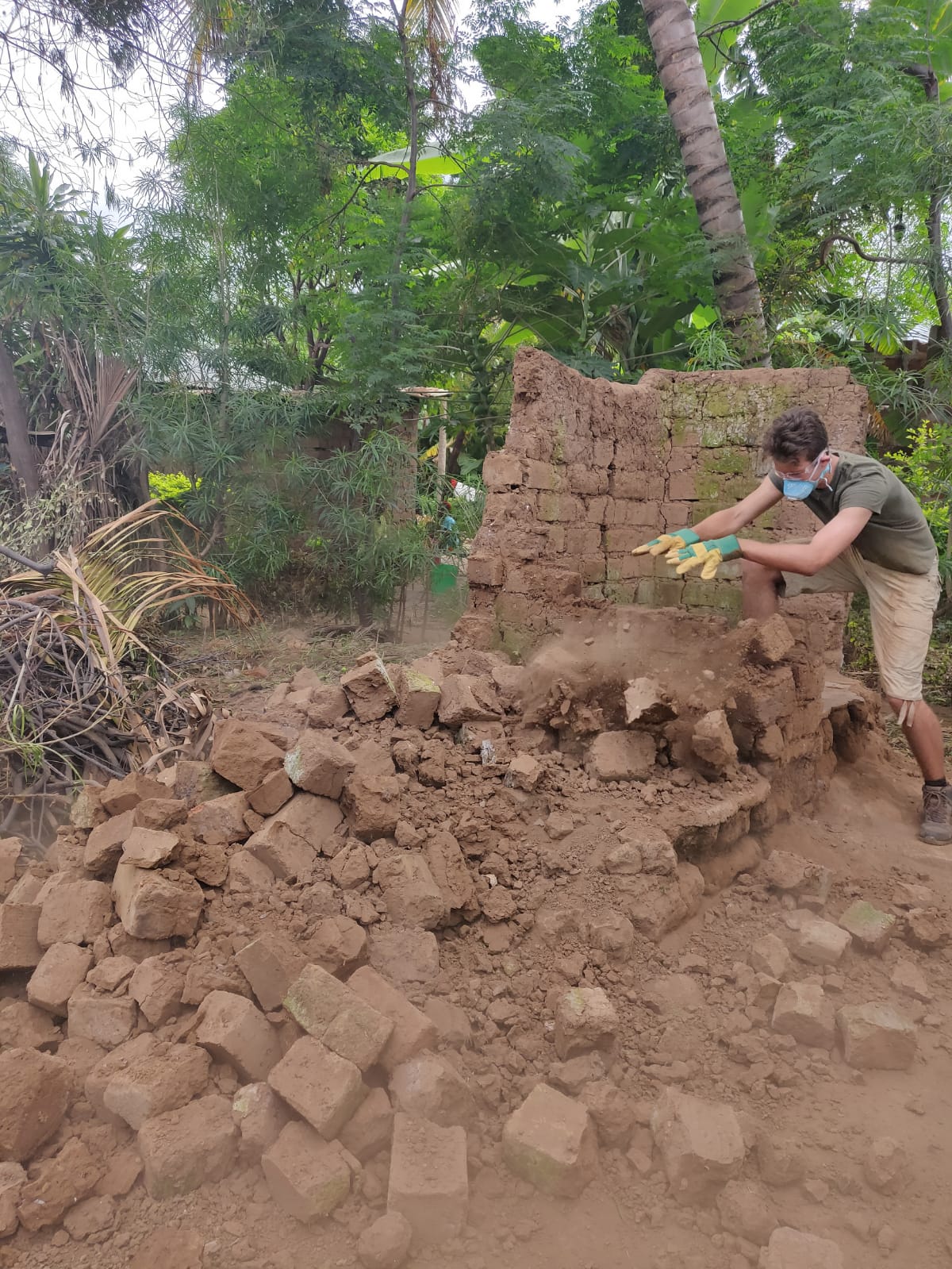 Although the work we do onsite is challenging and exhausting, I can honestly say that it is enjoyable. The satisfaction gained from successfully passing the empty buckets back down the chain in a swift motion is crazy.
While on the worksite today I had the most heartwarming feeling when playing with the children in the community. We had music playing on a speaker while we worked; encouraging the kids to dance along with us while we waited for the buckets brought a massive smile to everyone's face. When passing the bricks along I engaged in conversations with the children in Swahili. I can't describe in words the joy it brings seeing their faces light up when we pronounce the words in their language correctly. It's such an immense feeling; Ben's Swahili lessons are paying off!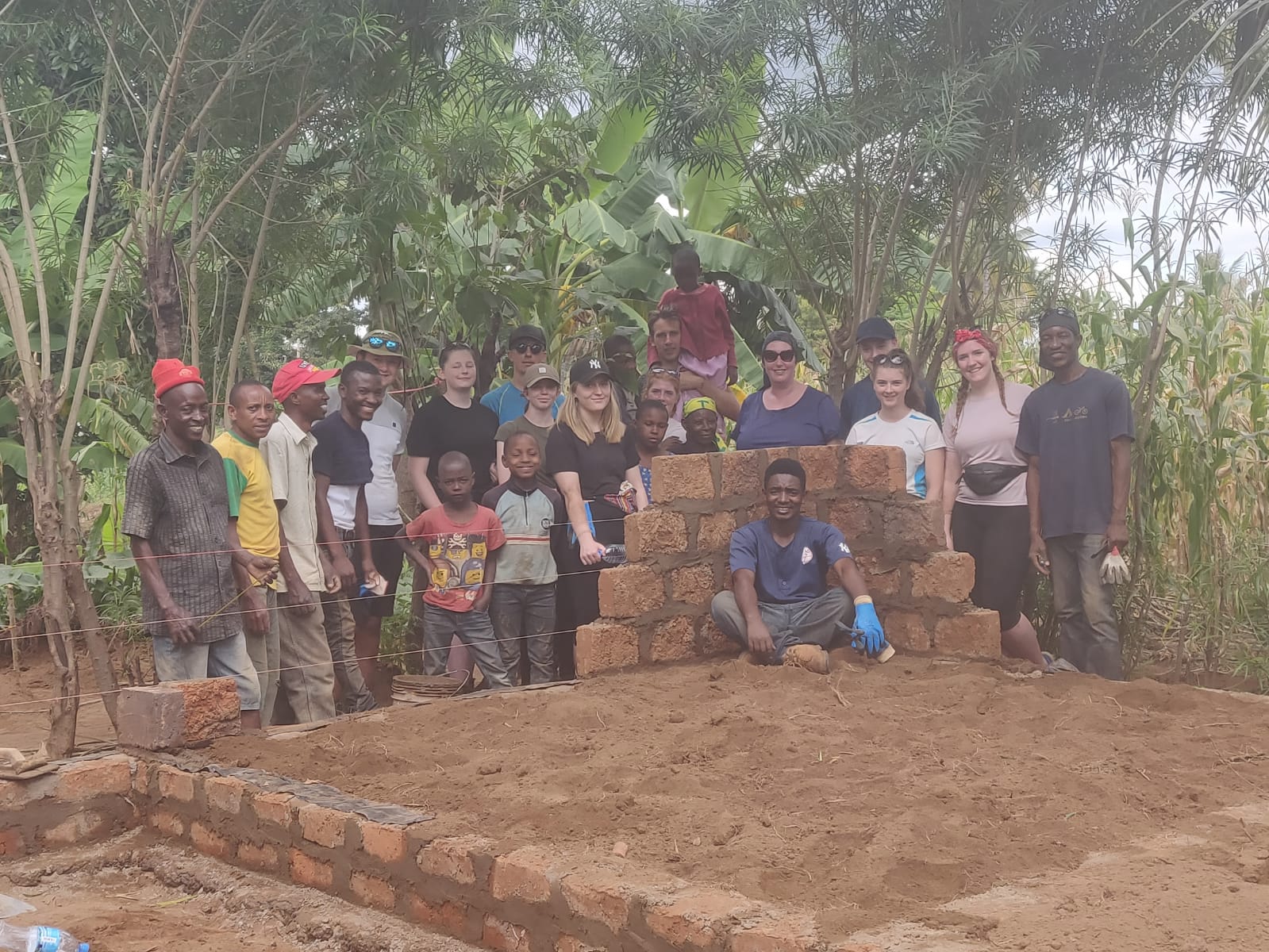 After coming back from a half day at the worksite we split into two teams and travelled into Moshi to do some shopping. One team went to a shop called I-Curio which sold all sorts of souvenirs like the Tanzania football top, giraffe statues, and tribal statues. We then went to another shop that was just across the street where there was a lot of people that came towards us and tried to sell us their paintings and bracelets. After shopping we then went to a supermarket where they sold things that were very familiar to home such as mcvities digestive biscuits and custard creams. We then travelled to the Tinga Tinga Huts where people sold painting in huts made of sticks and scrap metal. After the majority of us had spend large amount of money we then traveled back to the Berea Bible College for dinner.
After dinner all the school teams, from Banff Academy, Kincorth Academy, Hamilton College and Millburn took part in a talent show, Tanzania's Got Talent. There were incredible does of music, dance and done interesting interpretive moves. Everyone had an incredible night and it was great to spend time altogether as one team!
Sunday 29th June 2018
On Sunday we first attended a church service, which was fascinating for everyone, whatever their belief it background. The singing was beautiful and was a great start to the day. After one of Bryson's incredible lunches at Berea, we headed up the mountain for over an hour on a fit track to reach a small coffee product hidden in the palm trees. There we learned how coffee is made from the cherry-like seed to a roasted bean. We all took part in crushing the beans and then were able to taste the coffee we had just made! It was a fantastic finale to a brilliant first week in Tanzania!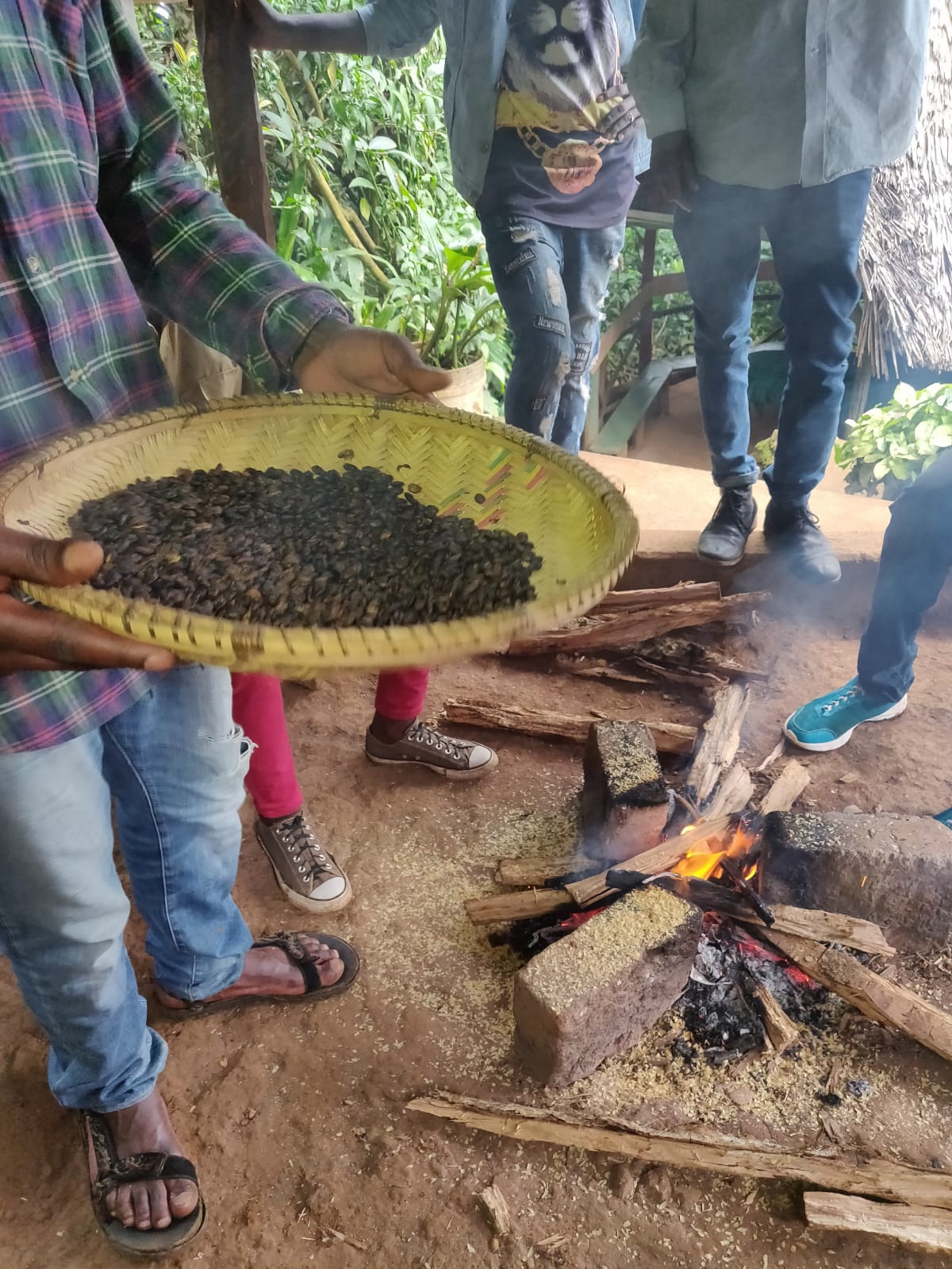 Monday 2nd July 2018

We went to site 3 for the first time. This site is for Baraka, his mother and two younger brothers. The site is very flat and there is a lot of space yet there are loads of maize stalks in the ground which all of us were tripping over. When we got there the sure was completely unworked so we waited for the fundis to tell us where to dig in and then dug out the foundations. It was very hard as the soil was wet and heavy. Once we dug all the foundations, we then moved on to carrying rocks closer to the site. We made great progress in a short time!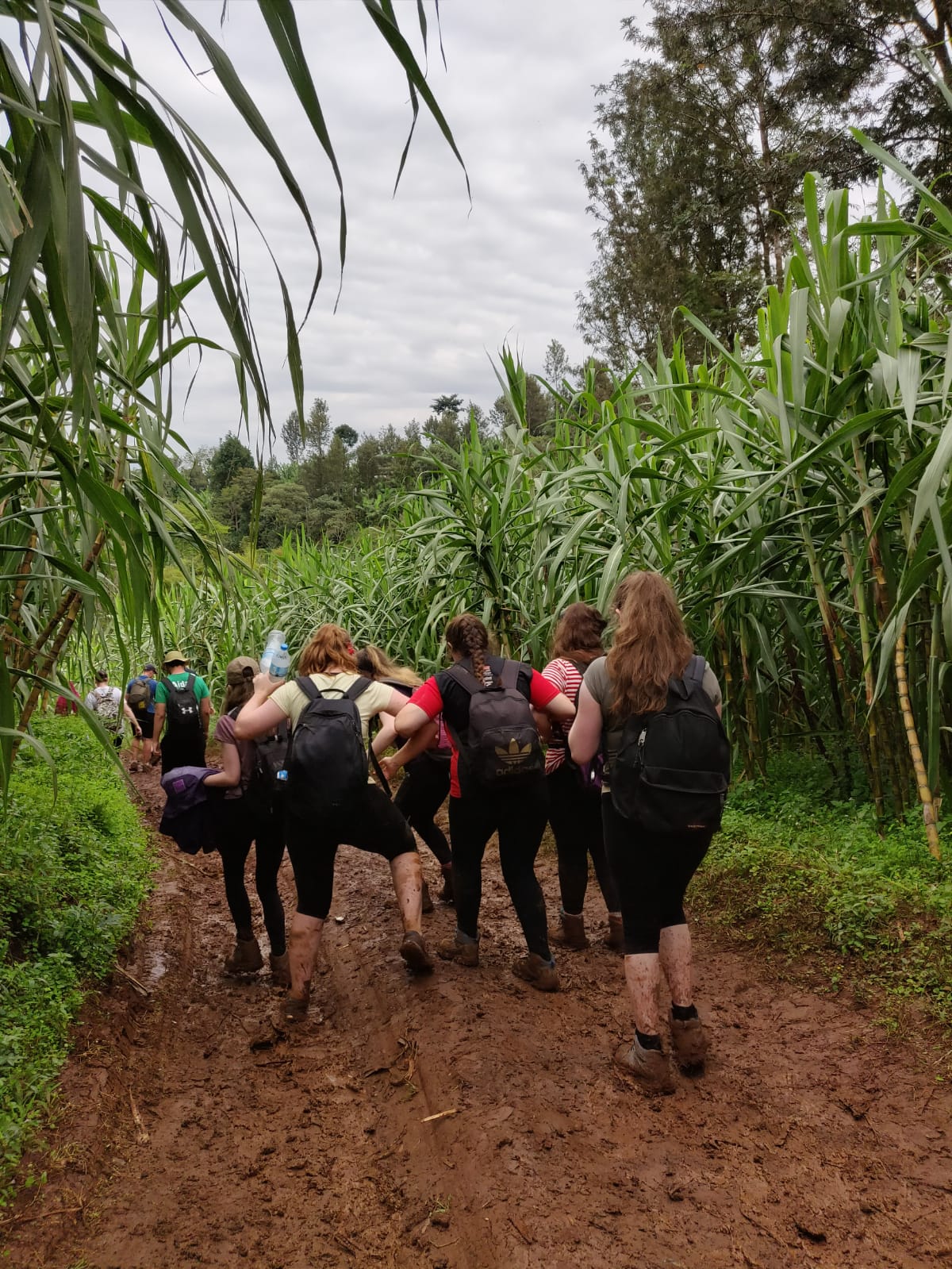 Our second full day at worksite 1 began with us singing along to Loch Lomond on the bus. We then had a long trek up the hill to the site because the heavy rain from the night before meant the bus couldn't get up to the little village . Some of us held hands to prevent human dominos happening. Immediately we began work, chaining buckets of back sand for concrete up the hill whilst singing along to Jambo Bwana. The house had fairly come along and all of the walls were pretty high. We then had lunch and after resumed chaining but this time it was bricks, we passed well over 300 and it was very sweaty work. There were a few teenagers helping out too which was great, after the work was complete we got out toys and bubbles for the kids and they had great fun. At night we went to Kilimanjaro Coffee Lounge for dinner and everyone had a lovely well- deserved meal. Very productive and hard working day and looking forward to continuing tomorrow!!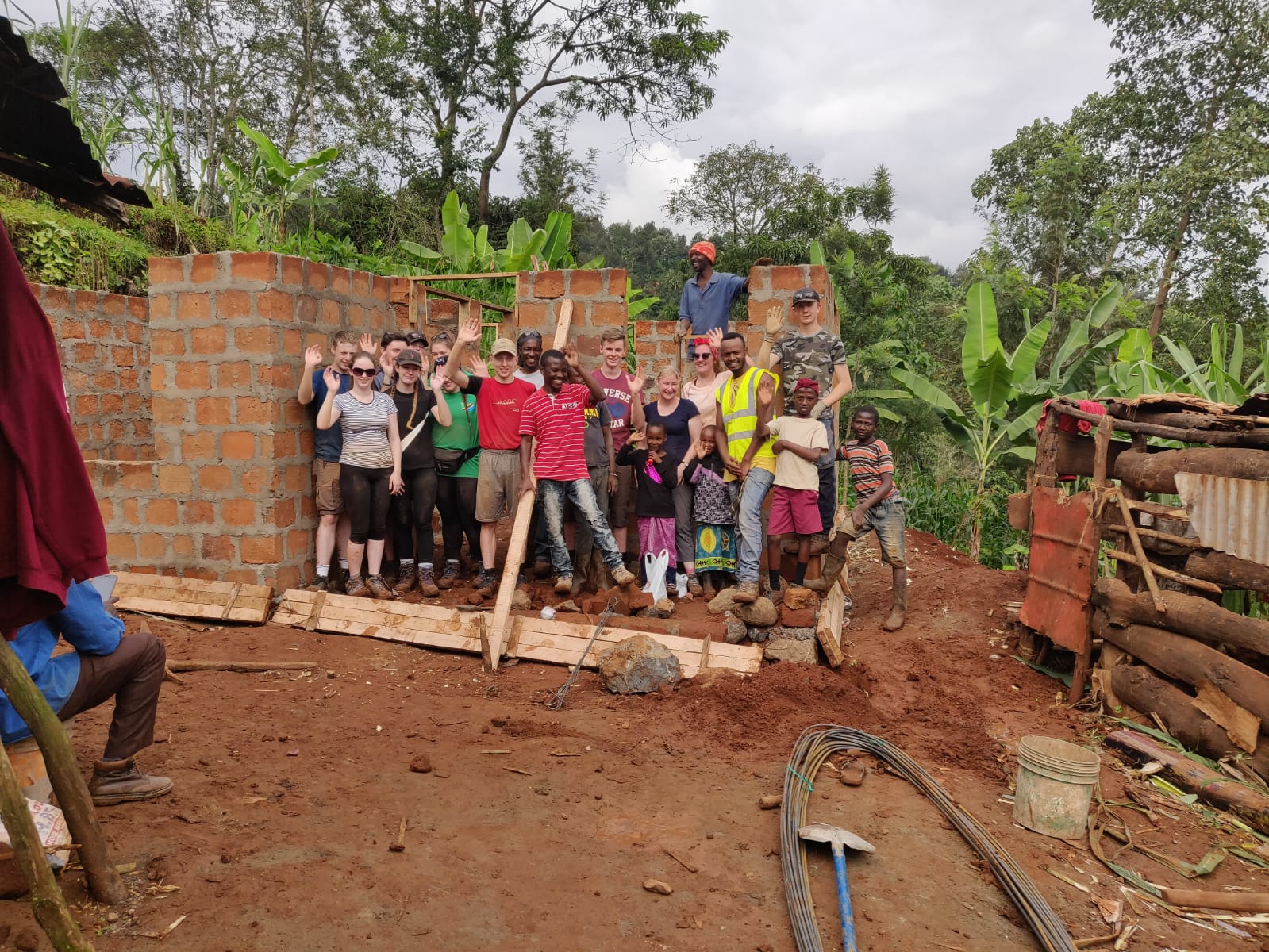 Tuesday 3rd July 2018

Day 6 on site 1 started with the usual breakfast at 7:30. Then off to the worksite around 9:30. Due to rain the previous night the road to the site was extremely muddy, which meant the buses weren't going to get along the road. This meant, just like yesterday, we had a 20-minute walk to get to the site with lots of hills and ups and downs. Surprisingly we all made it there with no slips. As I hadn't been at worksite 1 in a few days it was good to see the progress that can be made in such short time, with some of the walls already up. First we made a chain to pass the sand for the cement (with extra care due to mud). Then the water was chained, and finally the pile of bricks disappeared up the hill. Again we had music to keep up morale. For most of the day the kids were at school so no one was distracted in the morning aside from the most adorable baby ever. On the walk back we stumbled across a chameleon (again no slips), found some interesting ants working hard along the path and gathered lots of mud on our boots. It was another full day on the worksite with extra mud so everyone was keen to hit the showers afterwards.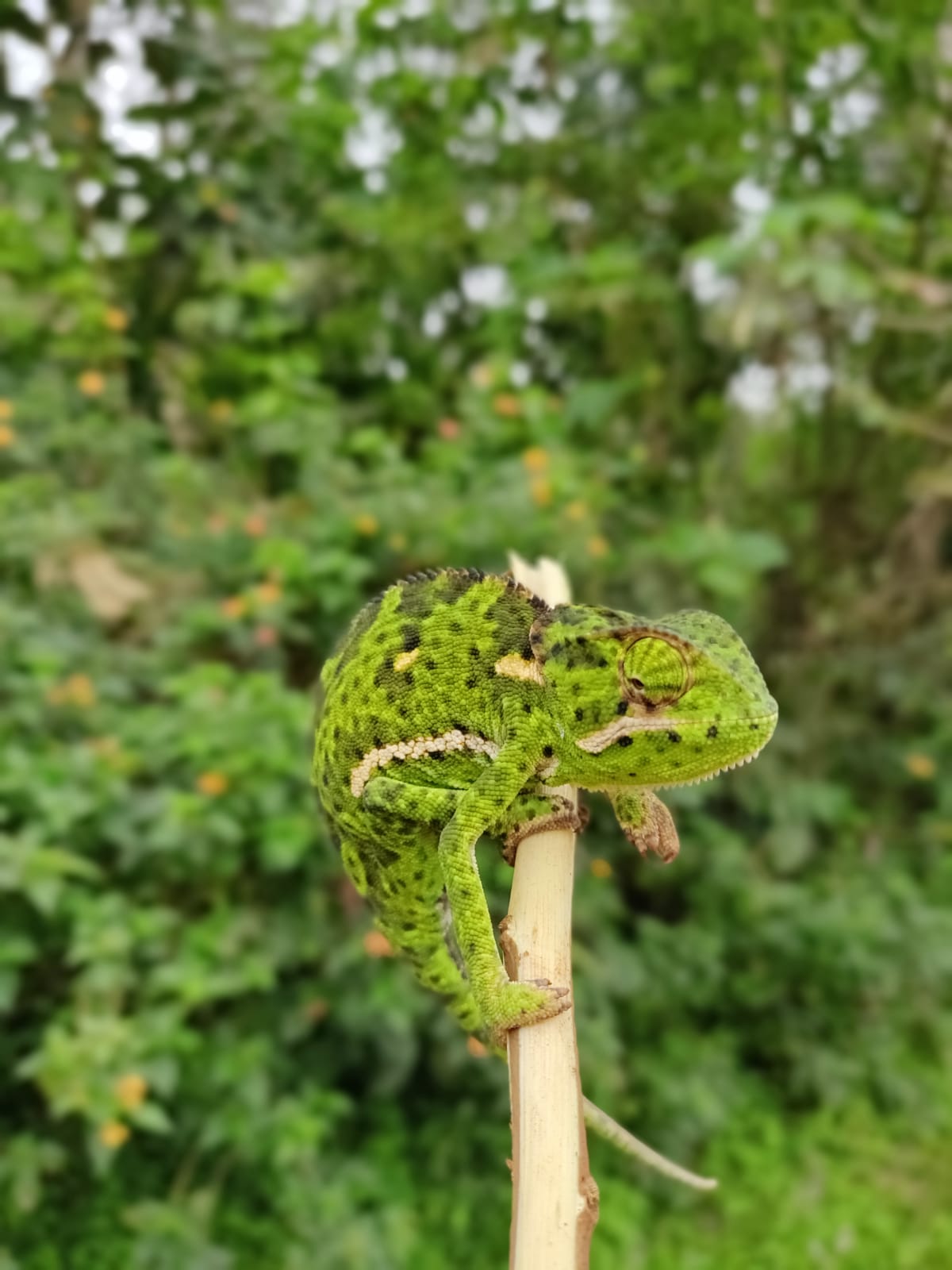 On site 3, l we continued working on the new house for Barak and his family by carrying up rocks to fill in the previously dug out foundations and passing buckets of sand in a chain of people. Overall it was a great day on worksite 3 and a rewarding feeling knowing you've done a hard day's work!

That evening we had a lovely Ceilidh with Hamilton College at Ebinezer Hall in Umoja Hostel.
When we arrived we had a lovely dinner of chicken, rice, chips and veg. Louise gave a very heartfelt speech thanking us all for our hard work, time and effort we have put in not only on the worksites but to get to Tanzania. Dafrosa, from TAWREF, also gave a speech thanking us all for being here and fundraising so much money to be able to build these houses and help not only people have a roof over their head but turn their life around in all aspects. We all then got down to the Ceilidh dancing, we taught Hamilton a Millburn dance called the Heel Toe Polka which was great fun, we also did some other dances like the Gay Gordons, Dashing White Sargent and the Canadian Barn Dance. By the end we were all very sweaty but all thoroughly enjoyed ourselves!

With only two more days on the worksites before Safari, we are all keen to make as much progress as possible!
Wednesday 4th July
We carried on working on Site 1. The night's weather building up to the day was heavy rain which made the trek to the site very slippery underfoot so we had to be cautious when walking to the site. When we got there we noticed that the work for the day was going to be difficult so had to plan our work differently to normal. We started off carrying rocks from the bottom of the slope to the top where the house was positioned. We had to cut through the trees to ensure we had a safe path. We moved the rocks half up to the site, then we had a quick break and moved the pile we created to the top. In the middle of this we had to stop due to the rain bring too heavy. We then finished after working in the rain and went back to Berea.
At site three we had to move a large pile of bricks from one end of a field to the worksite. As the bricks were larger and heavier than at the other sites we carried them over to the fundis in pairs. Moving these bricks required a lot of teamwork as we had to coordinate our speed and steps with our partners whilst on the uneven ground. Because of this we managed to move all the bricks to the worksite before heading back to Berea! We all enjoyed a big dinner that night after our hard work.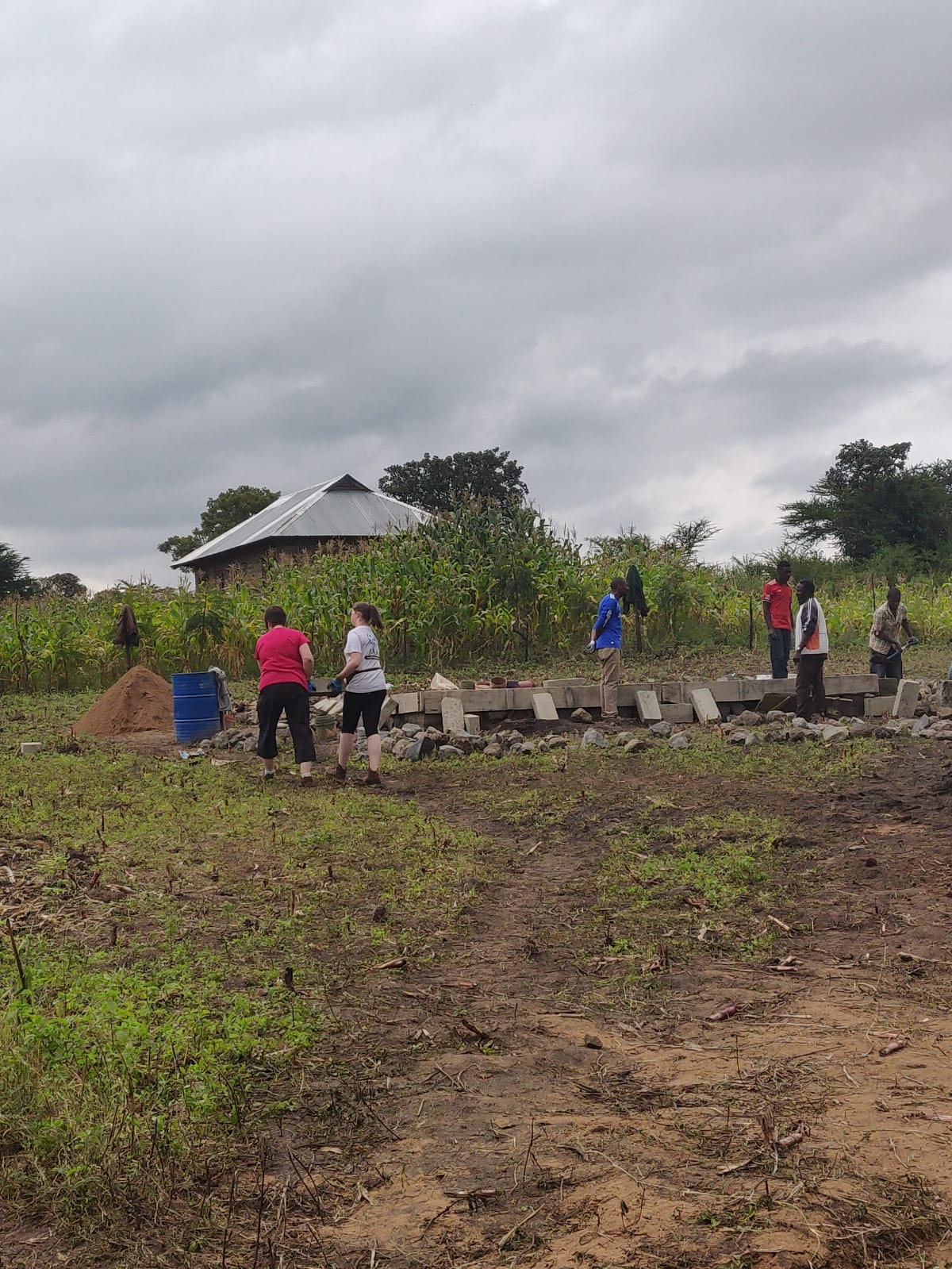 Thursday 5th July 2018
In the morning we ask travelled together to visit Mr Alan's home, which had been constructed by the 2016 Millburn Academy team. It was an emotional visit for all, and in particular Mrs Lindsay who had been involved in the construction of the home two years ago.
After visiting a previously completed house, those of us who wanted to go on and say our final goodbyes to Site 1 headed off. Once we got there we were shocked to see how much of the house had been done since we were last on site; almost all the walls were up and there was scaffolding and wooden struts for the roof. Mama Tasimbora greeted us with a smile and a bump on the fist as we said hello to the fundis before setting off to do our final bit of work, which was moving sand from another location to the worksite in a bucket chain, so that the fundis could make more cement. It was hard work, and we only had about an hour, but we managed to shift several large piles of sand. After a few group photos, it was time to say goodbye. We gathered round the front of the semi-completed house with the donations and the family in front of us; Mama, Baba and Elirehema. Mr Jarvey began a speech of thanks and future wishes, one that admittedly had a few of us wiping at our eyes. When it was time to go, Mama Tasimbora took time to hug each of us individually and thank us, cheering whilst we handed over the donations. It was standing at the top of that steep hill, covered in sweat and dirt, munching on sugar cane and waving goodbye to a family who were soon to have a home, that we realised the monumental scope of what we had helped to do.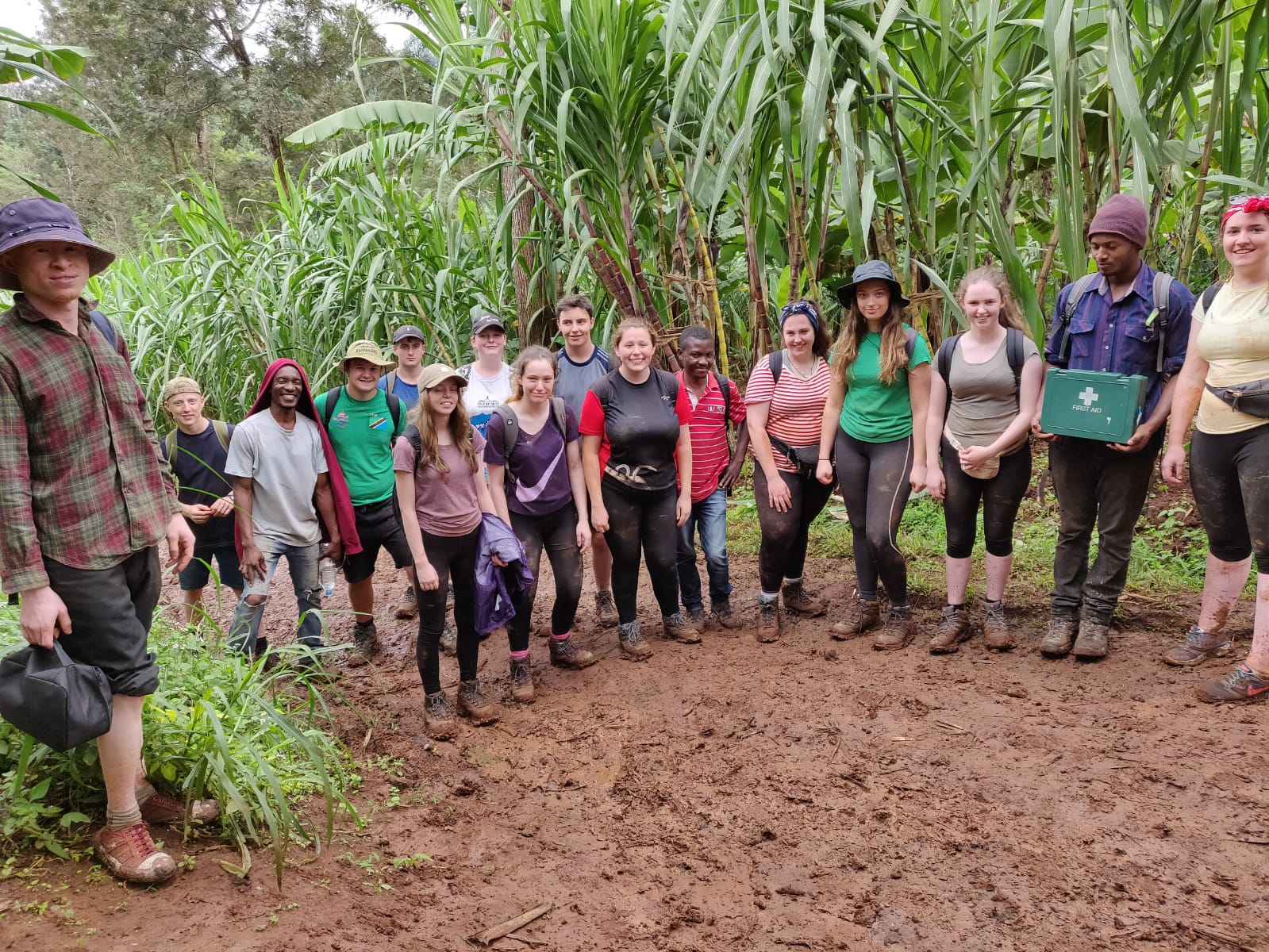 Friday 6th July 2018
We began Friday with a 5am breakfast, but nobody minded - we were going on safari! We jumped into our jeeps and set of for Tarangire National Park, excitedly chattering about which animals we would see. We weren't disappointed - soon after entering the path, we spotted 3 cheetahs. With only 15 in the park, we were extremely lucky!
We were able to get up close and personal with two young male elephants, and before exiting the park we saw a female lion chilling in the branches of a tree, full from a kill. We headed off to our accommodation buzzing for what we would see the next day!
Our evening was filled with laughter as the teachers revealed that they had been observing the team for the past two weeks and had awarded prizes for each of us based on their observations. Prize titles included "Most likely to adopt a Tanzanian baby", "Most likely to never complain" and "Most cheery volunteer".
Louise and the team felt it unfair that the teachers didn't receive prizes, so quickly came up with their own titles! We all went to bed happy and full, ready for another early start.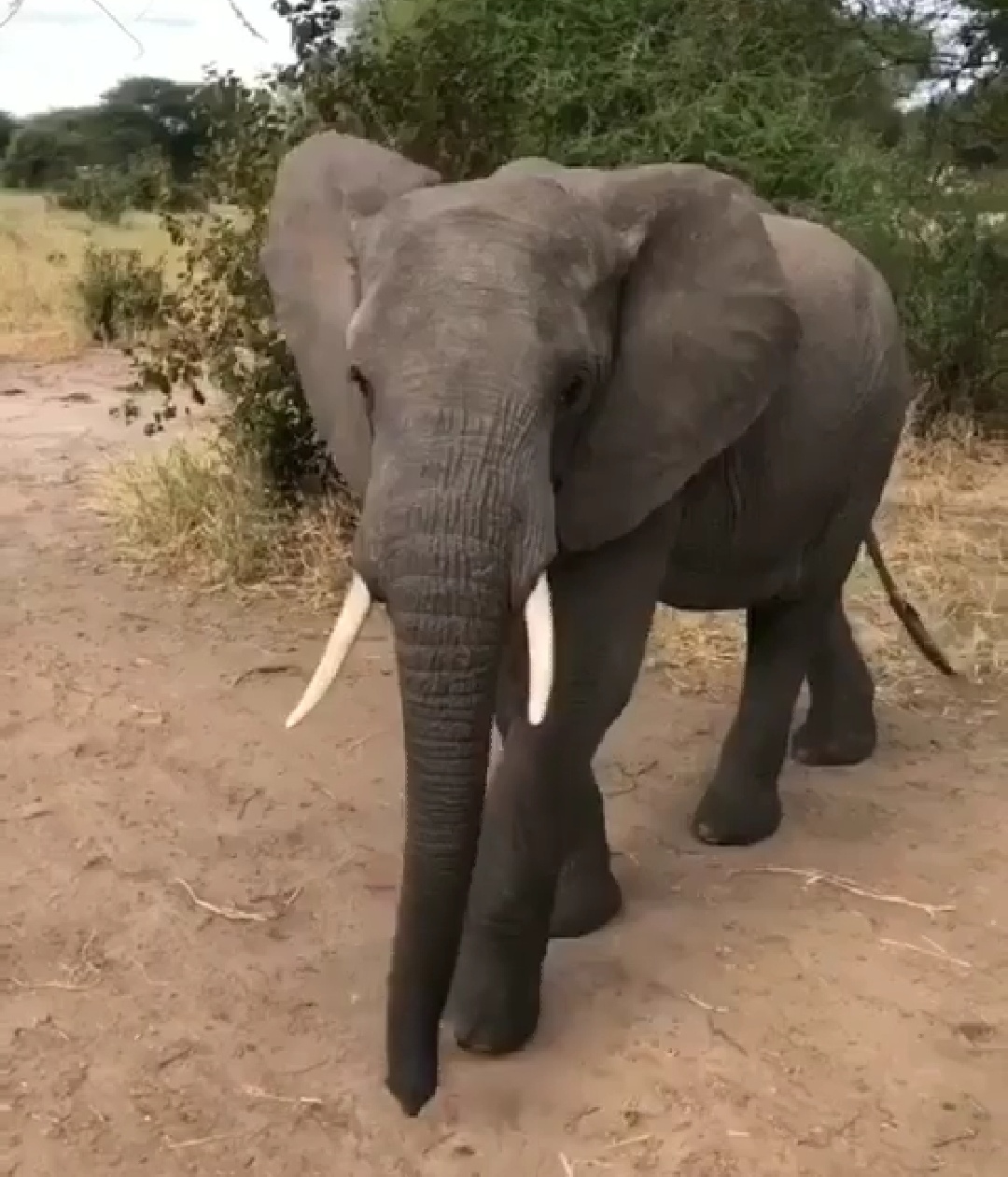 Saturday 7th July 2018
After another 5am start, we made our way to Ngorongoro Crater. The day started still and foggy, which made for incredible lighting as we headed down into the crater. Another lucky day of hippos and snakes, the highlight was when a mother and baby black rhino passed right in front of our trucks as they crossed the road. An incredibly rare sight, it was incredibly humbling to see such incredible animals up so close.
Sunday 8th July 2018
Rested after a long sleep, our team made their way to sites 2 and 3 to say goodbye to the families. We were able to visit the current home of Barak and his family from site 3, which once again was an eye opener to see the tiny, packed room they were moving out of.
On site 2, we were joined by many of the children from the community and said our goodbyes to the family of Frida, Josephine, grandpa, grandma and mum.
We all headed to the airport for our flight home feeling not quite ready to leave and wheat planning our return to the incredible country of Tanzania!