Moshi moshi from Moshi.
I know that's Japanese rather than Swahili but I can't overlook a bit of wordplay. For those who do know a bit of Swahili, Jambo from Moshi.
It's Sunday night as I write this...apologies for the delay. I had written a verbose piece with lots of wordplay but you've all been spared that because I had to get a local SIM to upload this and I lost all of my musings. I'm writing this on my phone so please excuse any typos and forgive me for phonetic interpretations of Swahili.
To all the parents at home I can say that your kids have been brilliant. They've coped with the long journey, the heat and the newness of everything without a single complaint. Seeing them play with the Tanzanian children here at Berea and today at the orphanage has made me very proud of them. We knew we had a good bunch all through this but they've come into their own here.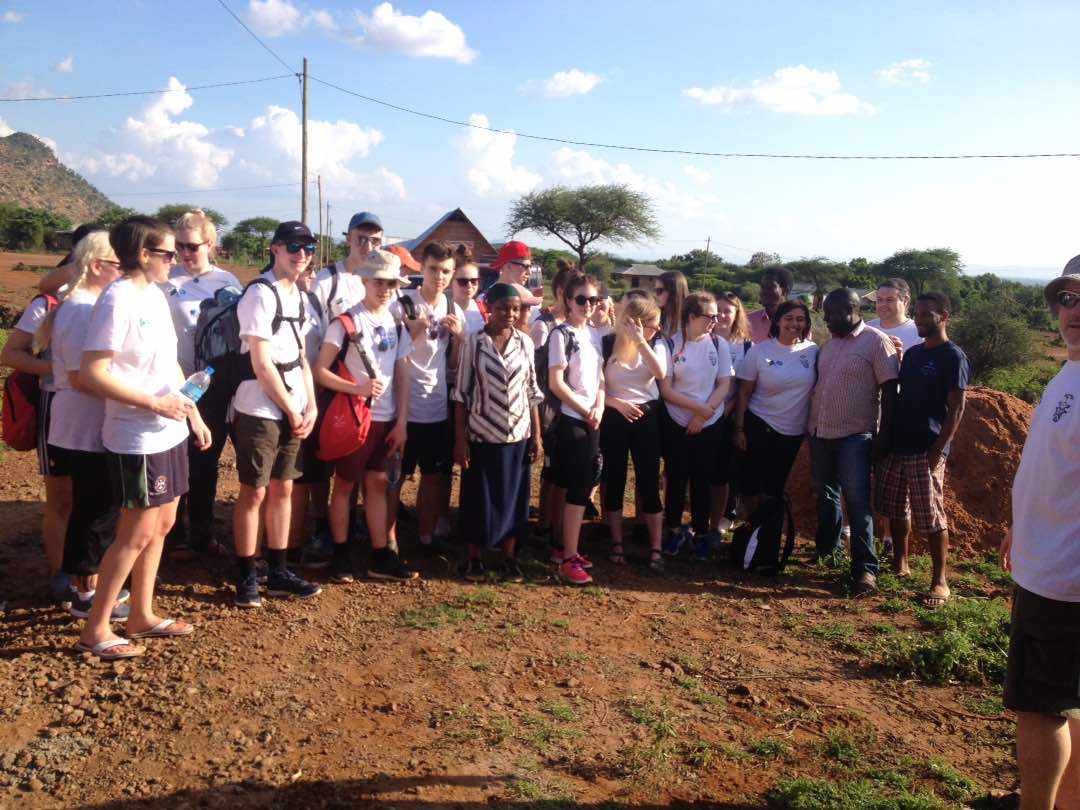 The journey here was long...it seems like weeks have passed since we were waved off at the school and listened to 80s music through the night on our way to Edinburgh. We had some frantic reorganisation of bags in Edinburgh to distribute the 32 kilos that were in one case stuffed with charitable donations but we made it and the rest of the trip was straightforward. Arriving in Kilimanjaro Airport involved the usual wait but before long we met Elly and Ben, the Tanzanian Vine Trust workers and were loading up the bus. It's only when I see an African bus being loaded up with cases in the roof that I feel I've really arrived. The journey to Moshi was in the dark so the kids perhaps didn't have that initial culture shock to the senses that Africa can bring. We were all tired when we got to Berea but some food and a warm welcome awaited us. Most of us slept well that night...only woken by music from the street and later the call to prayer.
Our first full day here and after our first magical glimpse of Kilimanjaro, a chance to meet the two families we will be working with to build their houses. We picked up Mama Julita first and then Samwell and Freddy and then it was on to the worksites. The first site is actually quite high in the hills and surrounded by lush banana plantations. It has the advantage of being a bit cooler as the second site is on the plain and there's no banana palms to seek shade under. Meeting the two families and exchanging housewarming gifts with them was really moving and I think this made the trip feel worthwhile for us all. There were a few teary eyes but also lots of smiles and I think that will be the story of the days ahead.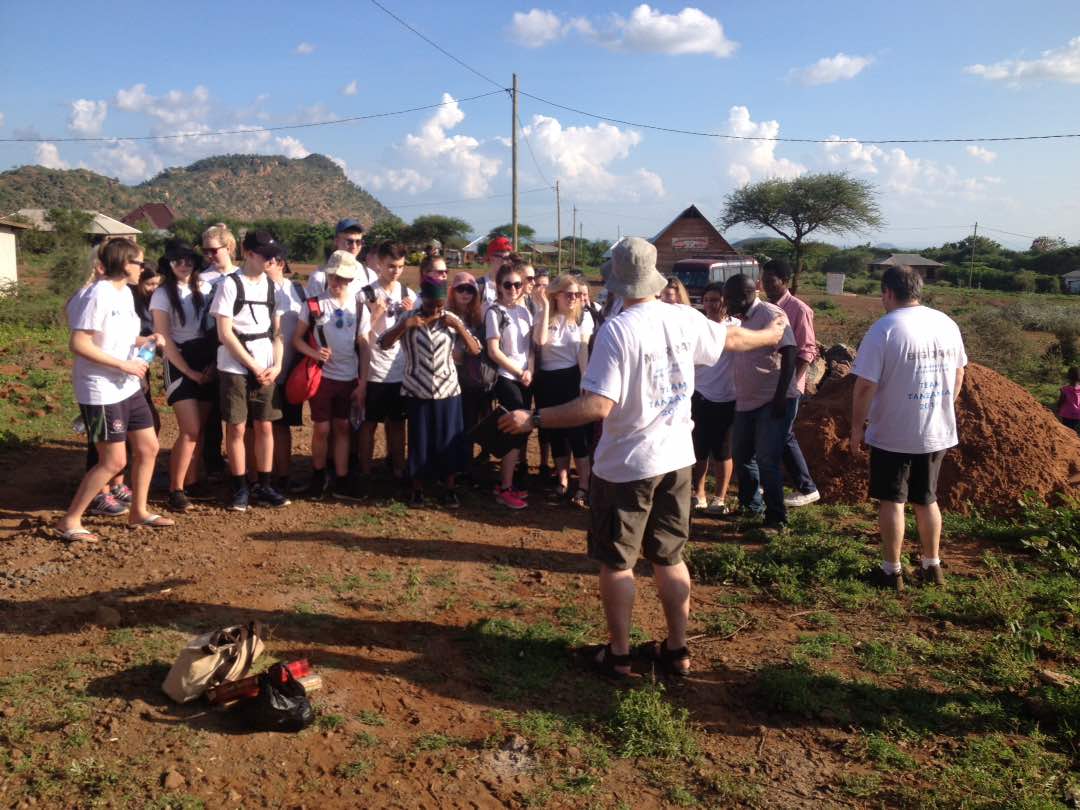 Tomorrow will be a tough day as it's the first day of work on the building sites but after a hard fought football match today between a team of Scots and Tanzanians some of us are already broken. Needless to say our performance reflected that of the national team...we were glorious failures but when was the last time Scotland scored 6 goals and lost? If staff at school are reading this the names Mason and Turner were on the scoresheet...if wives are reading this, David has a black eye after some goalkeeping heroics.
I want to reassure all the parents that the kids are happy and healthy. The food gets a thumbs up from everyone, the rooms are good and we are being well looked after. As I type this the kids are downstairs learning some Swahili...I think they will learn a lot more than new vocabulary over the next fortnight. I'll hopefully have data now so I'll try and keep the blog updated each day. For now, to all at home Hakuna Matata.
Malcolm Turner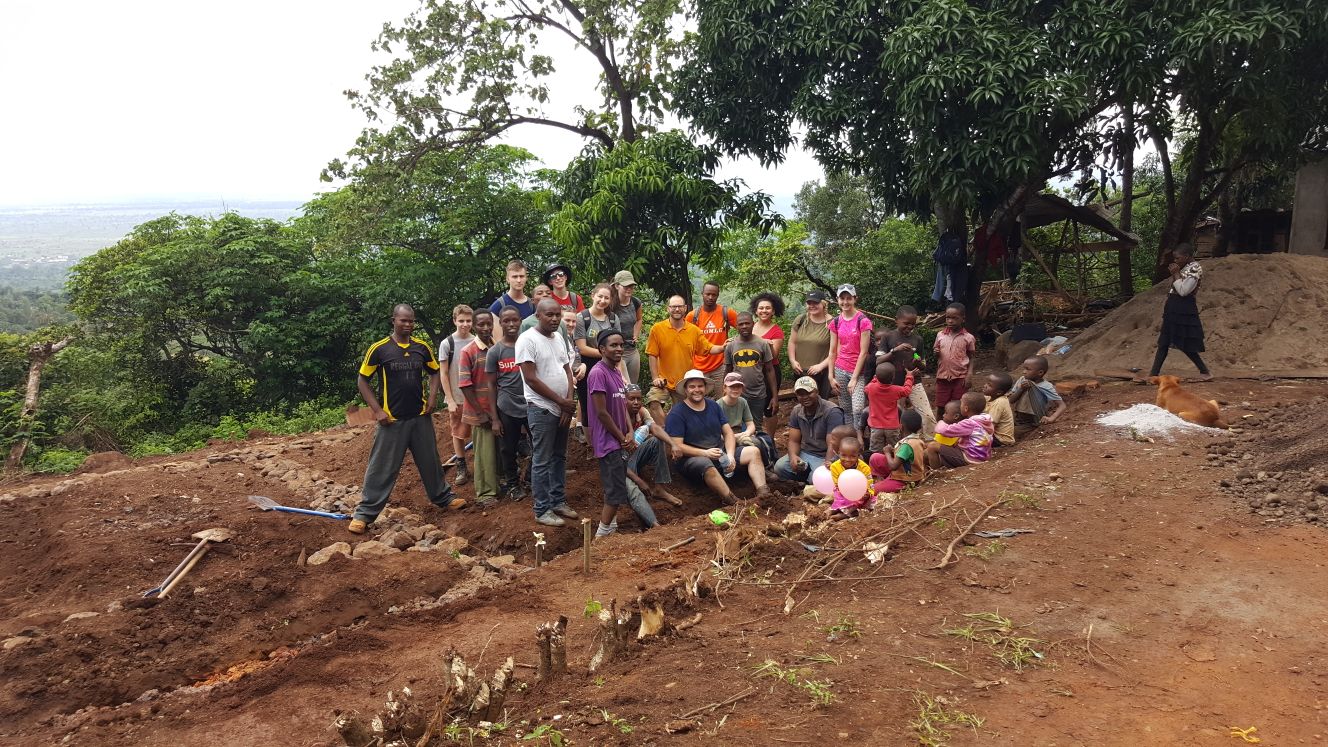 Monday 26th March
The work starts here. The group splits in two today to get started on both sites simultaneously. Team Big Dave (names have not been changed to protect the innocent) headed up the hill to start levelling the site for Sam and Freddy's plot. Team Njia Panda went to Njia Panda to start digging the hard (but already flat) ground for foundations. When we set off we thought this might be the harder shift but progress was quicker here when we compared notes at the end of the day. Murray, Mrs Neil and Mason were with this group so will no doubt claim this was down to their superior motivational skills. I'm not going to comment on that...I'll let them dig out their own trumpets to blow.
It had rained overnight so our journey up the mountain was a bit slower and the last stretch was on foot so that we didn't ground our bus. We made it to the site to find that one of the trucks which had delivered the supplies had been a bit braver than us……...and was grounded.
A large part of our day was spent trying to shift the truck. At one point this resulted in the truck slipping sideways onto the building site. Fortunately, our daily risk assessment had flagged up the potential for this so the pupils were all well clear. The upside to this downturn was that the lorry did a good job of churning up the top layer of soil. When the lorry wasn't on top of the plot we worked together to level the site: shifting rocks along a human chain and getting stuck in with pick axes and spades. Collectively we were a match for any JCB.
By this stage we were caked in the red mud of Africa and ready for a stop at the supermarket (think the wee Tesco in Inverness) for an ice cold pineapple Fanta. This is one time when a sugary drink is not a bad idea. We went out to eat at Kilimanjaro Coffee House where the kids enjoyed pizza, burgers and some limited WiFi. Some kids managed to get in touch with home. We ended the night playing cards and contact catch...ask the kids about this when they are home!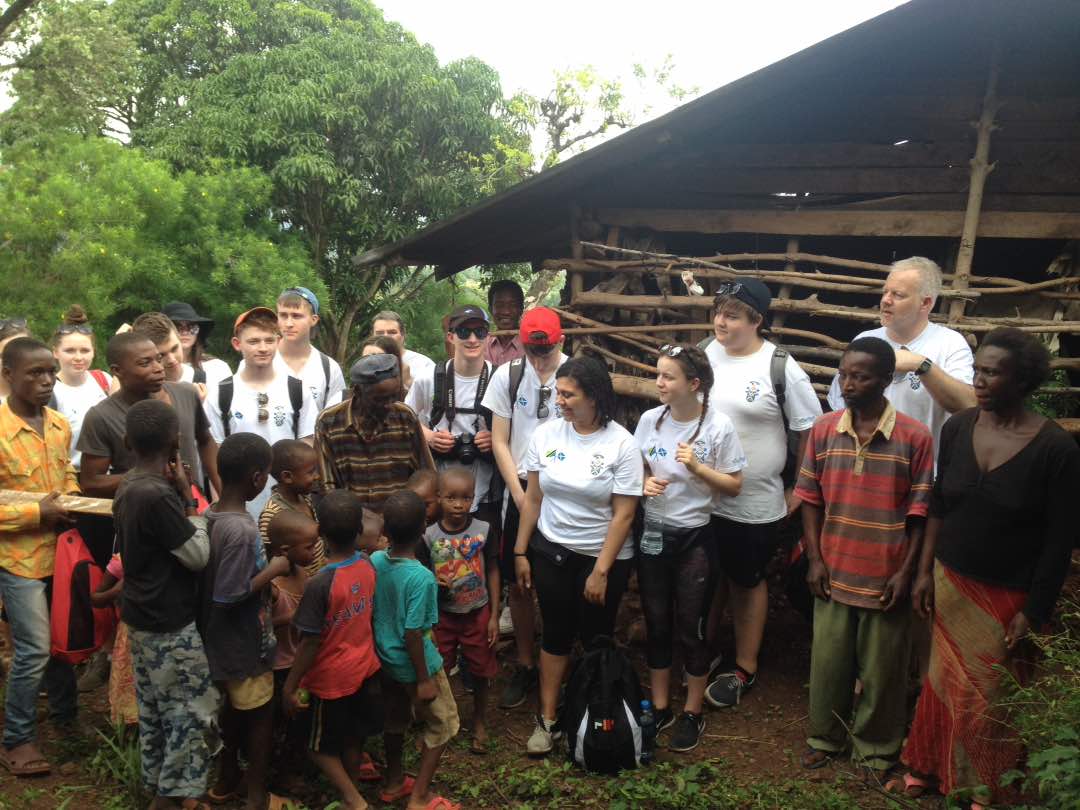 Tuesday 27th March
We awoke to rain soaked ground after heavy downpours. This didn't bode well for stranded trucks but when we arrived on-site we were pleasantly surprised to find the road clear and not as muddy. The rains in Africa must fall mainly on the plain and not up on our hill. It was a long day of digging foundations, shifting rocks and then sand. Everyone mucked in, including Mairi Fraser who is a Vine Trust Trustee (and owns The Drawing Room in Inverness) and it turns out, is quite handy with a shovel. We were tired when we got back tonight but it was so good to see Sam standing proudly on the foundations of his new house.
I should say a bit about night time activities because we spend a good bit of time together back at Berea. Category Catch has rapidly established itself as a favourite. Some of the team are very competitive...no names but Sophie will tell you when she's home. The three Jacks are regular players along with Duncan, Verity, David, Euan, Craig and a few competitive adults. Ben from The Vine Trust joins in when he's not strumming his guitar. Others play cards, Hally Galli (ask Miss Mason) or play with the local kids.
This was the day that saw the two teams swapping site. I think both teams were already attached to the sites they'd been on but it was good to see another build and be part of that story too. It wasn't quite so hot on the "hot" site when we got there which was just as well as we had a hard day of pick axes and shovelling in rock hard ground.
The other team enjoyed the relative cool of the hill site and made good progress. Both teams were tired after a full day on site but the party bus was still rocking when we got back to base. The 66 grams of sugar in a pineapple or passion fruit fanta are a necessary purchase for just about everyone on the way home and prepare for a night of balloon races and banter. We have moments to reflect on what we see and what we are doing and it's interesting to hear those observations from the pupils who are all able to reflect maturely on the differences and similarities we've encountered. Watching our kids working hand in hand with children from the local communities is always a highlight of these trips. Africa is an industrious place. I hope our kids will return with lots of tales to confound the stereotypes.
The next day was more of the same hard graft but tonight ended with a trip out as a team for dinner in town. Iona was surprised to see two eyes staring up at her when her fish was not like you'd get at the Hilton Chippy but she took it in her stride. When she said she'd never have coped with this before it was just one example of how oue kids have come a long way in just a few days. It rained on one site today but was scorching in the other...the sun must shine on the righteous. Tomorrow sees last day on site before Safari on Monday. The days are starting to speed by...there's definitely a rhythm to a trip like this and sometimes the days seem to last a week but I think that has a lit to do with the incredible assault on the senses that an African adventure offers. Yesterday a motorbike overtook us with a sofa strapped to the pillion seat. The fact that is was a leopardskin print sofa is the part that really makes this African.
I'm sure the pupils will have lots of photos of the weird and wonderful sights they have seen...and hopefully they will be a stimulus for them to remember and to reflect on this adventure. Whatever memories they take home, they will leave two houses behind and that's a nice thought.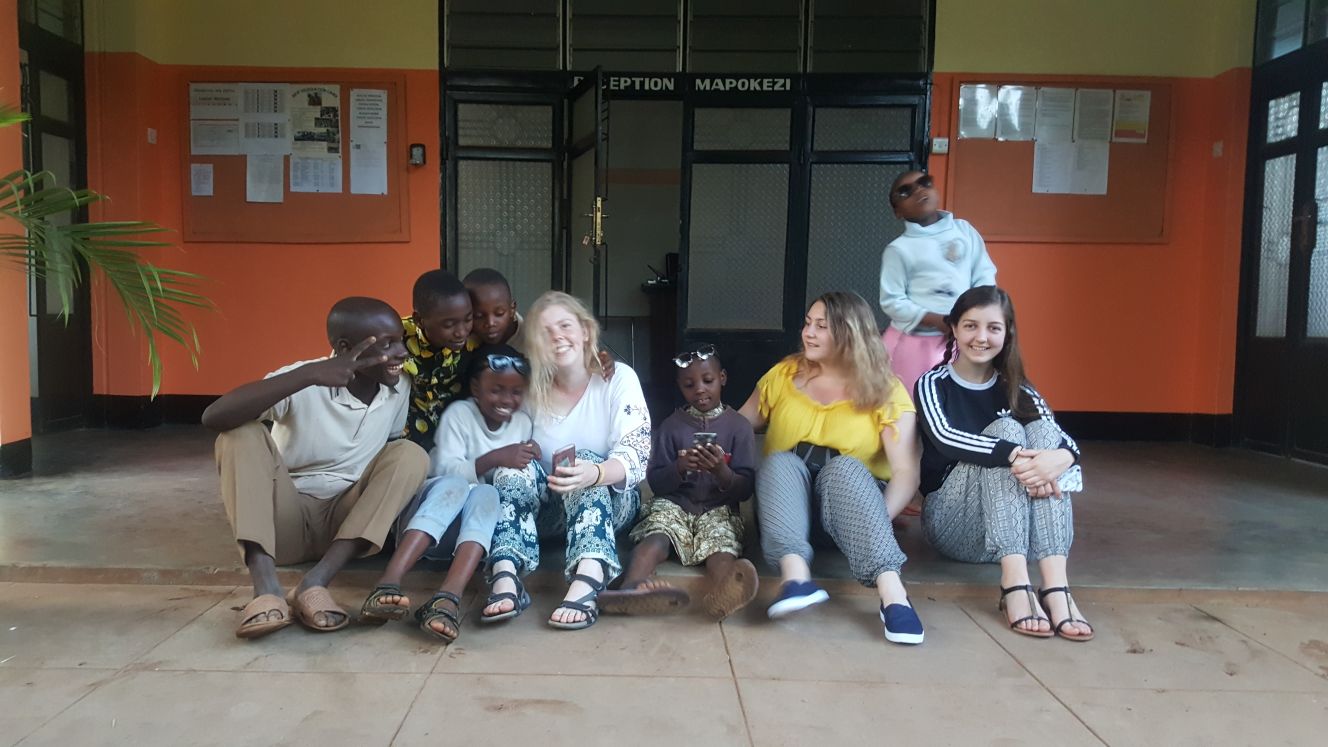 3rd April
I'm writing this up from memory a few days later sitting in the dark before dawn at a camp site after a night under canvas. Thinking back to Saturday I think we were all glad that it was a half day on site. The Njiapanda site is looking good now with walls above window height. We spent the morning shifting sand and rocks and wetting the walls (and each other thanks to Big Dave) so that the mortar does not dry too quickly and crack in the heat.
After a shower at Berea we went back into Moshi for coffee and cake...the boys in the first bus got the best cakes which did not go down well with the girls. After caffeine and some Wi-Fi we split into three groups and hit Moshi market. There are no words to describe the assault on the senses of a busy African market. Twisting and turning through the narrow passageways against a stream of people is always a mesmerising experience. Ben took my group (Iona, Kirsty, Niamh, Anna, Eilidh and Emily) through the warren of the food market. At one stall there are mounds of smoked fish, at the next a stack of avocados ripe enough for any hipster. There are sacks of spice, sandals made from old car tyres, cloths and shawls of every colour. Our group slip through the carousel stopping at souvenir shops to practise their haggling. Everyone enjoyed the experience and a few emerged with some serious bargains.
Back at base we had a surprise birthday cake for Iona decorated with the Tanzanian flag. We also sang happy birthday to my wife via WhatsApp...she's very understanding as this is the third time I've been in Africa with the school on her birthday! We had a quiz rematch which the teacher's team lost narrowly after some very pedantic marking.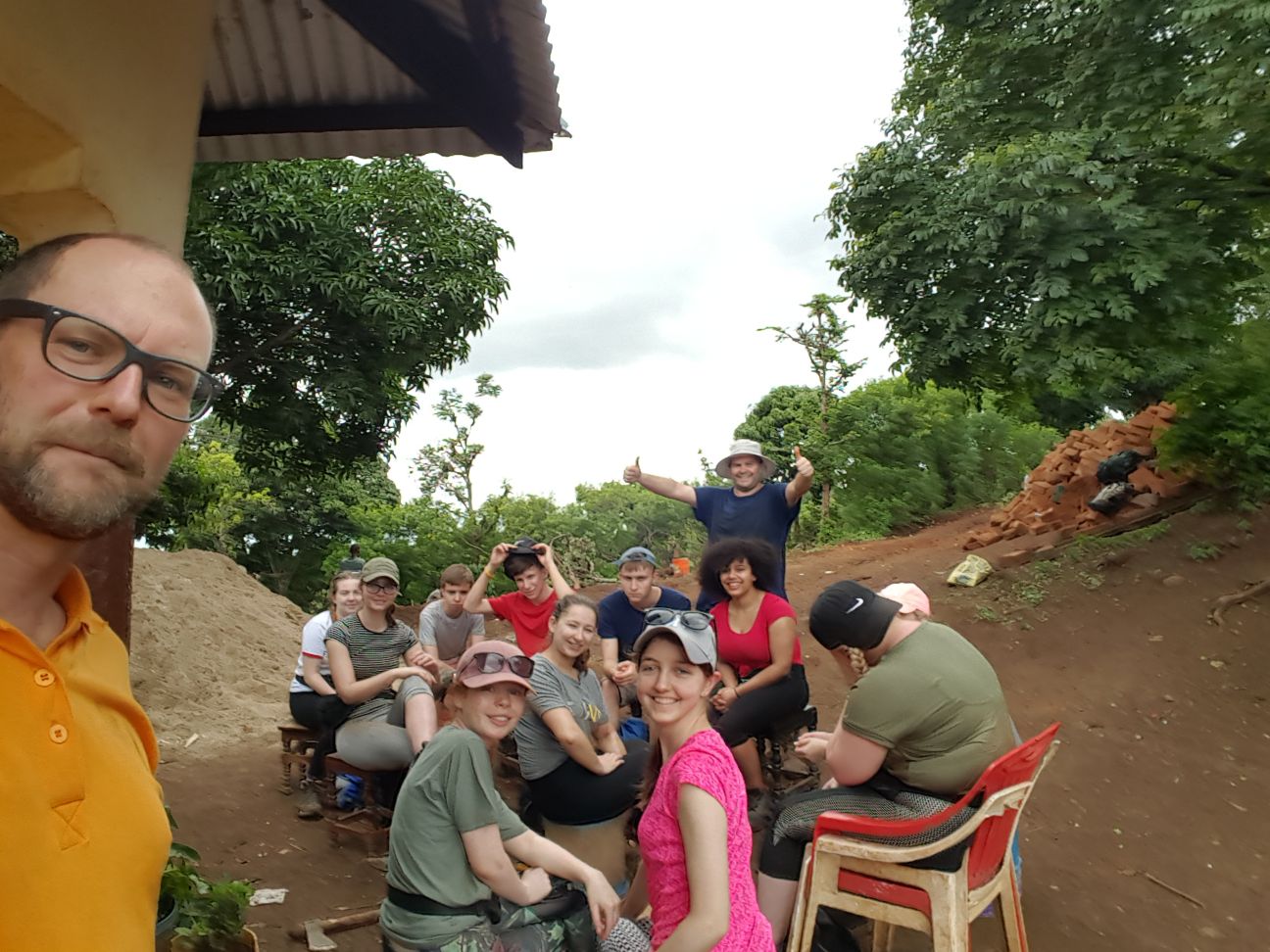 4th April
Some of us made it up early for the 8.15 Easter service at Kilimnjaro International Church. This service was in English and those who had struggled up enjoyed the experience. Back at base the sleepyheads had enjoyed a long lie and we were all in a good mood when we returned to MCC for lunch at the orphange. We were treated to some singing from the children and then a feast prepared by Bryson our cook at Berea. It was then time for a rematch and this time we started strongly with Ben and Elly in our ranks. It was a great gane for the neutral fan, even better for the Scots as we pressured and harried our way to a 3-1 victory. I think that gives us an aggregate victory on away goals. After distributing mozzie nets and football tops we said our goodbyes before a short bus journey to one of the houses the previous IRA team had built. The smile on the face of Lucretia when she recognised Murray and David was very moving. I'm not sure how her grandmother, Mama Luciana, felt about 30 unannounced guests but she warmly showed us her house. Seeing the mud hut they had both lived in was a sobering reminder of the inequalities of this world and an endorsement of everything The Vine Trust is doing here.
After this uplifting visit we made our way to a second football match of the day (we were on a roll by now) against Ben's team The Reggae Boys. The team keeps young guys off the streets and is coached by Frank Online, one of our fundis. He looked very dapper out of his work clothes and the skill level of the Reggae boys had us quite worried before kick-off. The pitch was perhaps not the grassiest we've ever played on and the rain had made it quite slippy so we decided to play a shorter game...partly to avoid a thrashing. We did have one casualty who had a nasty fall in th mud much to his twin brother's amusement but other than some very dirty clothes we left the "field" of play with a 4-4 draw. I should say that our goalie, author of this blog, threw the ball into our net to cost os one of the goals. In the interests of self-promotion, I should add that he then played outfield and scored one of the most inelegant goals ever witnessed to to bring the score back to 4-3 before Jack Leil got the equalizing goal with the last kick of the game. Coach Mason was satisfied with our unbeaten record on the day. We had an early night in preparation for our call to prayer alarm on our way to the safari...but more of that next time.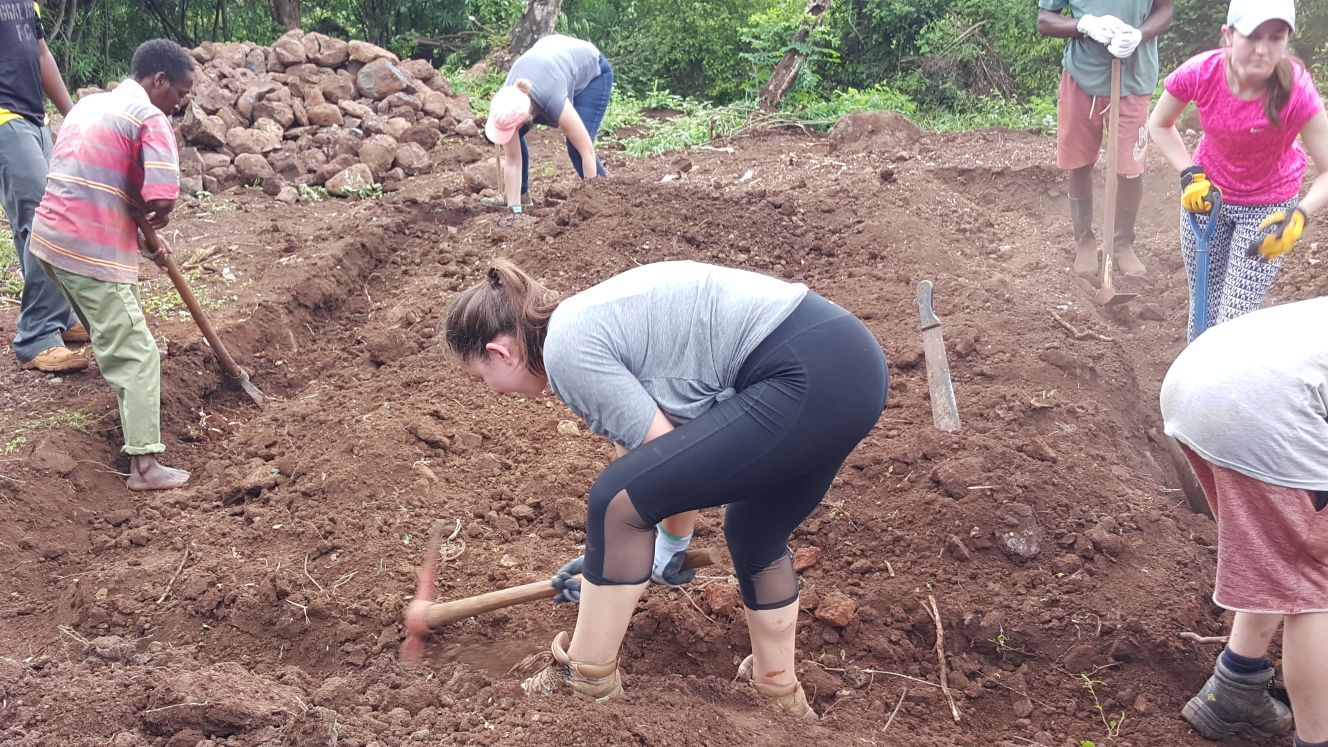 5th April
A brutally early start saw most of us dozing by the outskirts of Moshi as we began the 4 hour drive to Tarangire National Park. Some luxury "western" toilets were a highlight of the day for some. Our drivers were all great guys, particularly "Safari John"...who kept Miss Neil's group entertained throughout. Our group (Murray, Kirsty, Iona, Anna, Eilidh and yours truly) literally had Goodluck driving us. Like, actual. Genuine.
We saw elephants up close...maybe too close in one respect that I'll leave out the blog! There were giraffes too and a very exciting moment when a female lion emerged from the African rains (start humming Toto now for full effect) and we witnessed a hapless but ultimately very lucky warthog bounce along into the lion's vicinity. We were all, vegetarians included, preparing for a kill but lions are pretty lazy so after a quick dash by the Simba and a very abrupt change of direction and rapid acceleration by Pumba, we had to settle for a near miss.
We camped out for the night under African skies and were again fed by the omnipresent and much loved Bryson.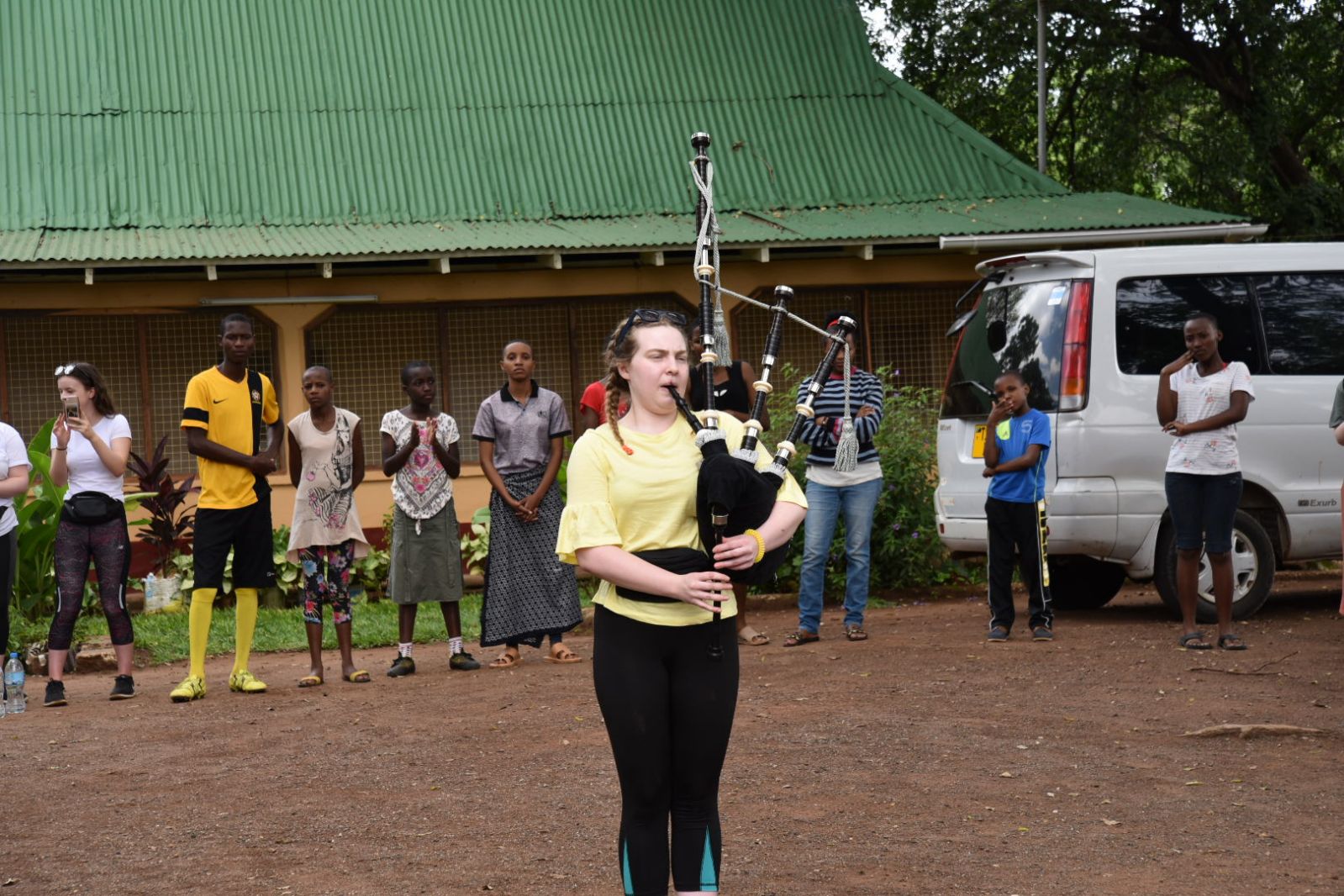 6th April
The second day of safari saw us arriving at Ngorogoro crater in the heart of Masai territory as the mists began to lift. The first glimpse into the volcanic crater was awe inspiring as we saw the sheer scale of the place. Looking down onto the flat floor an caldera lake it was hard to believe there would be any animals at all but as we descended the steep road we began to notice lots of black dots which later turned out to be zebras, wildebeest, buffalos, implalas, gazelles, a solitary rhino and a few lazy and probably well fed lions. We saw hippos too but no leopards but 4 of the big 5 ain't bad. We enjoyed some good haggling in a souvenir shop on the way home which literally took like ages.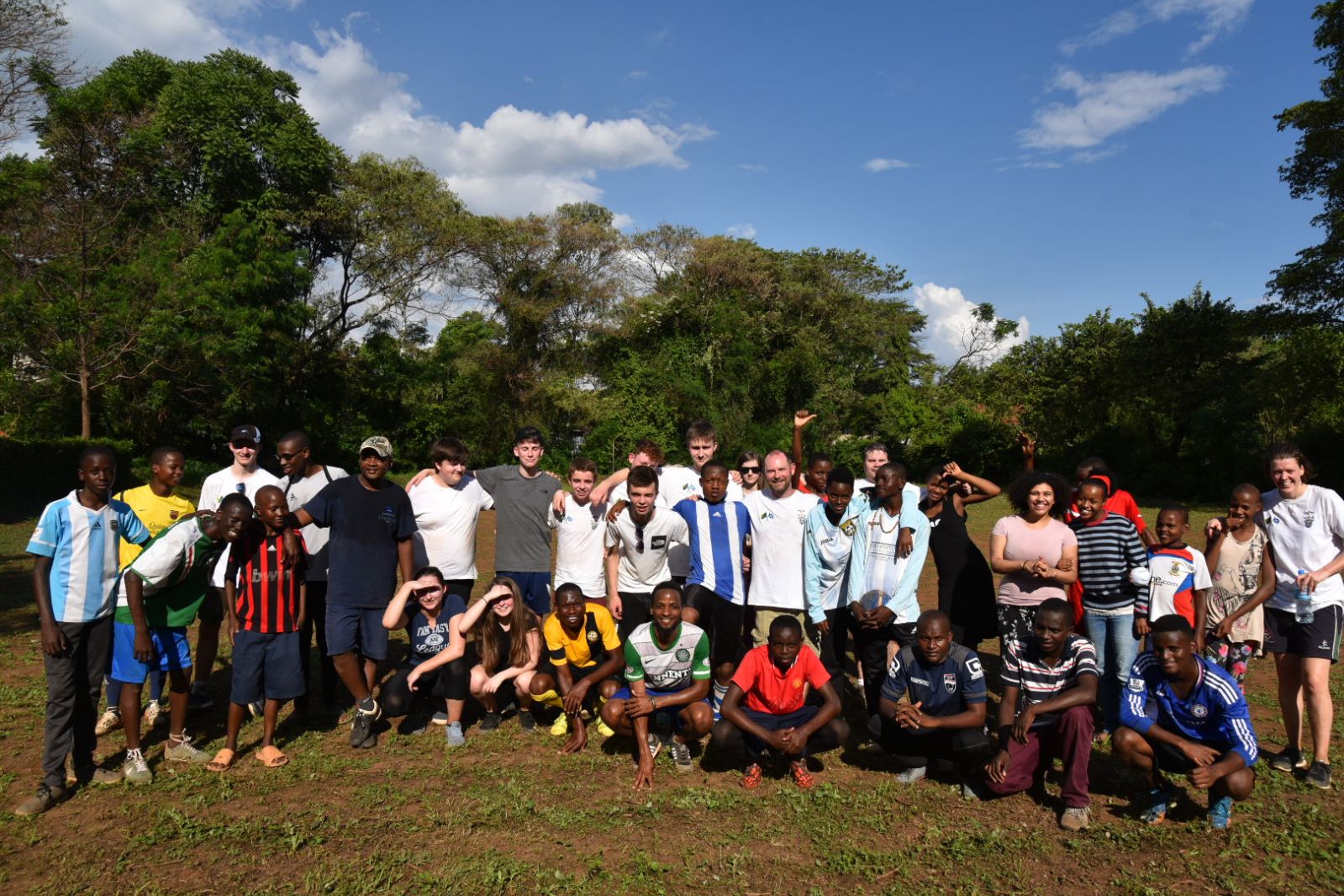 7th April
This brings me up to date. We're back at Berea after a ceilidh with another group from Scotland and TAWREF staff. We had a great night with dancing lead by Miss Mason accompanied by the quietest speakers known to man. Doroso, TAWREF's director, welcomed us warmly and had some of us in tears with a gift for each of us. When she spoke about the inequalities of this world and the difference your children are making it really hit home why this trip has been so special. It's been great to hear pupils talk about how they have mixed with fellow pupils they didn't know well in school and really grow as human beings over the trip. I tend to play the clown on trips like this to keep the mood up but if I can be serious here I would say that I hope your children really will see this trip as a catalyst for a future filled with confidence but also humility and a deep understanding of our interconnected lives. Perhaps they will feel they can't change the world but I do hope they'll keep believing they can make it better. They have here.
Their work today was the last on site although both teams will visit both sites tomorrow and say our goodbyes. When we left our site today (having donated Hi-vis and hard hats to Frank Online and his team) I felt quite emotional because we have made a difference. This time tomorrow we will, all being well, be somewhere over this vast, beautiful, magical continent on our way home. I know you'll be getting very excited to see your sons and daughters again. They are very excited to be going home. It's an emotive word "home" but more so here as we leave knowing thst we have made two new homes for two very deserving families.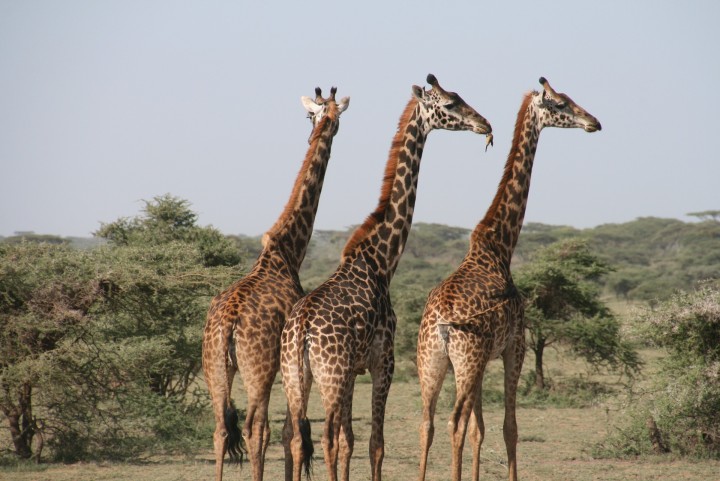 9th April
As Colombo would say, one more thing:
Last goodbyes. Kwaheri.
I wasn't going to blog again but the last day was so emotional for so many that I felt I had to give a little vignette of the events leading to our departure. There was a quick trip to buy coffee as "geefts" for you all back home and the presentation of "Most likely to..." awards to everyone. I'm afraid to say that mine was "Person most likely to dab inappropriately" while others were most likely to be late (Duncan); to work flat out on the sites (Karen); to switch team (Natasha); to smuggle a Tanzanian child home (Niamh, Gemma) or to hog the Wifi...Mrs Neil! I will spare you the entire list (for Mrs Carle's sake) but your own child will no doubt fill you in.The fact that each of these were really personal awards reflects how well we've got to know each other over the trip and I hope these bonds will last for all of the team.
We had a stop in town to buy small gas burner cookers before making one last trip to each site. Most of you will have seen Murray's video of Katie piping us down the hill to Samwell and Freddy's which was a really special moment. Different things trigger emotions for each of us and Murray reflected this when he struggled with his emotions as he wished Freddy and Sam a happy and peaceful life in their new home. For others the sound of the pipes or the sight of us all marching behind them was the thing that caused a "speck of dust" in the corner of the eye.
We then had another moving ceremony at Mama Julita's site – her speech to us where she welcomed our gifts and apologised that she had nothing to give back other than her love and hopes for us was something I will never forget.
Back at Berea for one last time as a group (I think some of us will be back some day) we packed up before our departure in the early evening. There were lots of tears as we hugged Ben who was having to wait in Moshi and we said goodbye to Bryson and his amazing team of cooks. Watching those cases piled up on the roof of the bus reminded me of our arrival and how much has changed since we stepped off the plane 2 short weeks ago. I know that Richard and Elly gave speeches on the buses which left many in floods of tears. We made houses here but we also made friends and that is just as important.
It's fair to say that the dog-leg addition to our journey of a first short hop to Dar es Salaam was not something any of us wanted but when we flew over that vast city with all its pinpricks of light in the pitch dark I thought about the lights we have lit and the 100 lights that The Vine Trust has lit with the other houses they have built. I thought about the lights that have been lit inside your children and I hope they will burn bright in the dark for the rest of their lives.
Getting back to Scotland was an emotional experience too. We were all "buzzeen" as they say in Sneckie and what a reception thanks to Morag Cameron. It was so good to see so many parents in arrivals and hopefully you're not bored of the stories yet.
Oh and one very last thing.... remember your anti-malarials kids!
*Dabs*