Tuesday 19th June.
"When we arrived everyone was shattered but forced themselves to stay awake to take in the scenery. We were overwhelmed by the kindness of the people at Berea College when they greeted us. Seeing one of our worksites on our first day and the family who we will be building for made an impact on everyone. The family had stayed in their home for 50 years, the views were spectacular but the living conditions inside were so poor, it is difficult to put into words. Our group stood quietly and were touched by the kind words of the family who expressed their thanks for us coming to help them." (Benna)
"We arrived in Tanzania at 8pm and spent just over an hour going through immigration in a really hot room. We were then out on the bus and sang the whole way to Berea. We had some tea and sorted out our cases and mosquito nets then headed off to bed. In the morning we got up and had breakfast and had an orientation where we learned about the safety risks and some of the basics about Tanzania. After this we had our lunch and played with the children who stayed close to Berea. We then went to visit the worksite and met a very grateful mother and daughter who we are building a home for. Lots of people came from surrounding houses and were keen to speak to us and say hi. After this we headed back into Moshi and exchanged our money and bought snacks from the supermarkets after tea we played team building games and got ready for bed." (Abby)
The team visited the home build by Inverness Royal earlier in the year. Opening ceremony to take place soon.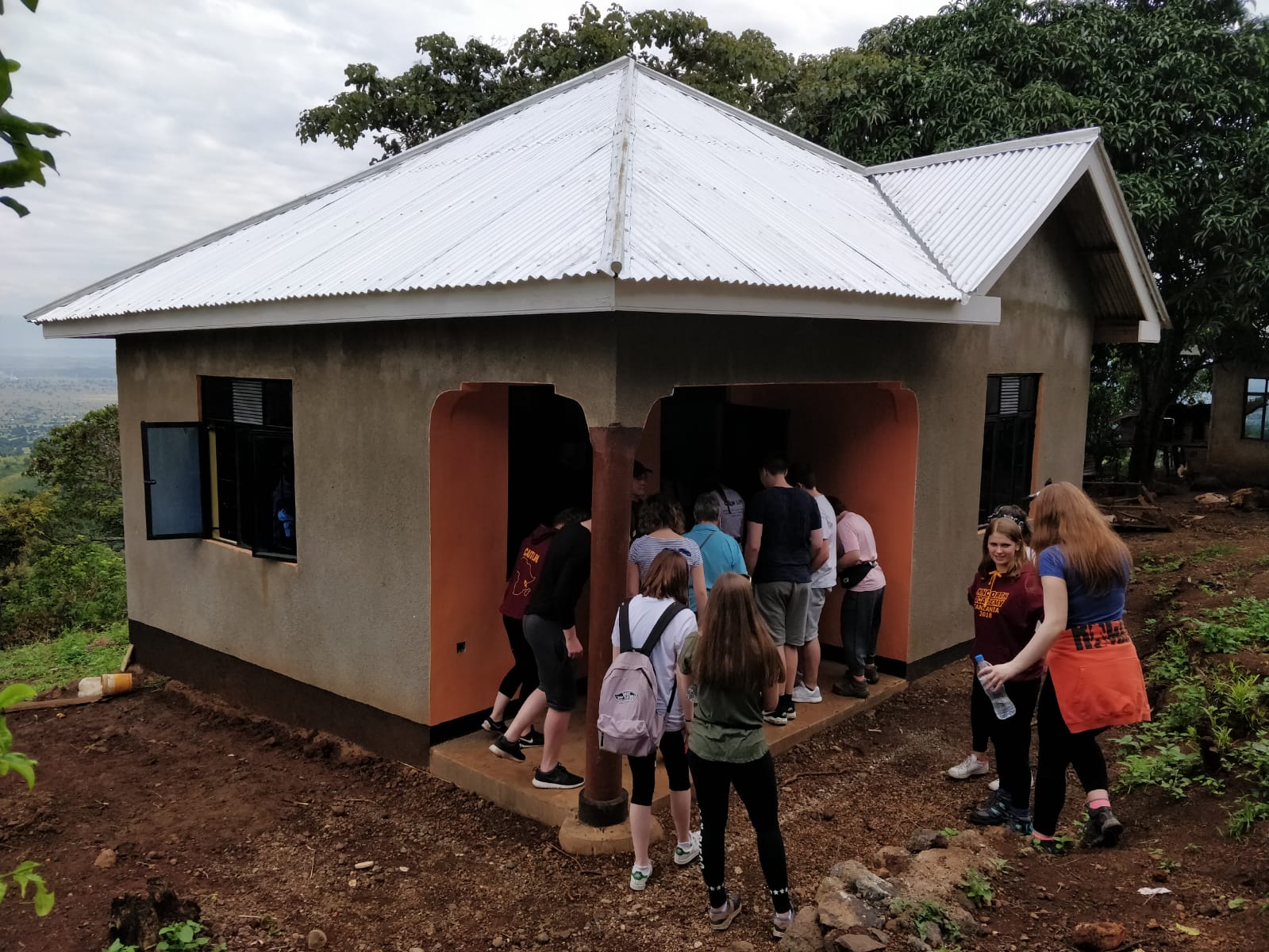 Wednesday 20th June.
"Today was an early start with most people waking up at around 7 with the breakfast coming 30 minutes after. At 9.15 we left in the buses to go to the TAWREF centre to meet Dafrosa and the many members of staff. We were welcomed with a warm sing-a-long then had a presentation about what they do. After the presentation we headed to the house of Mama Dorcas where the worksite also is for the new house we are building for her and her family. Our work day consisted of digging out the soil to then pass the rocks to each other in a chain and place them in a pile for later use to start the foundation for a house that will hopefully have a massively positive impact on the life of this family. Once arriving back to the college we had quite a bit of free time which consisted of me taking a nap until tea time. After tea we had a Swahili lesson with Elly, our Tanzanian Coordinator, where he taught us many phrases that we will end up using during our time here we then finished off with another sing-a-long with the "Tanzania Tanzania" song and the "Jambo Bwana" song (which we now know all the words to!). Once that was finished we played several competitive games of Uno to finish the long hard working day we had done." (Jack)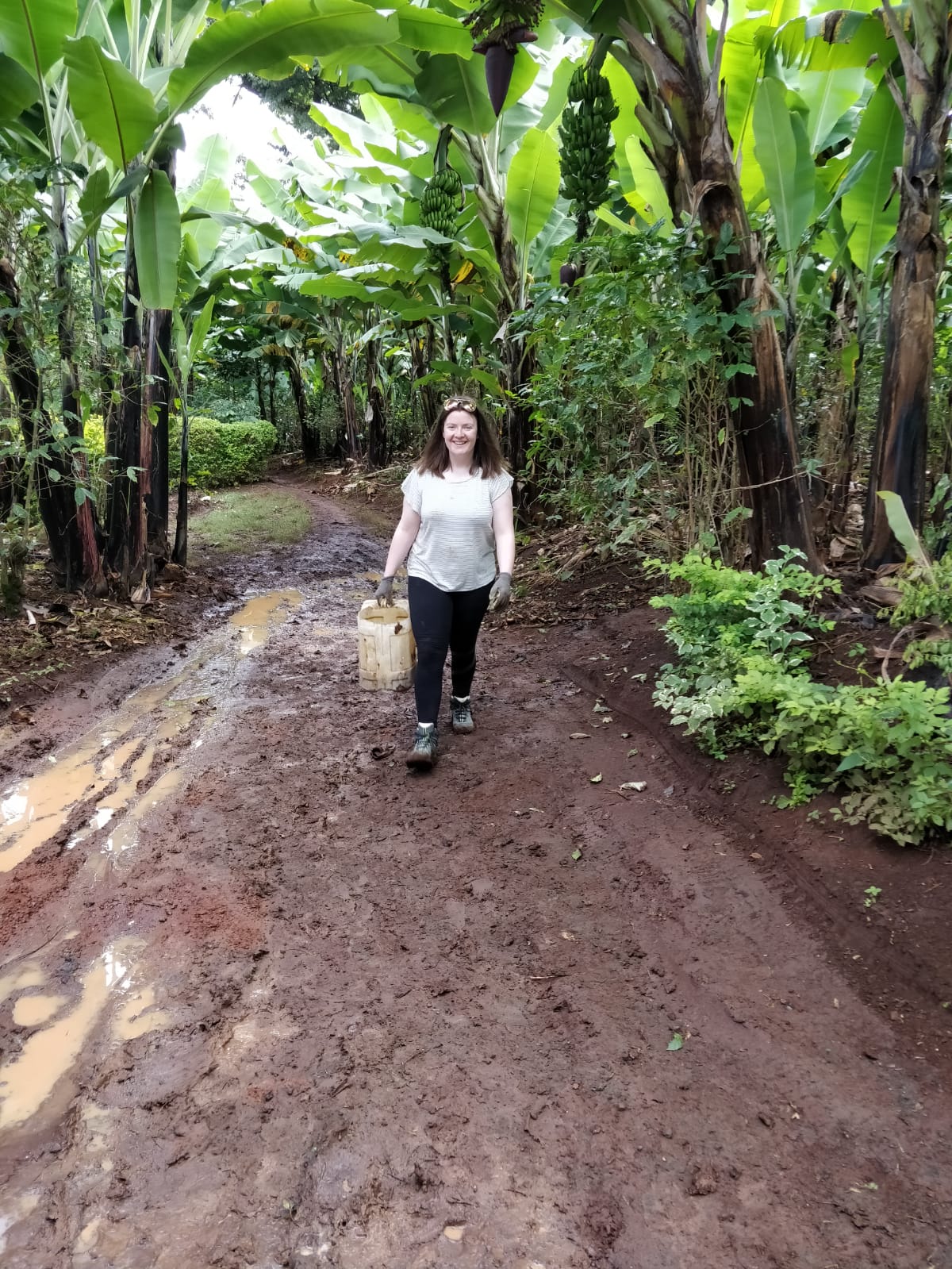 Thursday 21st June.
"Today on our first full working day we learned how difficult working in hot weather is. However, I feel humbled and proud by the work being carried out. From looking from where we started yesterday and finished today it is very rewarding to see how hard work truly pays off.Also it was moving to see how everyone works so well in a team and how we all have one main goal which is to make Dorcas and her family happy. Seeing how much our help meant to the family made me and everyone else motivated to work harder. The highlight of my day was experiencing things I would never at home such as making cement with the locals. I also enjoyed getting to know the local Tanzanian workers on site." (Abbey)
Friday 22nd June
"Today on our half working day, we worked as a team to carry over 400 bricks to where the fundis (builders) were laying the bricks for the walls. It was very tiring but seeing the progress of the house over the past 3 days is amazing. From us seeing the plot of land being flat soil to finishing today with half the walls up was a very rewarding sight to see. With Dorcas' family having a new born baby, it makes the hard labour easier knowing that the new born baby will have a better life in the new home. After our half working day, we visited MCCC (Moshi Christian Children's Centre). Once again, we were welcomed with dancing from MCCC and had the opportunity to teach some of the MCCC kids traditional highland dancing; sharing our cultures through dancing was enlightening. Meeting the people at MCCC was humbling; playing with the children, learning their names and learning what they like made the experience even more special. Handing over our donations bag to the children and seeing how eager they were to get their hands on it makes me realise how lucky I am. Every day I realise more that I shouldn't take things for granted and to cherish the things that I have." (Caitlin)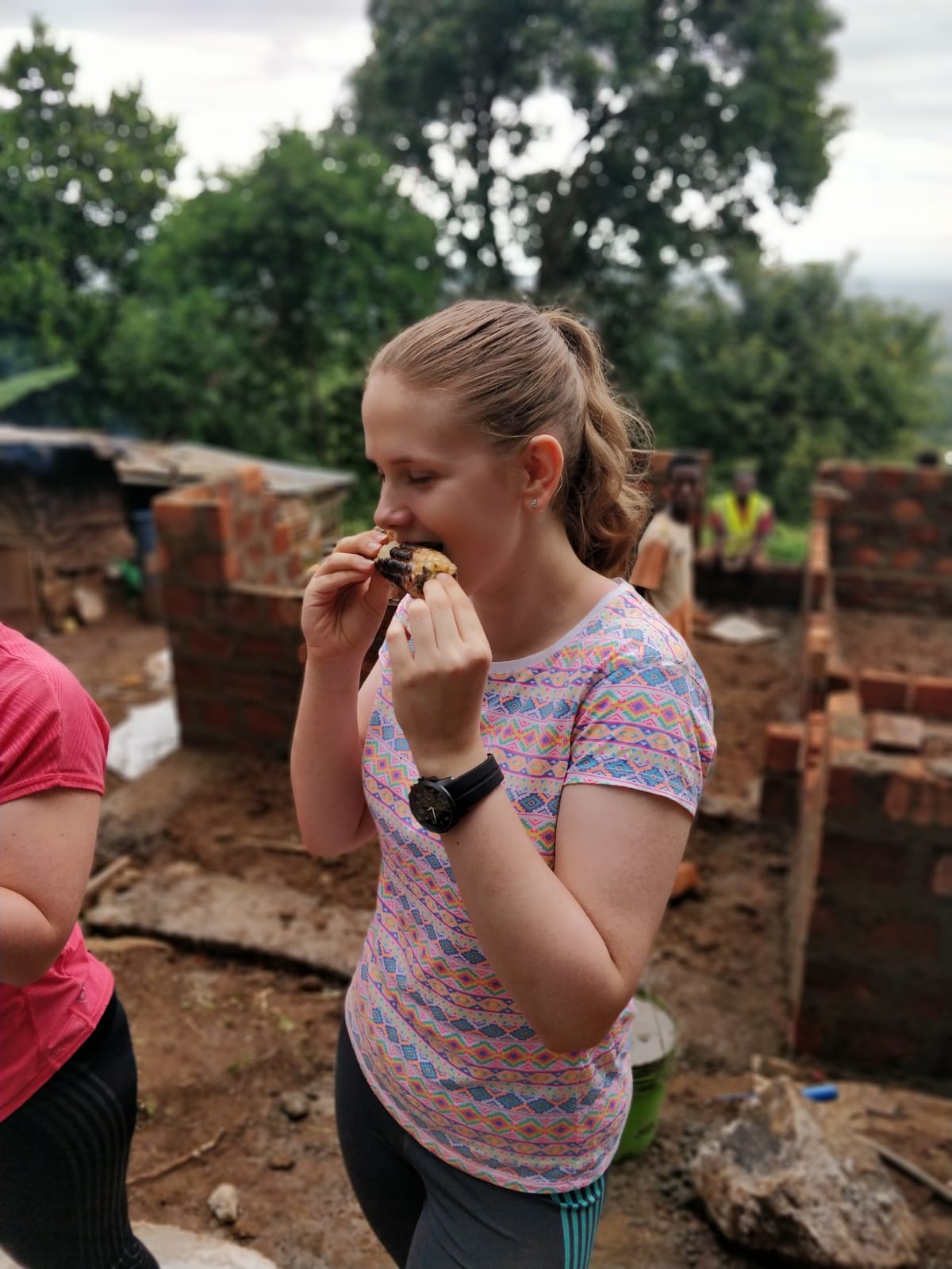 "Today we got up and had breakfast at 7.45, we started the day as normal. After breakfast we had our meeting to discuss the day's plans. At around 9 we all piled into the buses and headed off to the worksites. After a joyful journey of singing and seeing the beautiful sites like Kilimanjaro, we finally arrived.
The builders were already on the worksites awaiting our arrival. Everyone's eyes lit up when we saw how much we had been able to achieve in a small space of time. We got started quite quickly after a warm up and a few Tanzanian songs to get us going. We moved 650 bricks and 80 buckets of sand in our chain that works really well! It's all about teamwork and communication and we will get the job done in no time! We managed to lay the first 5 layers of bricks!
We left the worksites around 1 o'clock to head off to MCCC. We arrived to an amazing warm welcome from the children and people who work there. They really make you feel at home and are so kind. We played with the children and taught them a few games while others had a huge game of football. As we were away to leave we handed over the donations and I had football strips from Macduff Lions Football Club which we handed over too. Their faces were full of happiness and they were so thankful.
At 6.30 we left to go out for dinner to Kilimanjaro Coffee Lounge. They served western food and was a real treat to have some homely food." (Olivia)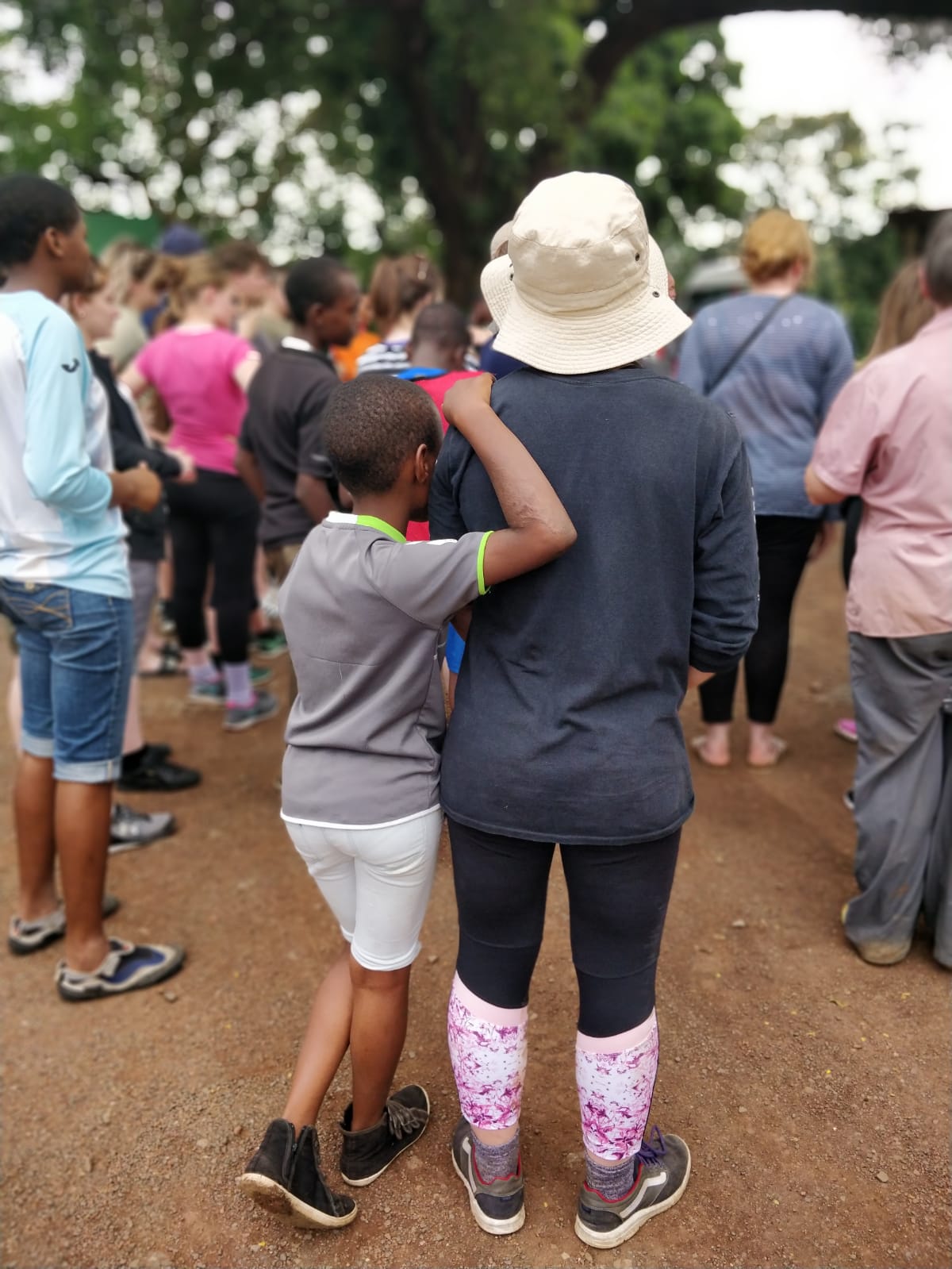 Saturday 23rd June 2018
"Today was the first time our team from Kincorth got to go to the worksite of Family Paulo which is the site that Banff have been working on this past week. This has allowed us to visit both families and help as much as we can to change their lives. When we arrived at the worksite I led the warm up and we then split into 2 groups: 1 walking to the stream and then filling the buckets with water to take back and throw over the cement on the house and another to pass bricks to the Fundis. Afterwards we made a chain to fill buckets with soil and pass them into the living room and also the veranda to then level off so the Fundis can lay the floor. To finish our work at Paulo's we passed another hundred bricks with the attitude of "Haraka-Haraka" aka "Quickly-Quickly" to get the job done fast. Just before we left we got to meet Happiness who is one of the four siblings who will be living in the house, she is only 15 years old and will be living there with her three brothers Paulo (18), Julius (17) and Elis (16) and said that she felt so blessed to have us come along. This put things into perspective that she's only 15 and is counting on our help to build them all this new home. We then made our way back along the rather rocky road along the side of the steep cliffs and back to the college to change. We all then headed back out to the little Tinga Tinga Huts at the side of the road which sold different souvenirs such as paintings, mini animals and bowls and then went to more shops in the centre of Moshi and a supermarket. Free time was then from the time we got back - when a group of us went to play with all the young children around Berea and then had supper which was Spaghetti Bolognese with Roast Potatoes and Pineapple. Elly then led an "Advanced" Swahili lesson where we learned the animals for our safari next weekend, another new song all about standing up and sitting down, and we can all now count up to 100 in Swahili!" (Shelley).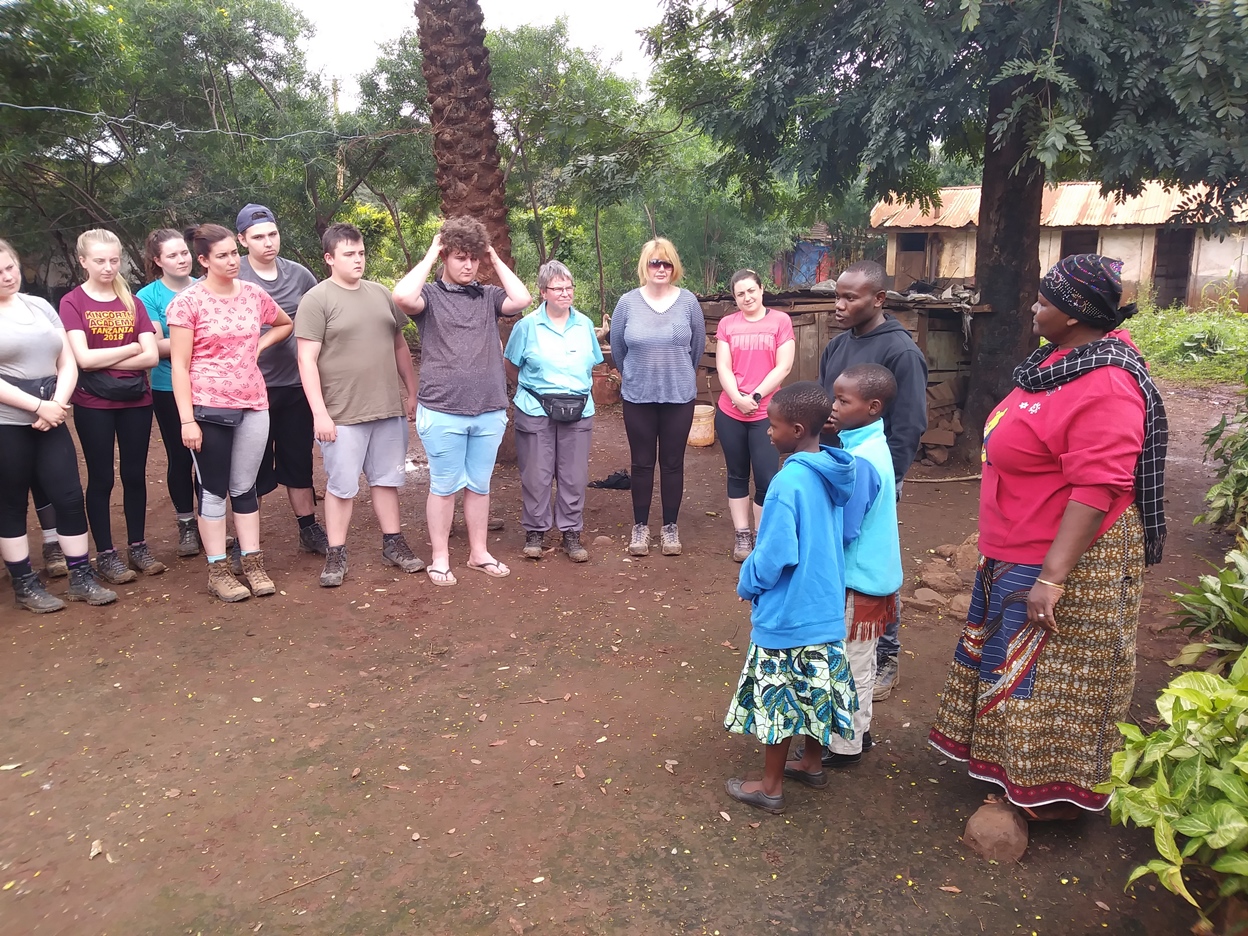 "This morning we swapped worksites with the other school we are out with to see their progress and contribute to both families we are working with. The family which we went to see were, as we have discovered all Tanzania people are very, very friendly. The family was made up of an elderly mother, her daughter and an eight-day old gorgeous baby boy (who we all had a little cuddle of). Seeing this little baby in a small shelter with a first time mother in dark and exposed to bad weather conditions put into perspective the importance of the bricks currently being laid with cement outside and made what we are doing all the more important. It also made each of us remark on how our own homes are taken for granted and go far beyond our actual needs, and what we thought was an essential something entirely unnecessary to our actual needs.
After passing about 500 bricks the Fundi had been building the house to the point of it looking like a real house. As the walls grew so did the delight on the elderly grandmother's face who sat and watched on, graciously thanking us whenever we looked towards her. The day before she had described us as "angels from heaven" and although we may not be that, the sheer happiness and feeling that we were impacting an actual life made us feel something out of this world.
Following the long, unsteady and steep walk back to the minibus we headed back to Berea for a quick break before jumping back and going to a local art market which saw a lot of business from us. We happily left with paintings, wooden carvings and bracelets in hand. One thing that was really noticed was that the men selling the art were not pushy, instead they invited us in and showed us how they carved the elephants and a little about their products. They kept saying 'picture free picture free' - they simply wanted to showcase their work, yet another example of the friendliness of Tanzanians.
The evening is now closing with Swahili lessons which, through the excitement and enthusiasm of our Tanzanian coordinator Elly, has stuck in our minds! Even if some of us butcher it, the effort and usefulness and even hilarity to the children of our language attempts have come in handy on numerous occasions and I'm sure will continue over the next few days! From steep hills and hot vans to roadside bargains and new friends in supermarkets, this day has been one memorable one out of many past and many to come." (Caitlin)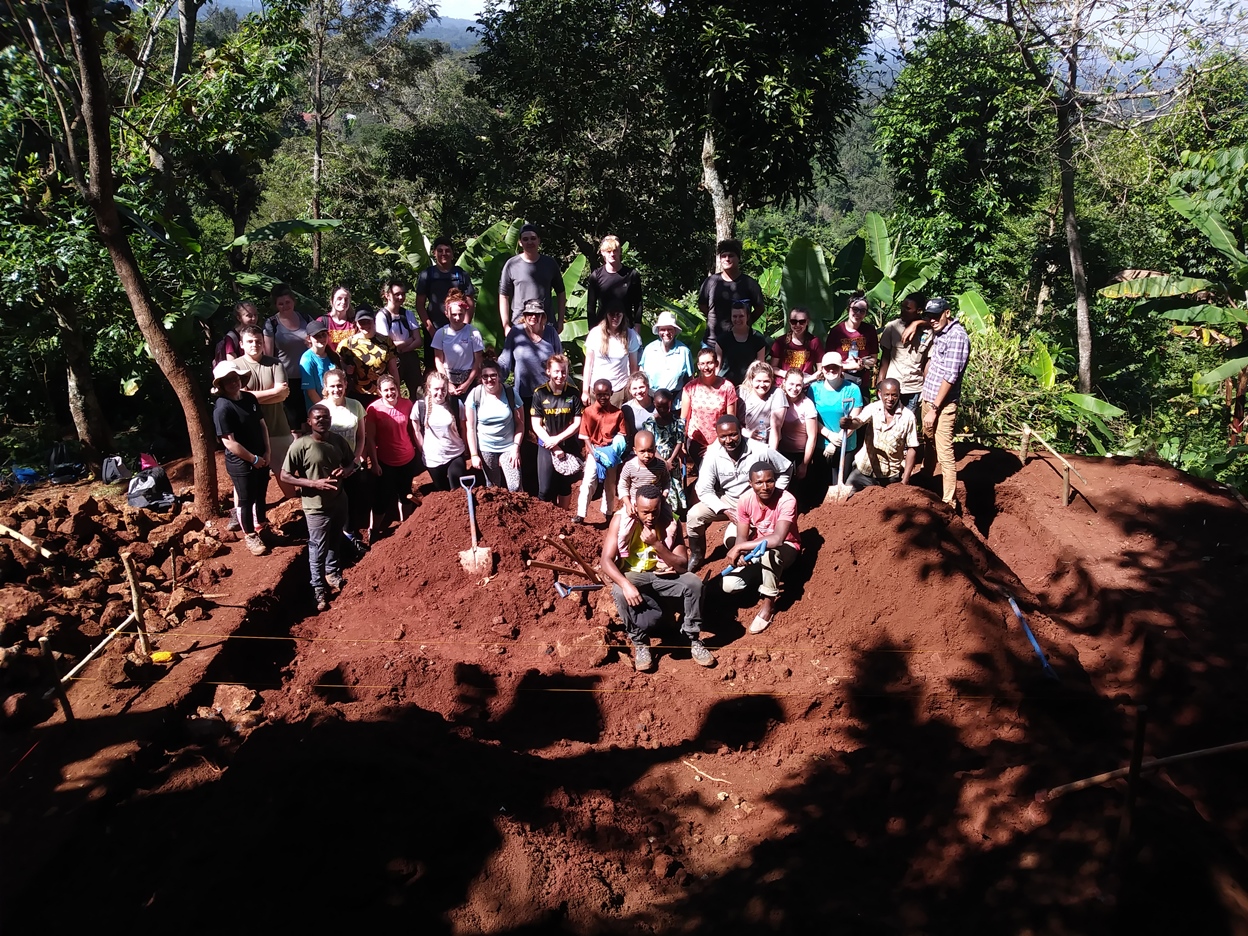 Sunday 24th June 2018
Today was quite a special day to me as it was my birthday and it has genuinely been one of my favourites. I woke up at 6:40am as breakfast was at 7:15, one of the bitter sweet things about this school trip is the cold showers. Even though they make you feel like you're back in Scotland, they do a great job in waking you up instantly! As I walked to breakfast everyone was ahead of me by 5 minutes (which I thought nothing of at the time) and as I reached the dining area everyone spontaneously burst into song, singing 'Happy Birthday' to me including the teachers. I was handed a card which had been signed by everyone including the Vine trust co-ordinators! We headed to the buses as it was a Sunday which meant we were given the opportunity to attend a local church service which was a fantastic experience for all regardless of faith.
The singing and passionate talks really spoke to us all and everyone left with a smile on their face! We then travelled back to the Berea Bible College where we were told that there had been an unexpected yet happy accident with the safari trip and that we were going on it the very next day, which meant that we needed to have our orientation in the evening to prepare us for the safari. Some inconveniences had occurred due to this change however everything eventually worked out and we were ready to head out 'Kumushuku' Children's Home. The journey was short and was spent with everyone singing Tanzanian songs. When we arrived we were greeted tremendously by the children at the home as they introduced themselves and then sang us some catchy songs about Tanzania. We returned the favour by introducing ourselves and then at the end of the day singing them '500 miles' by the proclaimers. Our group and the children were given the choice on what we wanted to do between playing football or playing hide and seek, some of my group and I chose football and we then spent the next hour running around and having a laugh with the kids. When it was time to leave they sang us some more great songs and also surprised me as they burst out singing 'Happy Birthday' which was very touching. It still surprises me that so many of these children can find joy in the simplest of activities and remain happy even though many of them have gone through a lot in their lives. It really does put our own lives back in Scotland into some sort of perspective. We headed to a supermarket and then back home for dinner. I was given the luxury of getting first serve seeing as it was my birthday, which tempted everyone to sing happy birthday again as I collected my plate! After dinner we sat in the classroom as the co-ordinators played the Lion King on a projector to get us into the Safari spirit. I had thought that my surprises were over with, however I was very much mistaken as the teachers brought in a cake with a sparkler for me and gave everyone a piece to eat during the movie! Overall this trip has been a very eye-opening trip which was only made even better by all the birthday wishes and smiling faces seen at Kimushuku and also the warm and joyful service we attended. I can confidently say that this will definitely be a birthday worth remembering.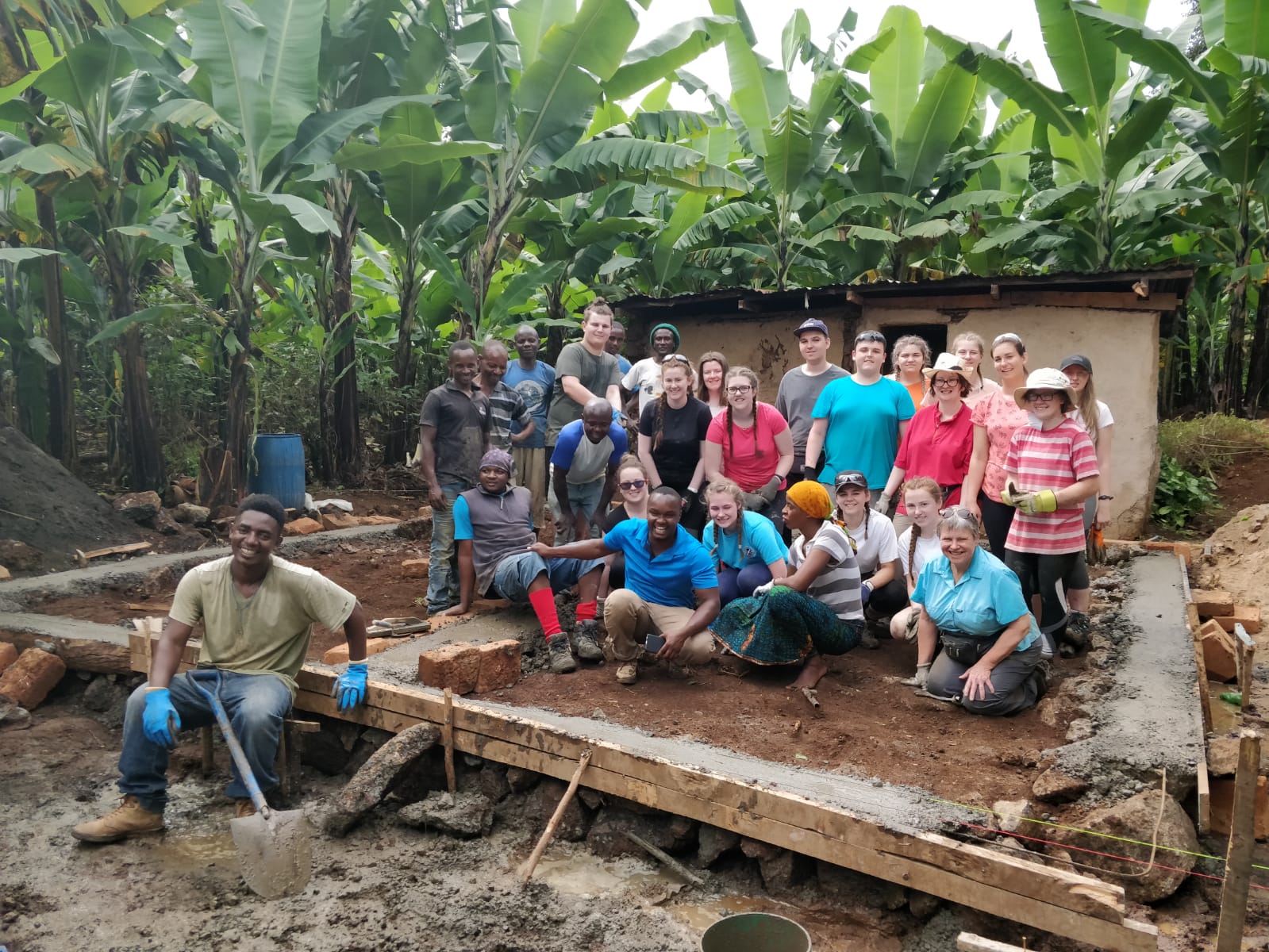 Monday 25th of June
An early start to the day at 4.30AM for breakfast at 5AM before the safari. We left Berea at 5.45AM and travelled in safari jeeps to Tarangire park, for the start of our safari. There were 5 safari jeeps for Kincorth and Banff Academy. On the way we saw the Maasi tribe, army and police. The Maasi tribe were wearing colourful clothes and facemasks, we all tried to get photos of them. On arrival at the park we went to the viewing point to see if we could see any animals. Once the safari began we were able to stand on our seats for a better view. At the beginning of the day we saw zebras, ostriches, warthogs and a lion. We got some good photos of the animals although the roads were very bumpy which caused a lot of bruises. At lunch we were given a lunchbox on picnic benches outside. After we had finished most of our food some people went to the toilets and others went to look at the view. We left our rubbish and left over food on the tables which were taken by the velvet monkeys. On our picnic bench Shelley and Nicole were guarding our lunch, but the velvet monkeys managed to take 2 apples. This provided a lot of laughter for the group. After lunch we seen our first sighting of a giraffe, it stood still which meant that we could take good photos of it. Further on in the day, we drove to a piece of land that had plains of grass. We were quiet and fortunate enough to see a family of elephants come up right next to our jeeps. We all got amazing pictures and were astonished by what we had seen; it was the highlight of the day. We arrived at Haven-nature camping site where we were all staying overnight before the safari tomorrow. After arrival we got shown around and had tea. We are in 2-3 man tents. We are all heading off to bed now after a great day, we are hoping to see lots more animals on safari tomorrow.

Tuesday 26th of June (Libby & Lottie)
Today we had an early morning of 5am at Havennature campsite. It was a very early start to a cold day. After a filling breakfast we travelled for around 2 hours to get to the Ngorongoro entrance gate. We then went down the very steep hill to the crater where we saw various types of animals such as lions, elephants, zebras, hyenas and hippos. We watched an intense stand-off between the lions and wildebeests which resulted in the lions failing to catch them. Despite the cold weather everyone was still very eager to stand up and look for the animals out the top of the roof. Whilst going around the safari we stopped off at the hippo lake where we sat in the jeeps eating our lunches and watching the hippos swim. We carried on driving around the safari for a few more hours and then travelled back up to the top where we were able to get an amazing view of the whole crater. After that we had a long and tiring journey back to the college.
Wednesday 27th June 2018
After our two-day safari we were all so tired and so got to have a lie in and have our breakfast at 8:30am, and we got avocado toast which was great. The whole Banff and Kincorth group left for the new worksite and after picking up some of the family members the scenic journey was over an hour long plus a 10-minute walk through the jungle to get to the worksite. The family and locals were all super grateful and welcoming and sang us songs to show their thanks and kind nature. The worksite was exhausting as it was the hottest day yet and the worksite really got the heat. The Vine trust leaders warned us about these conditions and how we need to 'listen to our bodies' and so we took lots of water and snack breaks so nobody fell ill. Another great part about where we are volunteering is the scenery and on our way home from the worksite we saw a mini waterfall and got a great view of Mount Kilimanjaro which was just breath taking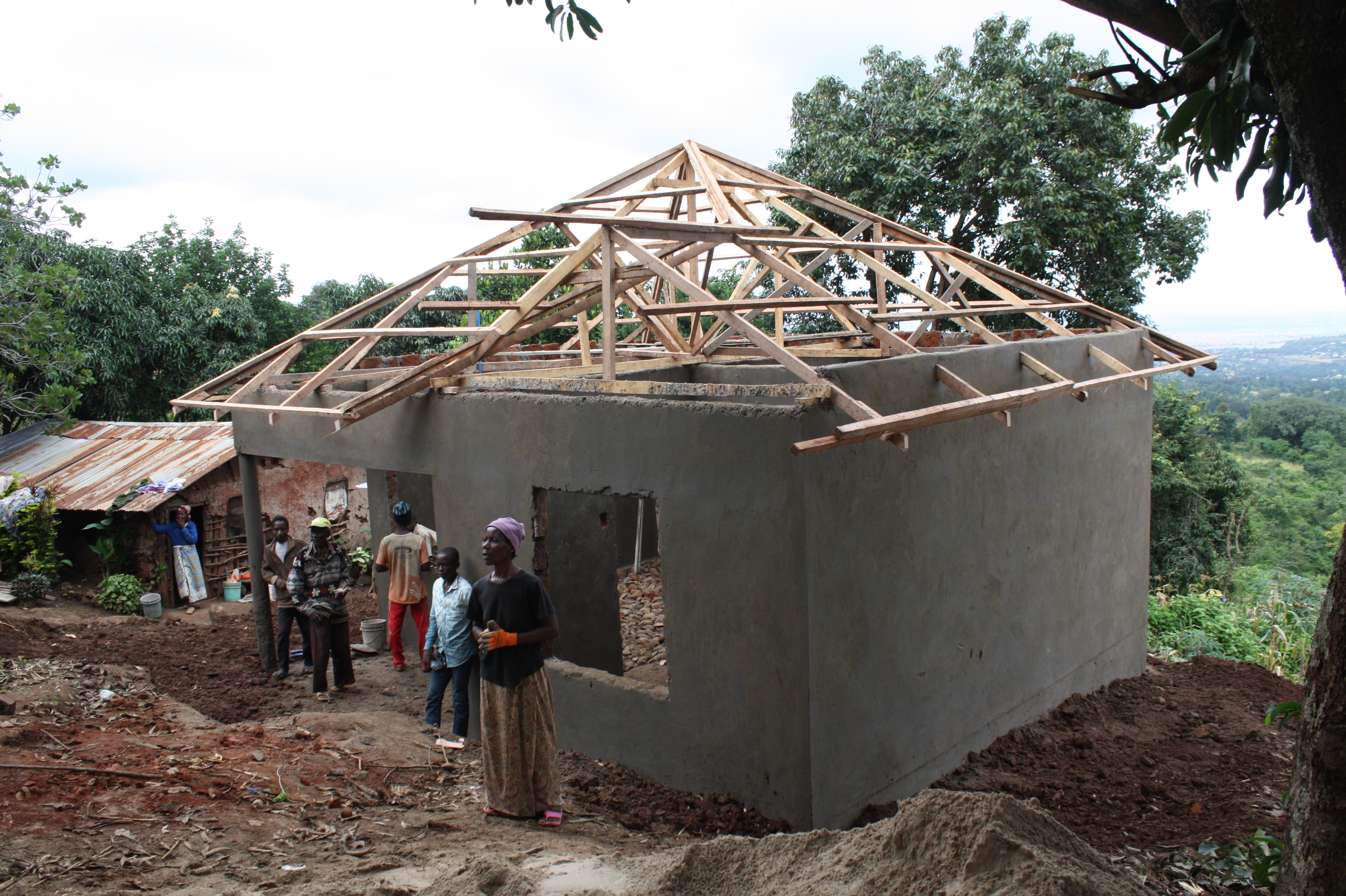 In the evening the Banff and Kincorth team alongside Galashiels went for a Vine Trust partnered dinner and ceilidh with TAWREF. The dinner was great as it was a lovely change with some local and European food which was all great. The TAWREF leader Defrosa spoke to us and thanked us for the support to their organisation. It touched all of us how even though many of the people did not have much at all to give but they still blessed us with their prayers and welcoming nature. We danced a few traditional Scottish dances but most of us were clueless so it was a shambles and a laugh really. To finish our night, we all sang songs on the bus back to Berea and then chilled before bed. This has definitely been one of the best days of the trip so far and really strengthened the friendships in the college.
Thursday 28th June 2018
We had an early start for a full day at the worksite. We were greeted by the locals as we made our way down the slippy, wooded hill to the worksite. To begin with we made a chain and shifted rocks for the fundi (builders). After this we carried buckets of sand up a hill to the worksite from a sand pile which was a quarter of a mile away down a steep hill. We were amazed when the local young children joined in and carried buckets of sand for further distances than us, some even carrying them on their heads. After lunch the group continued to shift sand while myself and Shelly stayed behind and played with some of the local children who were too young to help out on the worksite. After a long day we headed back to the Berea for a Quiz Night led by Jim. The winners are yet to be announced......