The April General Home Building Expedition to Tanzania arrived safely last night (Sunday) in the dark, with all luggage except Fiona's. 'Enjoyed' a bumpy bus ride to Moshi, but lovely waking up to heat this morning (although no power at present). Heading off for breakfast - pancakes and eggs.
All is well,
The April General Home-Building Team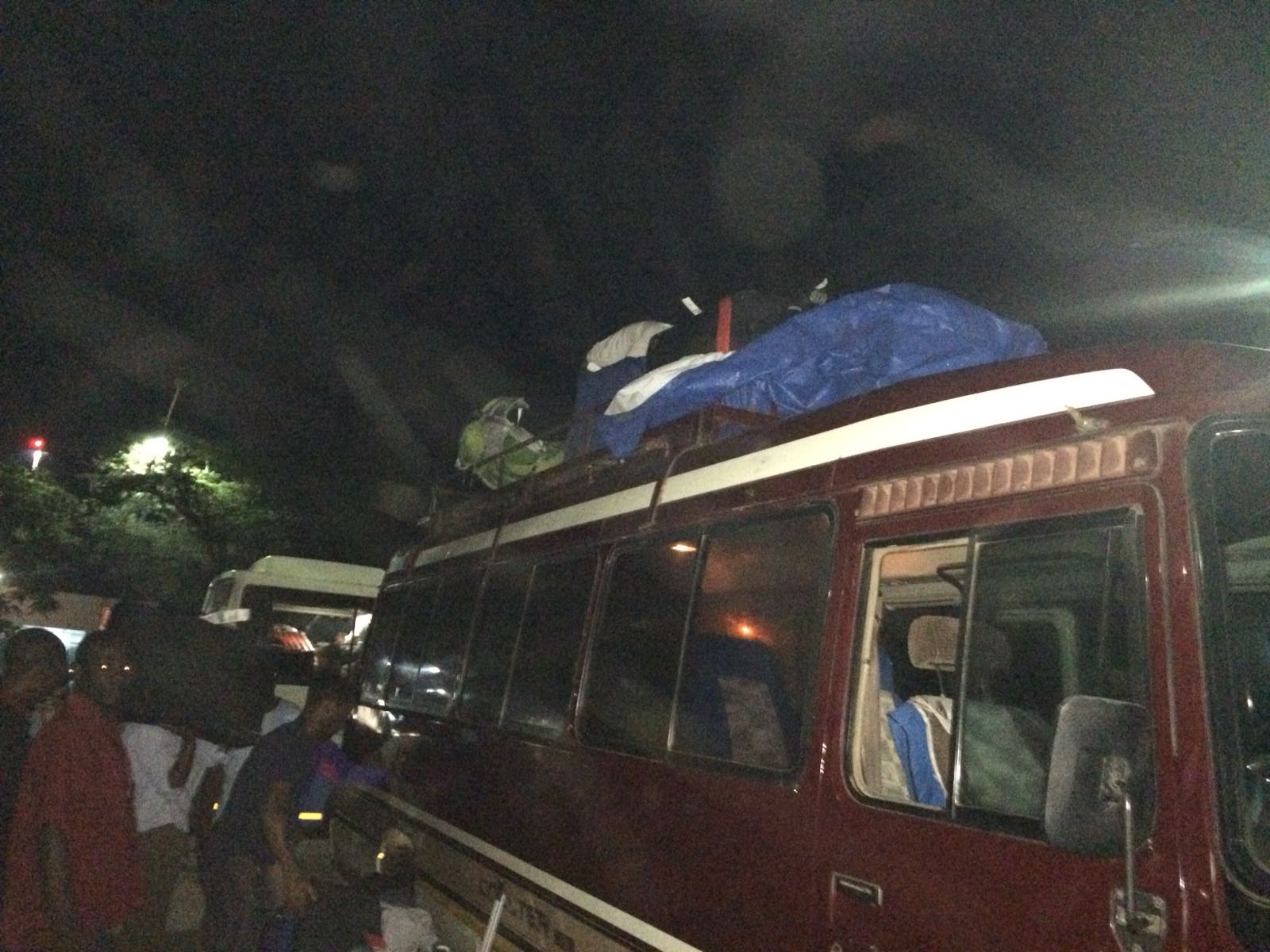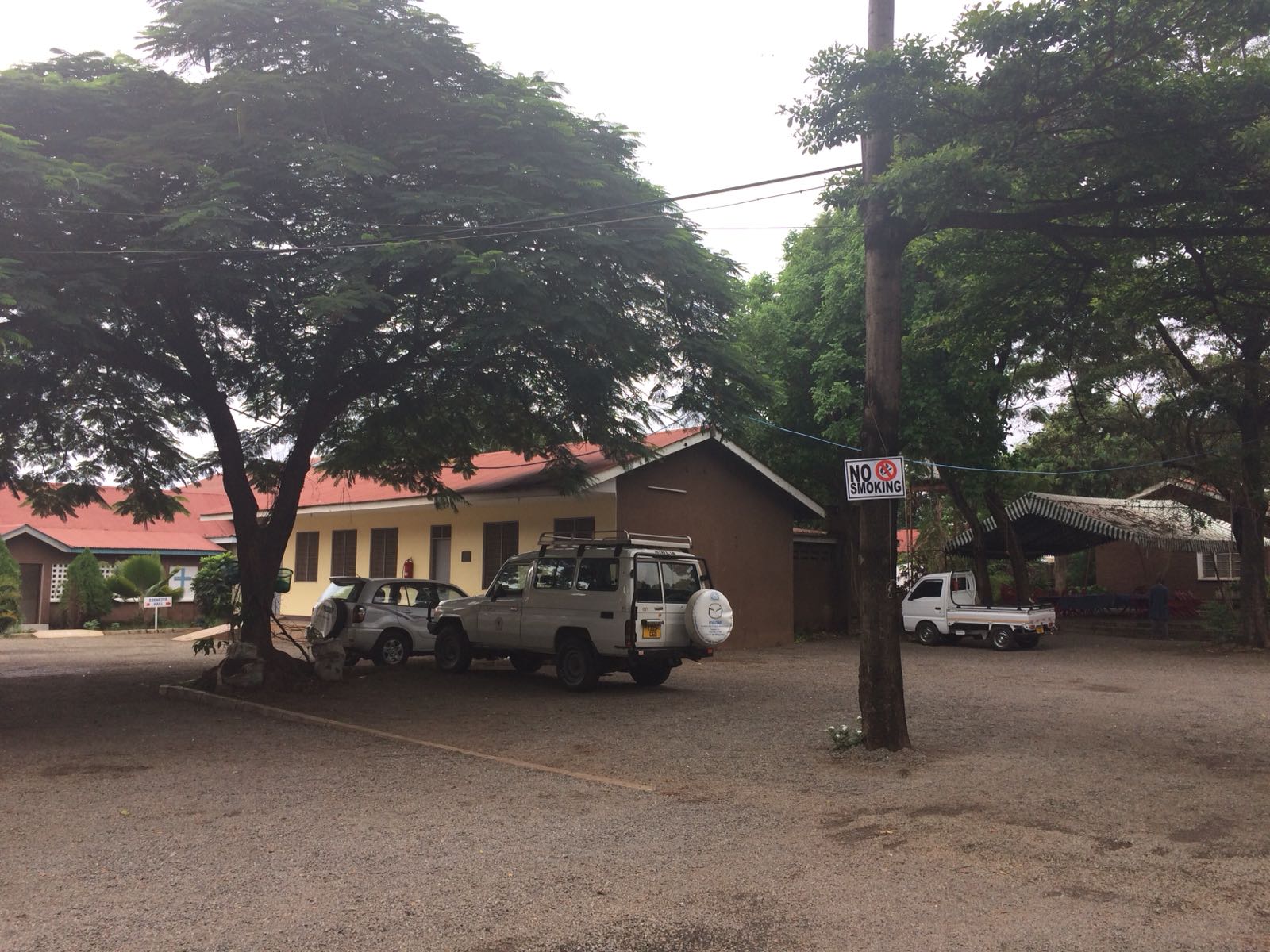 Sunday 1st April
We started the day with a late breakfast, despite most of us being awoken at 3am by the call to prayer. We spent a lovely afternoon at MCCC (Moshi Children's Christian Centre) playing football, making loom bands and face painting. It was great to see so many smiley, happy faces. We rounded the day off with a meal at Deli Chez. It will be an early night for us all, as it will be our first day on the worksites tomorrow!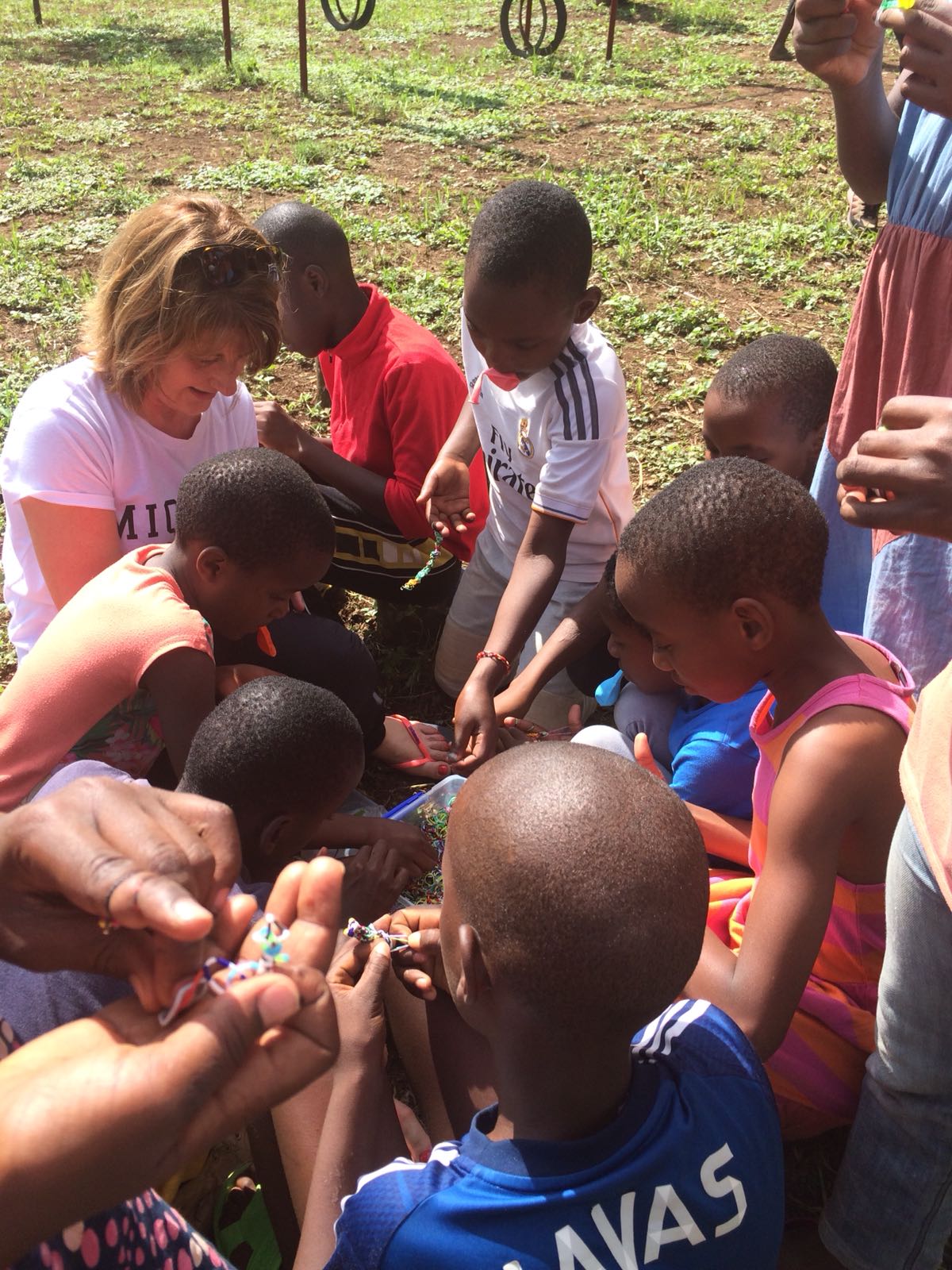 Monday 2nd April
The day began with a visit to the TAWREF offices, where we were welcomed in song. Here we learned about their work and the two families who will receive the homes we are constructing. We arrived for the first day's work in blistering heat. It began with hard physical work with picks and shovels to dig the foundations and then chain-passing boulders to fill the foundations we had dug. We had almost completed this by the time we left for the day. Mama EvaMary, who will get the home, helped us lift boulders too. We will all be sore tomorrow!!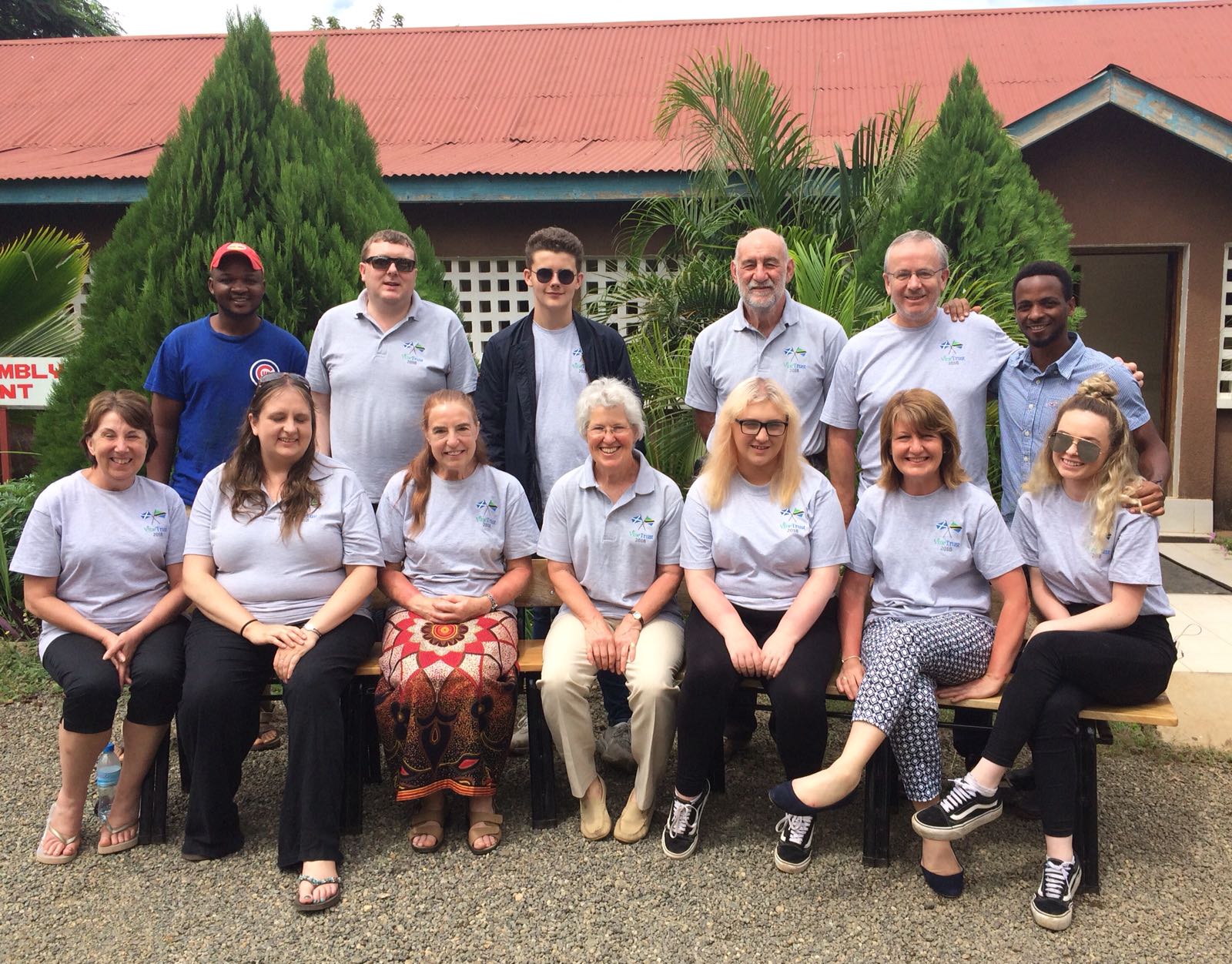 We had dinner at Umoja and the evening was spent sorting out all the wonderful donations and dividing them between the three Vine Trust supported children's homes and for the two families. Ben also patiently spent time with us teaching Swahili. We will certainly know how to barter now!

Still got time this evening for card games before bed.
Tuesday 3rd April
Today has been the hardest day yet, with temperatures at 32 degrees. Again, a full day was spent picking, digging and shovelling. Although the work is hard, it is easy to see how worthwhile it is when we see the progress which is being made. Mama Maria and her daughter Wilfredina who will get the home are hardest working of us all.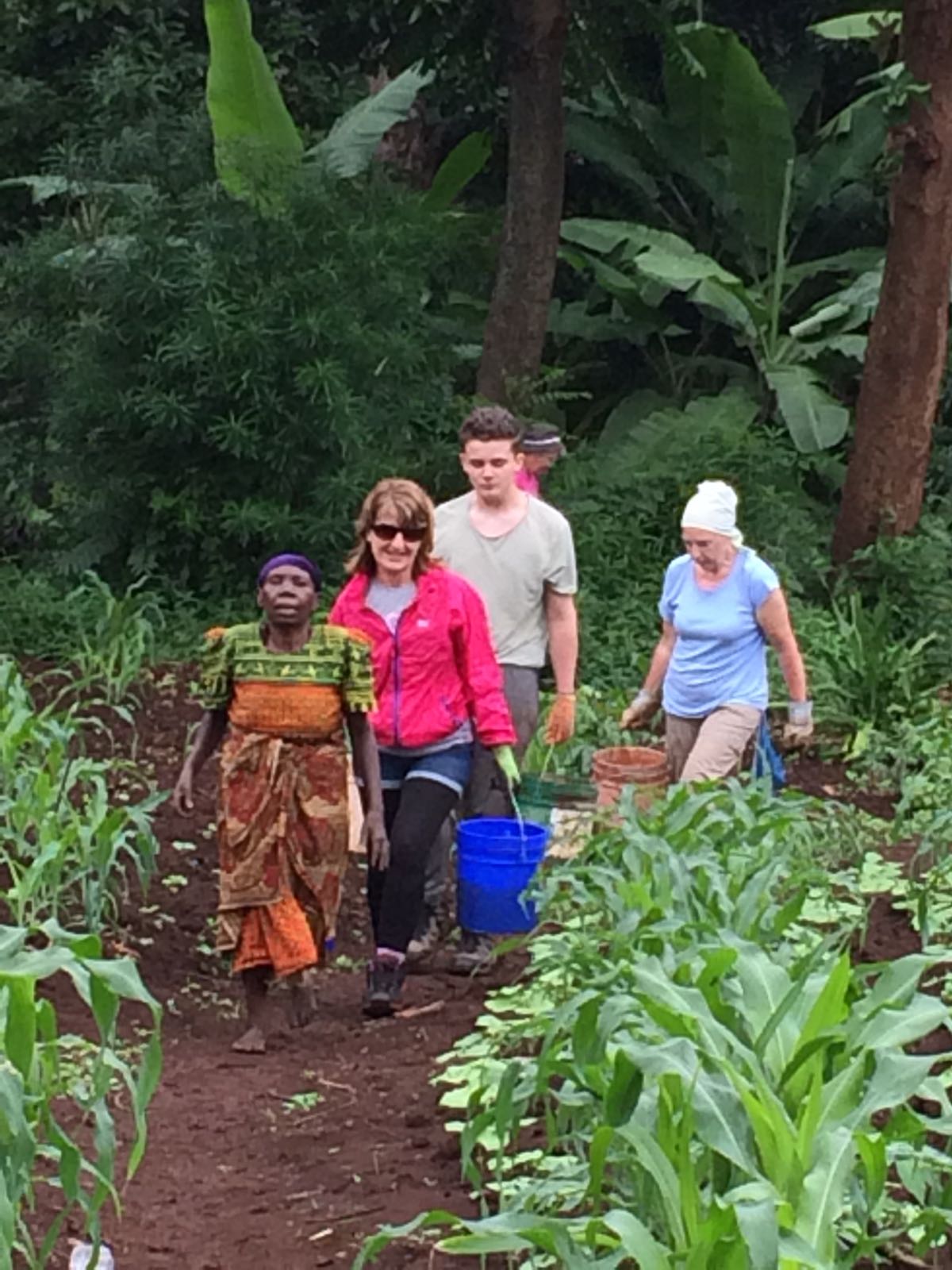 We are all enjoying our packed lunches after our exertions and, of course, playing with the children during our magi (water) breaks.
Dinner out tonight at Union Cafe - short walk but challenging in the dark with no street lights and obstacles galore.

We are all sore, bitten, blistered and sunburnt but happy!
Wednesday 4th April
Another productive day. Great to arrive on site and see progress made. First couple of hours spent carrying soil and finally seeing floor complete. No rest though as straight into preparing cement - we all know recipe for Tanzanian cement now - 24 buckets of sand, 24 buckets of gravel and two bags of cement together with endless buckets of water! End of day saw foundations cemented and ready to move onto next stage.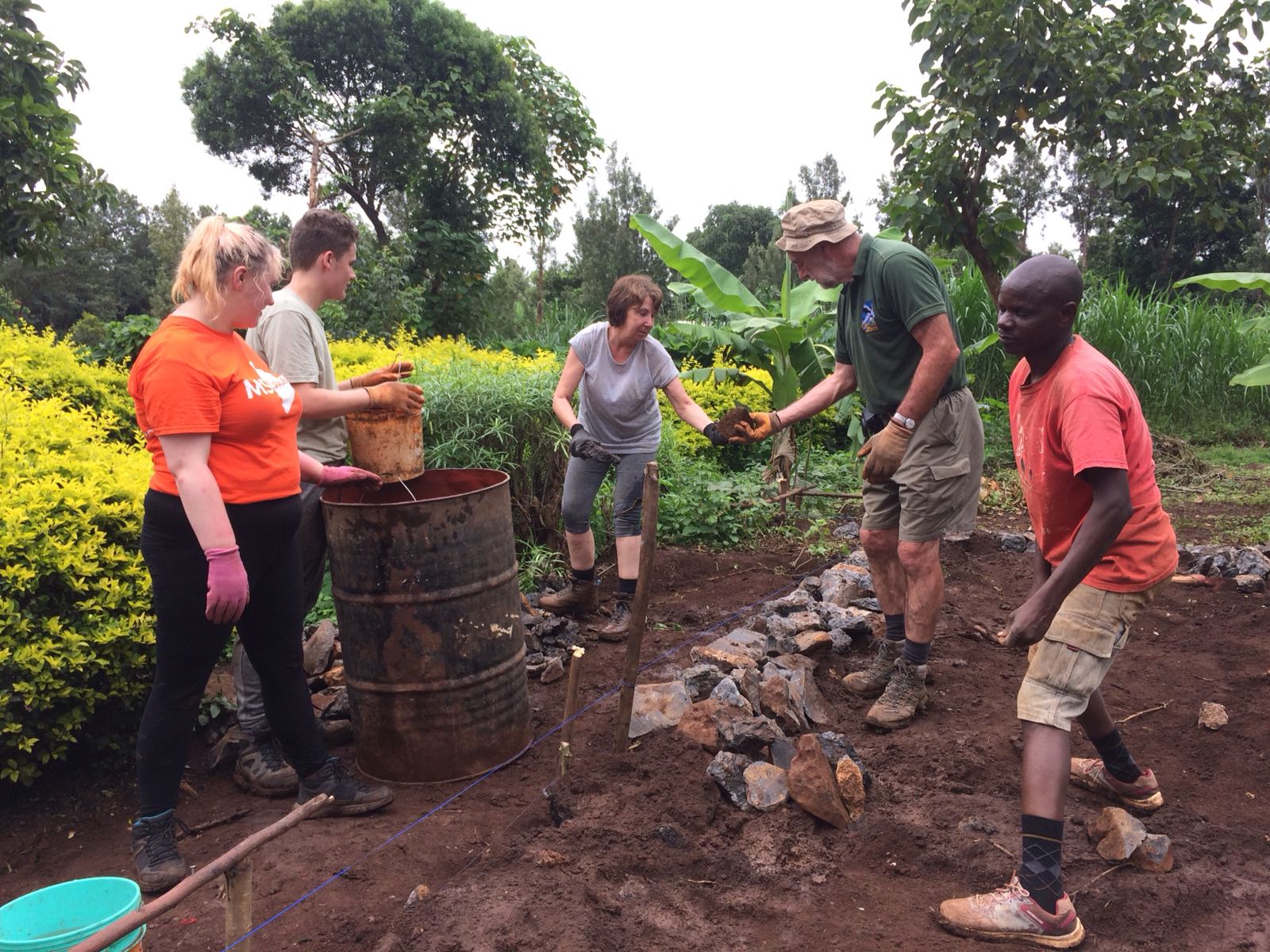 Highlight of the morning was watching the monkeys in the trees above the river just below the site. It is such a beautiful spot.

The children as usual loved us being there and we had great fun with the parachute the Ferrywell team brought and how quickly they mastered the games. They are such polite friendly children.

Kilimanjaro was spectacular tonight and a perfect backdrop to our meal at the Cross Keys Hotel. A magical day.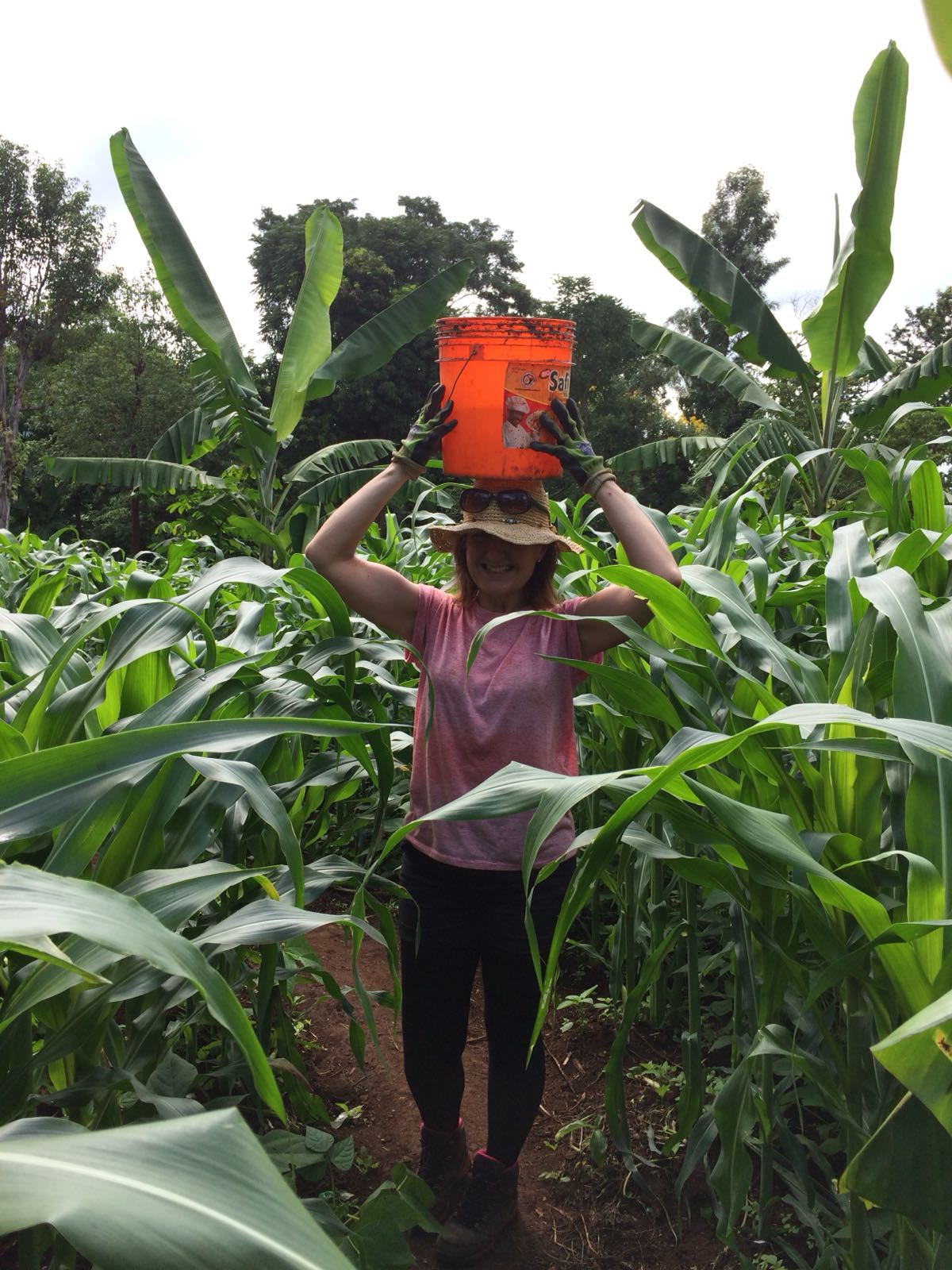 Friday 6th April
First day on site two which is a much shorter drive from Moshi and in banana plantation. We were welcomed off bus by Mama Rose who will get new home. She is a tiny elderly lady raising her ten year old granddaughter EvaMary alone. We were all moved to tears by her gratitude and humbled to be shown her current home.

Work on this site proved so much easier than the first as soil much softer. After two hours the foundations were dug and boulders in place. Eli joined us for the first time today so there was even more singing than normal including him leading us all in a rendition of Flower of Scotland!

No water on site so we had to carry it in buckets from a stream down through the maize and beans. A beautiful setting.

Given how quickly we got through the work today we were able to leave site early.

Some of us just chilled at Umoja some went and found a coffee shop in Moshi and Emily and Sinead did a week's washing in a bucket on the floor of the showers!

Meal at Umoja tonight and as usual card games under the canopy for those with some energy left.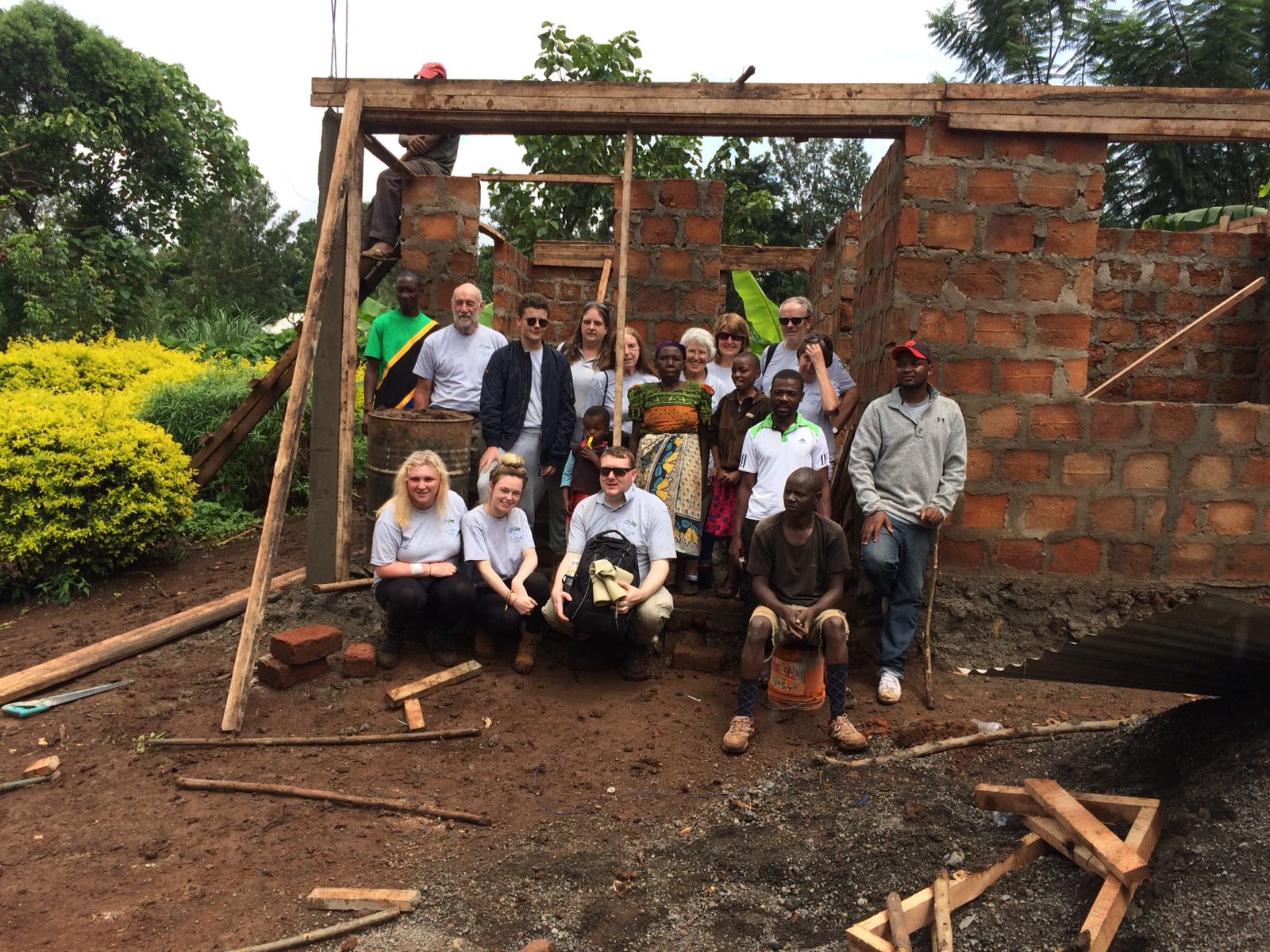 Sunday 8th April
Rest day today but early start to attend 8 am traditional African church service. Very different church service for us all but a very enjoyable experience.
Afternoon spent up mountain at Chaga Culture coffee plantation in village of Materuni learning about coffee making process. Very entertaining demonstrations with songs and dance and we were all able to try grinding and roasting the beans. Afternoon finished off with perfect cup of coffee.

Dinner at Umoja tonight and mashed potatoes back on menu to delight of some. Pouring rain tonight so games indoors - dominoes for the quiet ones and Jungle Speed for the more rowdy.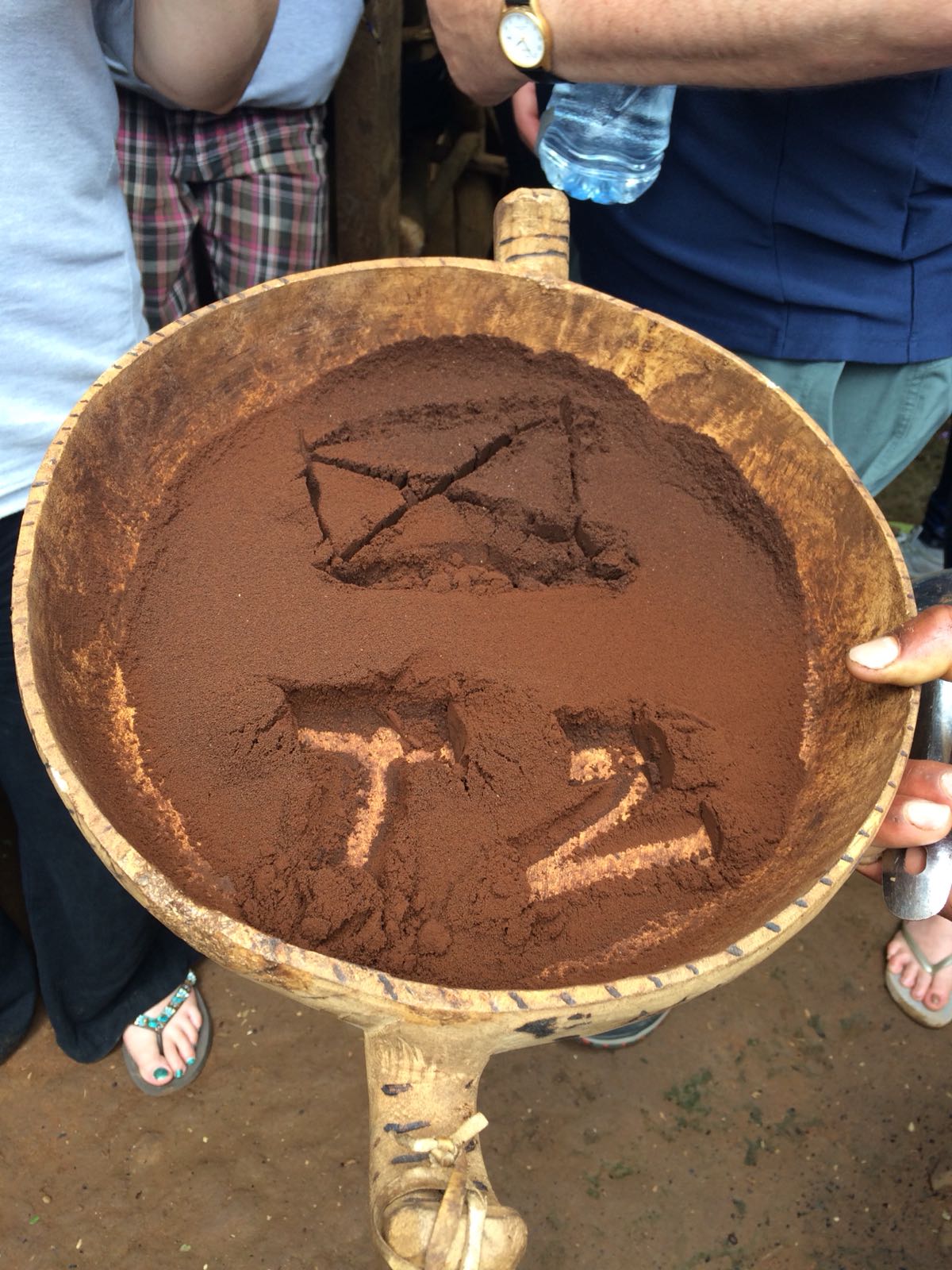 Monday 9th April
Another day at EvaMary's site today. It had rained overnight and was still raining when we arrived so very muddy and slippy underfoot. More moving of boulders and carrying water from stream. Grandma Rose was particularly proud to show us her small crop of maize and beans and banana trees. EvaMary was back at school after Easter break but Rose has been asked to pass on her thanks for the balloons and skipping rope we gave her.
We left site early to pay a visit to the Ungaza Women's Centre where 35 residents receive vocational training in agriculture tailoring and cooking.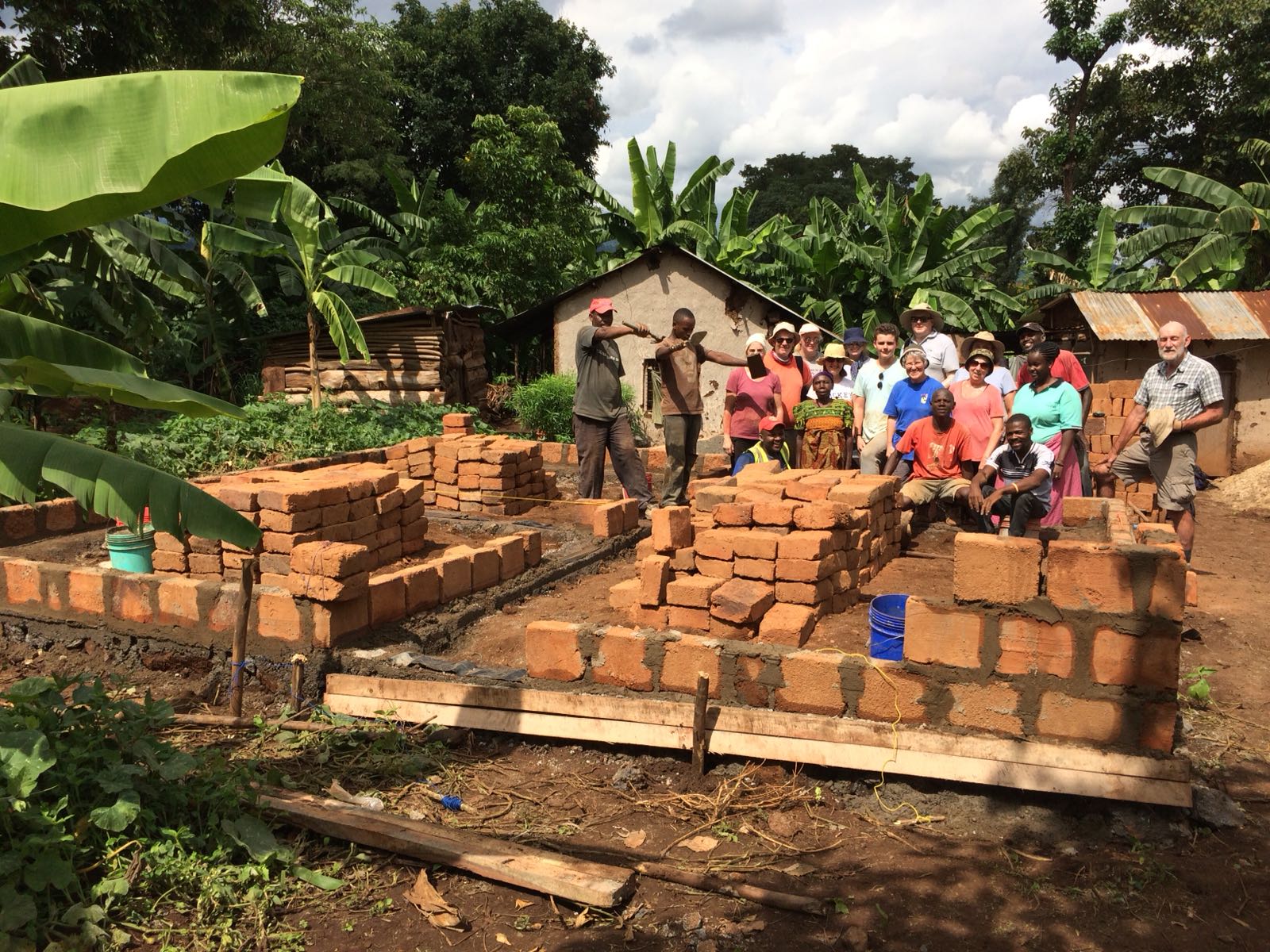 On way back we had the pleasure of stopping at Fuka school and children's home where Anne Fiona Alex and Maureen had worked previously. What a welcome we received from the children and it was wonderful to see the Sarah Hardie home complete and the school now complete with windows a dining room and library.

We also had a quick visit to Mama Rosa's coffee workshop - supported by Vine Trust - to purchase some coffee for home.

Dinner tonight was at Deli Chez and, as usual, back to Omoja to try and get WiFi and play games under the canopy.
Tuesday 10th April
Back to Uru today to Mama Rose's. First job was to go down to stream for water but what a spectacular view of Kilimanjaro we had. Totally surreal.

It was a special day also as the District Commissioner and TAWREF team were on site together with film crew as Mama Rose's home is the 100th home funded by Vine Trust. We may be on Tanzanian TV and in the press! Dafrosa has promised to keep us posted.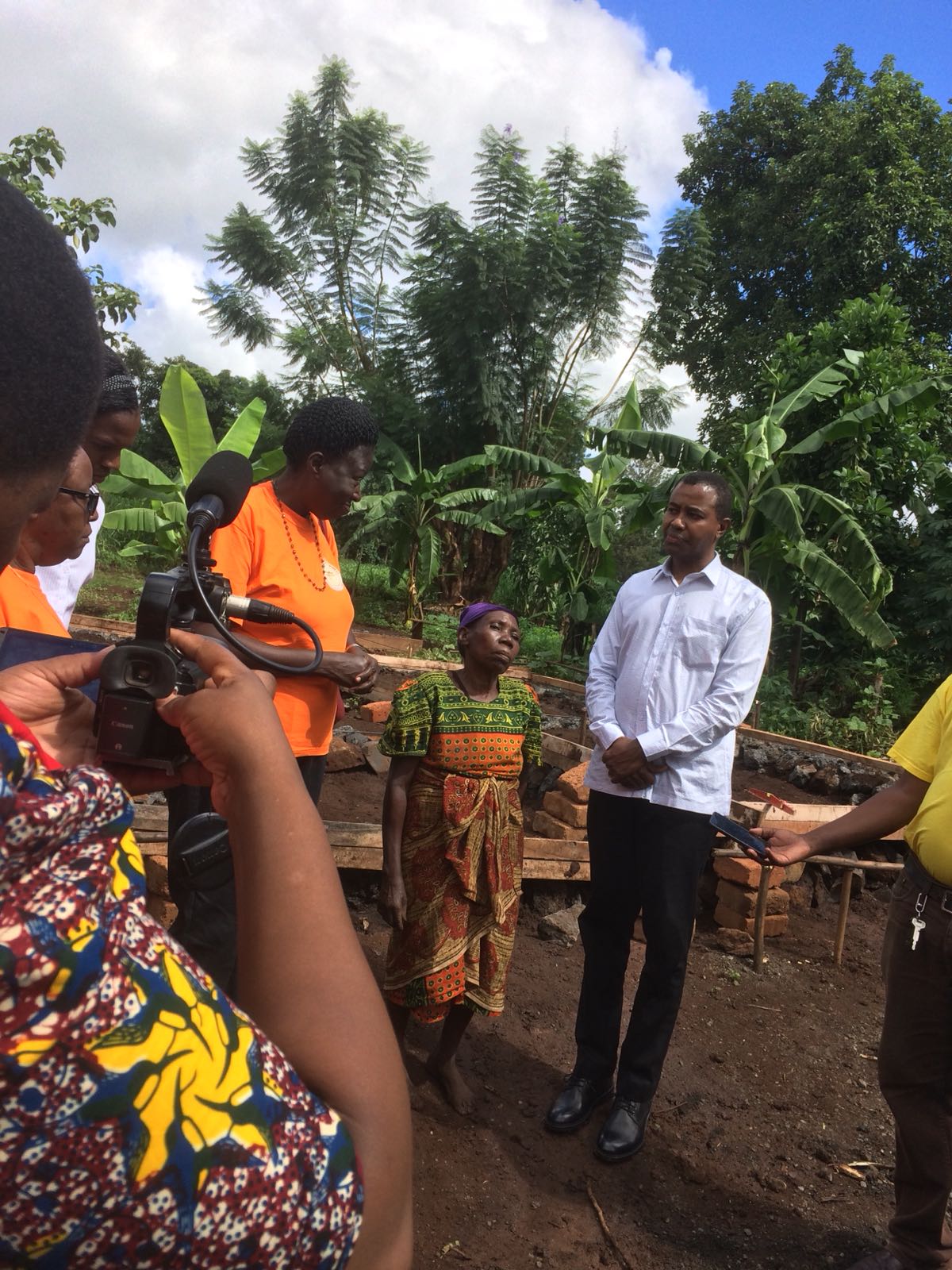 We all worked hard today moving bricks and very satisfying to see the walls taking shape.
Mama Rose was very proud to give us some of her own avocados which we plan to have at breakfast tomorrow.
Tonight was last night with us all together as seven of the team are off on safari tomorrow. To get them in the mood we are all going to be watching The Lion King .
Wednesday 11th April
Team down to four for the next couple of days and back to Pofu to Mama Maria's. It was wonderful to see the progress that has been made in the few days since we have been.

Martin Holt from Vine Trust joined us just fresh off the plane and showing no signs of jet lag enthusiastically joined the team moving stones and buckets of concrete. By the time we left all floors were complete - a great achievement.

As always the children were happy to see us back and lovely to have them greet us with a perfect 'good morning'.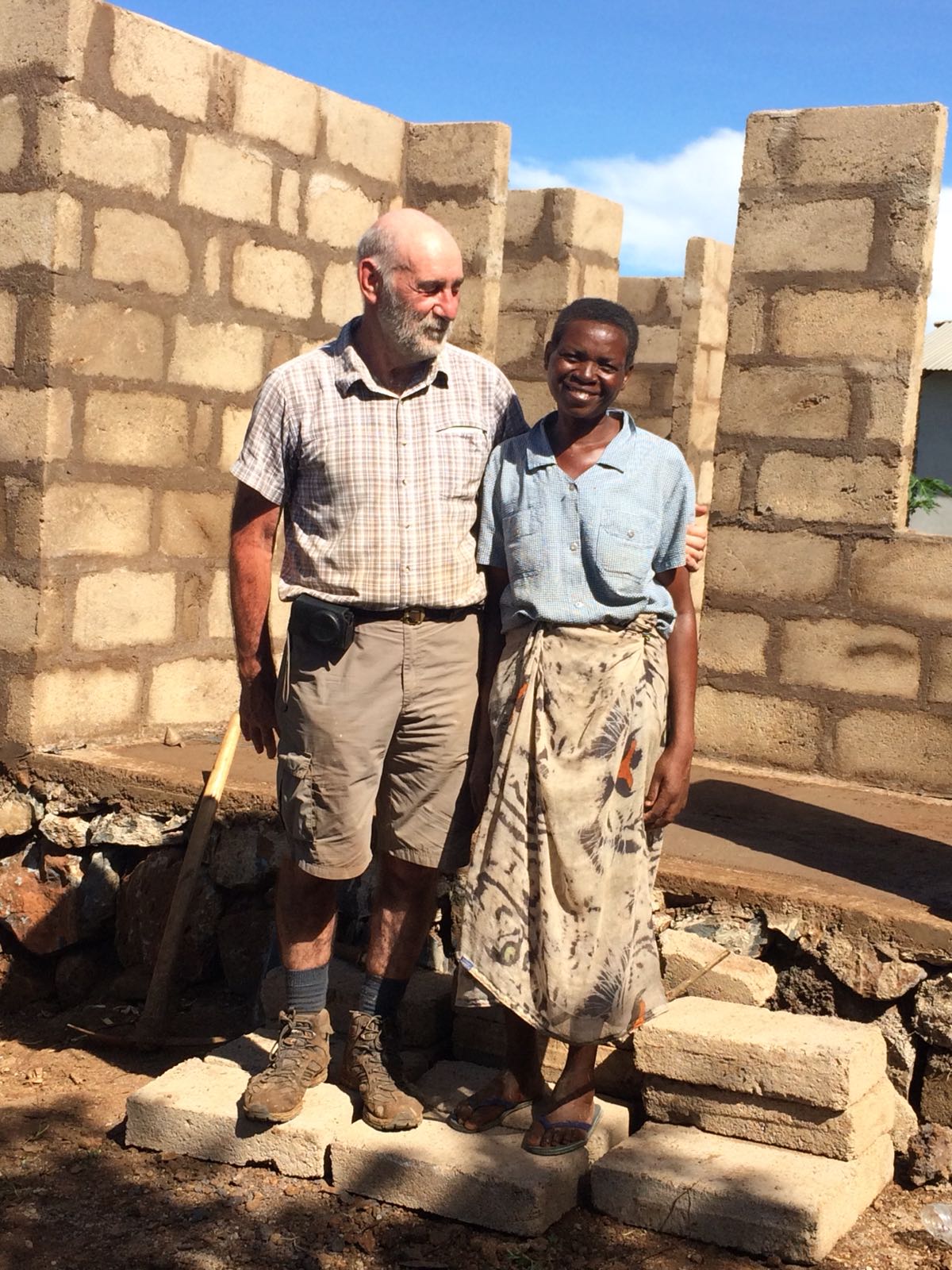 Word from safari goers is that they have had a fantastic day and saw plenty of animals. They are currently enjoying a wee bit of luxury at Eileen's Trees.

We ended our evening with a meal at Union Cafe with a celebratory cake to mark Alex's MBE for services to Scouting and Vine Trust. We are all extremely proud of him.
Thursday 12th April
Back to grandma Rose's today and great progress made in the two days we have been away. We were astounded to see how much Rose's maize had grown! Many trips to stream for water given there are just the four of us. First job was to throw the water over the walls to stop it drying out! Rest of day spent moving hundreds of bricks into the individual rooms. We will certainly have build up our muscles these two weeks!

Rose delighted to see us as usual. She was busy all day weeding her maize and bean crop.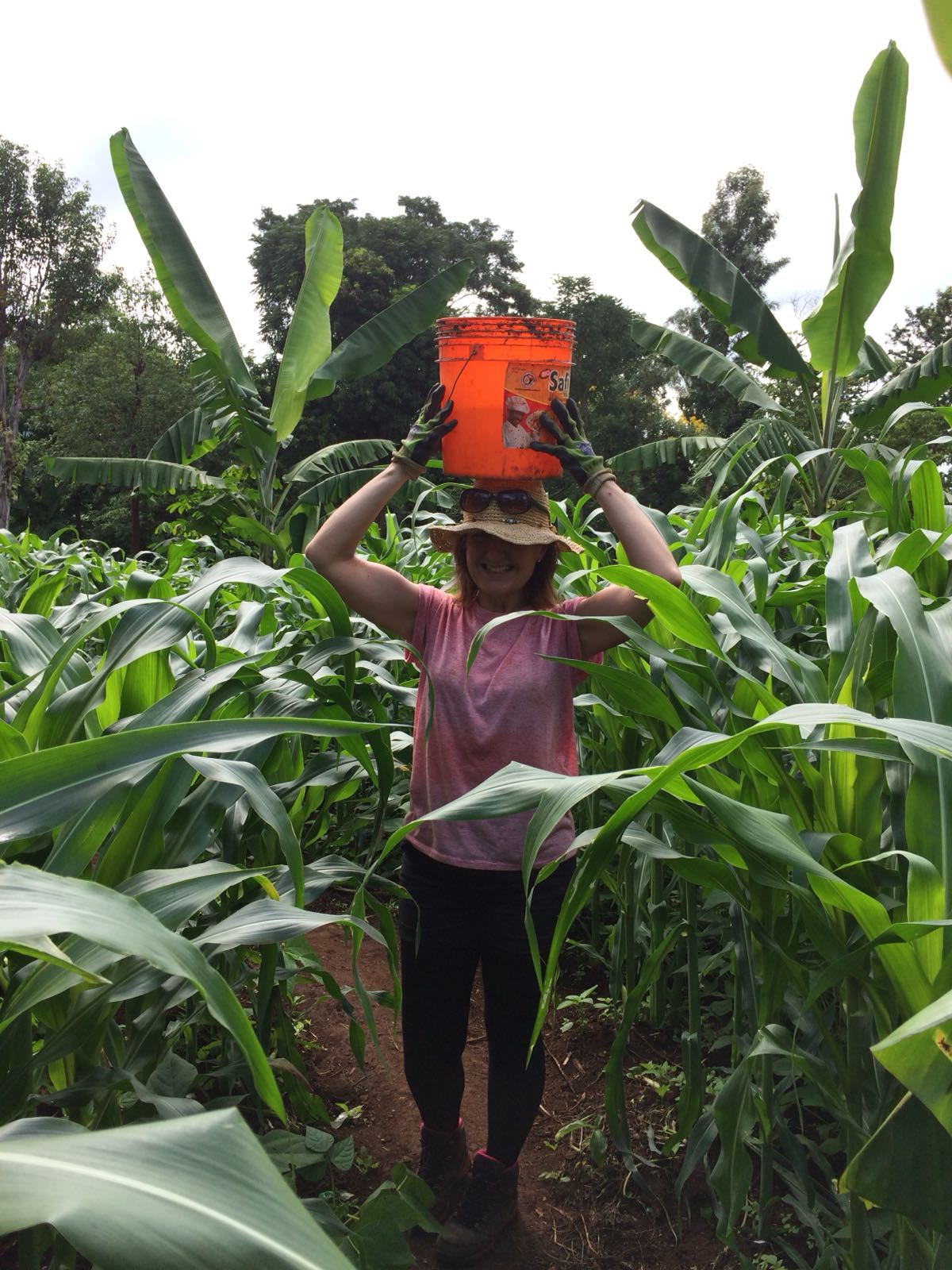 Safari team returned late absolutely glowing and happy with their safari experience. What a lot they had seen including lions right by their jeep and elephants and their young.
Friday 13th April
Last day and time to say farewell to families at both Pofu and Uru.
Very emotional as you can imagine but lovely to see Mama Maria and her daughters Neema, Winifrida and even disabled daughter Rose sitting at their new house waiting for us. They were delighted with our gifts from Scotland including a teatowel, shortbread and tablet as well as local staples - rice, sugar, flour and water. It was a pleasure to hand over too blankets clothes and toiletries donated from home.

Mama Maria is so grateful to be getting a home where she will not have to worry about rain leaking in the roof.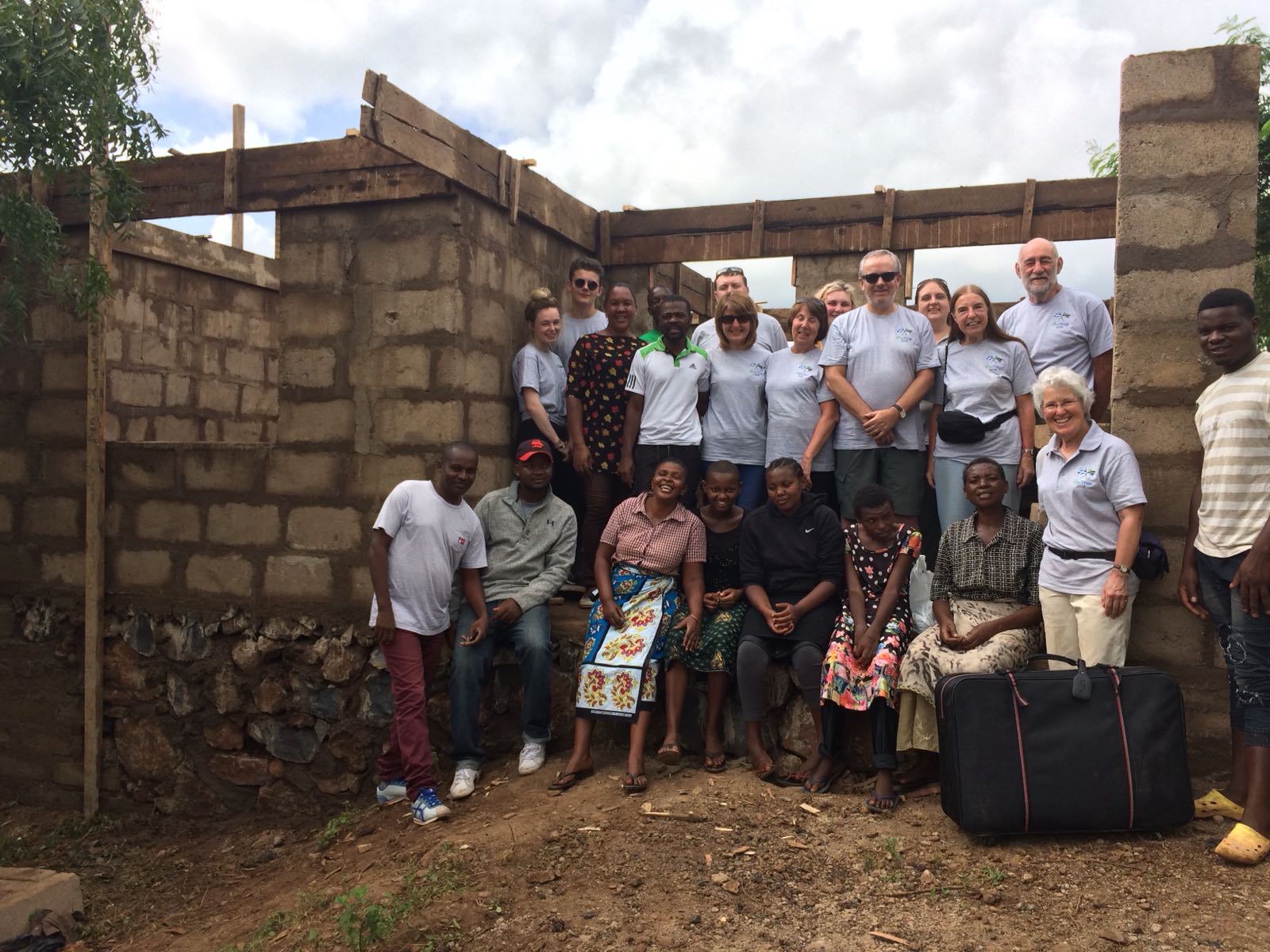 At Uru we were delighted that EvaMary has been allowed a day off school. We were told she is the top student in her year. We so hope there is a bright future for her and this home will be in her own name giving her much needed security. Her eyes light up with joy at her gifts including a colouring book and pens and she couldn't wait to start!

Grandmother Rose was tearful saying goodbye too and, as she always has, hugged and kissed us and was so full of gratitude.

Long journey home starts tonight. We are all tired and sore but so grateful to have been allowed this wonderful opportunity to bring some hope and security to two very deserving families.

We have met so many amazing people who are kind, warm hearted and inspirational individuals and who will stay in our memories forever.