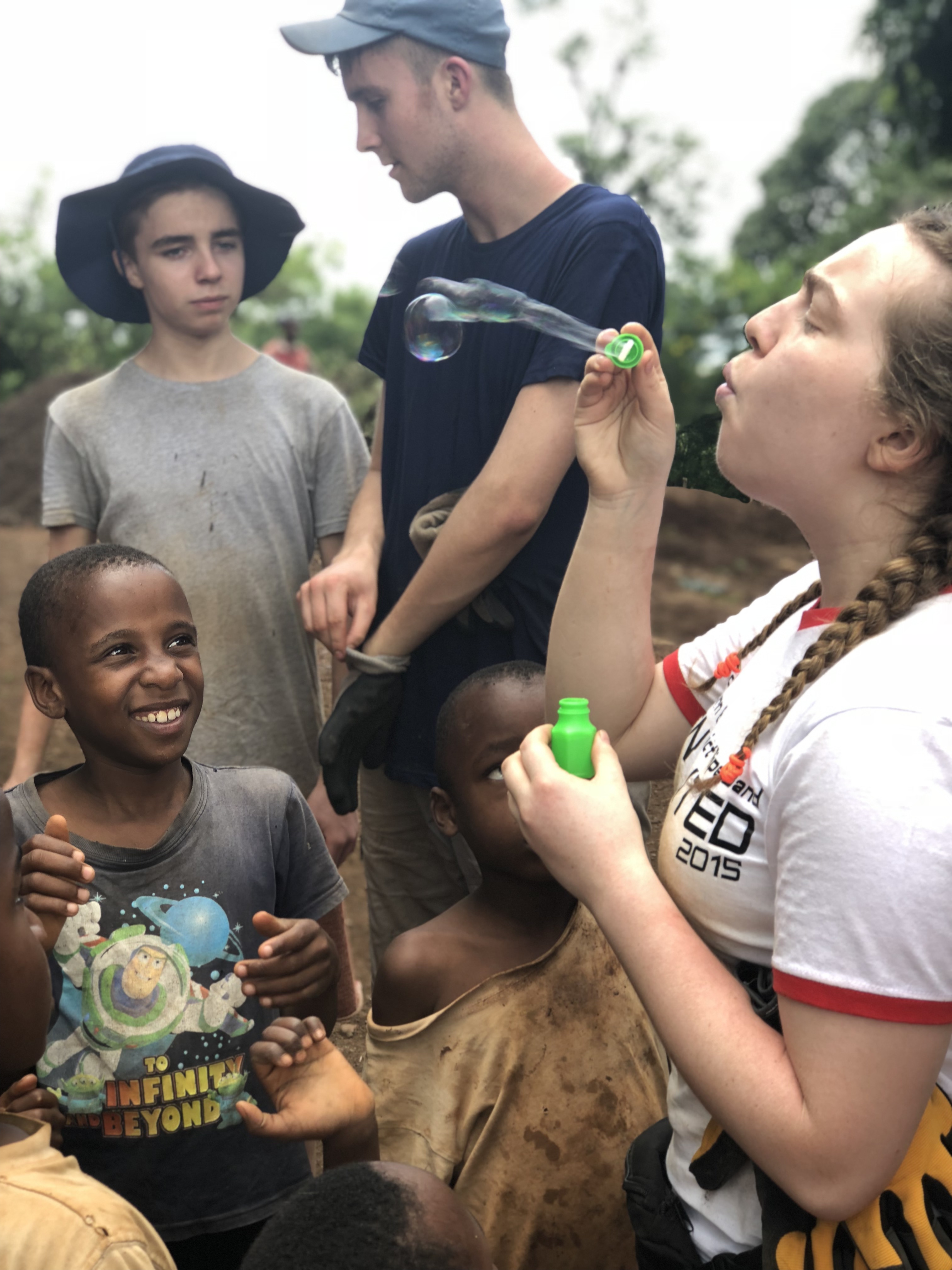 After a last-minute panic about how I was going to get my bagpipes on the plane and a few anxious moments, I was ready for the trip of a lifetime. Twenty-eight of us set off from Inverness Royal Academy at 11 pm on the start of our Tanzania adventure. Getting some sleep on the coach to Edinburgh Airport might have been a good idea but nerves, excitement and Jack's playlist put an end to that. The first flight to Amsterdam took us closer to the big plane ride to Kilimanjaro airport. Nine and a half hours gave us time to think about what lay ahead.
Arriving at Kilimanjaro Airport we were greeted by spiders, cockroaches and the biggest moth I've ever seen, straight into the hand luggage to grab the deet wipes! Slight panic from some of the boys who had decided to travel in shorts! After a lengthy wait in immigration we were greeted at the buses by the heat, humidity and Ben and Elly. Arriving at night we didn't get to see our surroundings until the next morning after a good night's sleep. We were woken around 4 am by the call to prayer, then again at 7 am by the classes at the bible college singing and finally the several alarms we had set to make sure we would get up and shower in the morning; something we soon abandoned as exhaustion made 10 more minutes in bed much more valuable, (we did shower at night!). No make-up, straighteners or hairdryer meant the look was 'au naturale' for the next 2 weeks. The showers and toilets did the job, let's say no more!
Our induction day involved getting familiar with our surroundings, Tanzania is a beautiful green country. We spent time playing with the children at Berea bible college, who became a special part of our trip, and held our first team meeting in Africa. Our second day fell on a Sunday and we were privileged to take part in morning worship before heading off to visit the families at the work sites. First, we met Mama Julita at the lower site which soon became the 'suncream' site as this had little shade; next we met Samwel and Freddie and seeing where they lived really brought home the enormity of what we were doing there but also the tasks that lay ahead as each site was just an empty piece of land. A visit to the Moshi Christian Children's Centre was the first outing for the bagpipes. If you've ever been to a pipe band contest in Scotland it's usually 10°C and howling a gale, so playing in 30+ degrees was a whole different experience.
Whilst the food Bryson cooked was good and wholesome, going out for pizza and burgers brought us a little bit of home as did the 3.5 kg of food that I had stashed in my luggage! In our room we put all the food from home together to create one massive tuckshop! I didn't realise it at the time but every time I contacted home, food seemed to feature! The heat in the bedrooms at night was incredible and that was with open windows with nets to protect from mosquitos, but tiredness kicked in and we slept.
Work Site 1 was in the hills of Kilimanjaro and being in 'Big Dave's' team, we headed there first. Although it was a trek to get to this site, I preferred working here as it was cooler but wetter. The work involved digging foundations, mixing cement and moving bricks and rocks. It wasn't easy, but the team spirit kept me going including our morning tune 'Bits and Pieces'. It really was just a case of getting stuck in and keeping in mind why you were there. Some T-shirts didn't survive the work site, but I had another 15 in my case. Worksite 2 was the place to be if you wanted a tan, it was flatter, but progress was slower because of the heat.
Most nights we had a couple of hours to ourselves back at the accommodation. We often played card games, category catch and Hallie Gallie. A couple of nights we also had Swahili lessons from Elly which were fun.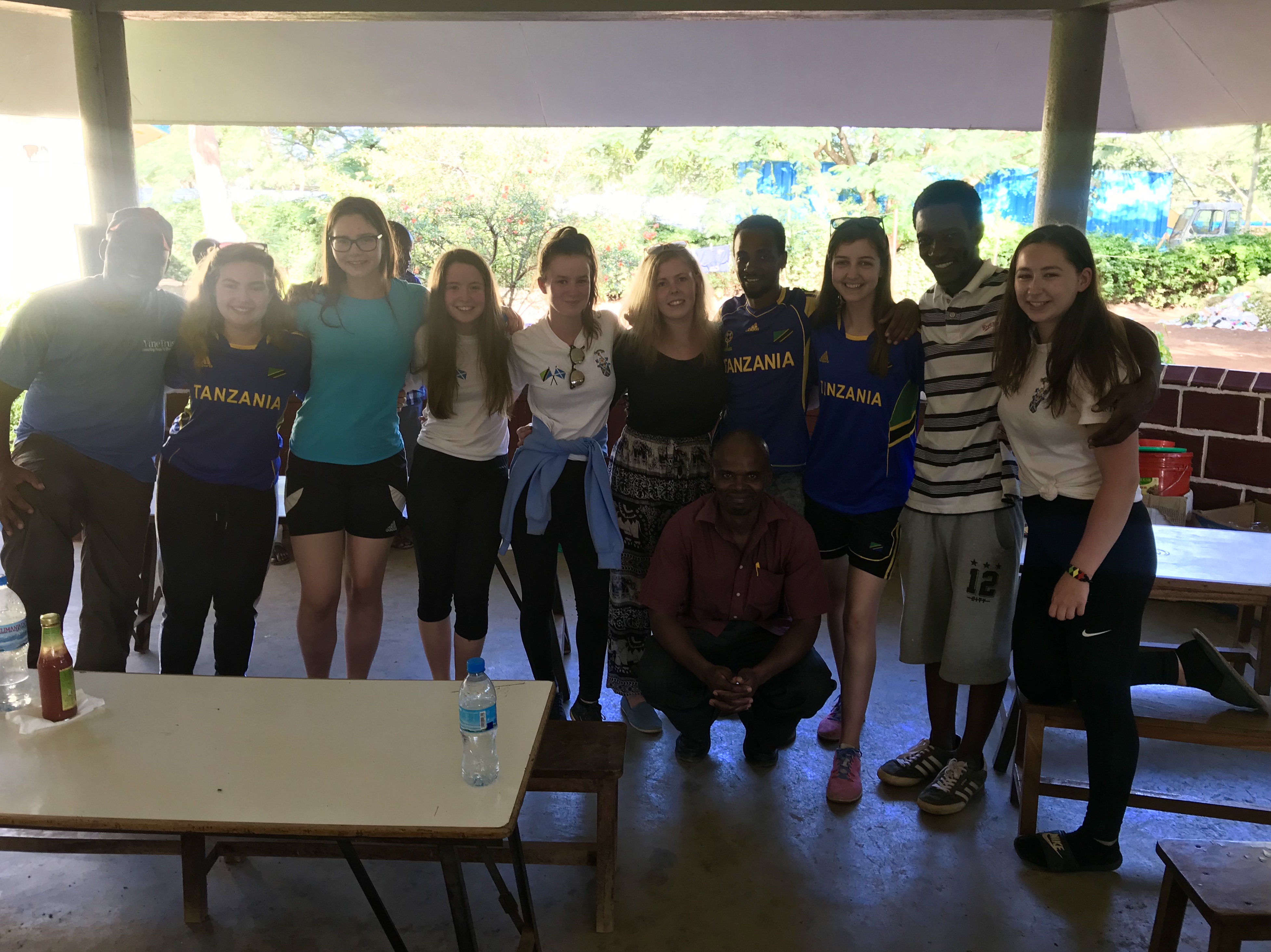 A huge part of the trip was getting to know the locals and their culture, and we had a great time getting to know the children from both the worksites and the college. The children at the worksites had so little and even small things like balloons and bubbles brought them great joy. I still feel emotional when I think of them and wonder what they are doing now and what their lives will bring. For many these children are just images on a charity advert but for us they are real. The children at the college welcomed us warmly and were a daily source of fun as they plaited our hair, ran off with our sunglasses, played football and sang songs. The goodbyes to the children were the hardest for many of us as we felt we had connected with them.
At the Kimashuku School someone had the bright idea to teach everyone to do a strip the willow with me piping. After being on the worksite in the morning, I wasn't sure I had enough puff in me, especially as this was the most frantic strip the willow I've ever seen.
Two days of our trip were spent on safari. My group were lucky to have 'Safari John' as our guide. We set off in the early hours to the Tarangire National Park, where Craig spotted our first female lion! After a fantastic day on safari and a great meal to end the day, we slept in tents at our camp site listening to the sounds of Africa. The next morning, we drove to Ngorongoro crater, where you could see for miles and miles. Over the course of the two days we saw four out of the Big Five (Lion, Leopard, Rhinoceros, African Bush Elephant and African Buffalo), and three out of the small five, the cheetahs are just too good at hiding!
A ceilidh at the hostel in Moshi created another opportunity for me to play my bagpipes. This time it was for the director of TAWREF, Dafrosa. Before I played, Dafrosa spoke about the impact we and TAWREF are making. This brought home to me that there are still many challenges this country faces, but they are hardworking and determined people. Dafrosa showed great appreciation for our group as she hugged us all warmly.
On the trip everyone supported each other as we were away from home and the work we were doing was hard going. We bonded really well, made friends, got on and supported one another. I really enjoyed getting to know all the leaders and teachers better and finding out what good fun they are out of school. There are no boundaries on a trip like this and you have to be willing to share personal information!
The day of our last visit to the worksites made us reflect on what we had achieved but was also very emotional as this signalled the end of our trip. I had the chance to play my bagpipes at both the sites and mark the occasion in true Scottish style. I'm pleased that my pipes were sounding good too as the heat doesn't make for ideal piping conditions. It was amazing to see the progress that we had made and thanks to additional fundraising, were able to give things like a gas stove that would make such a difference to their lives.
Arriving home brought tears of joy and sadness. Thankfully a local piper greeted us with his bagpipes so I didn't have to get mine out! It's such a long and challenging build up, the feeling that it's all over is overwhelming. After spending 2 weeks as part of a big group, waking up in my own room felt quite lonely. I'm sure all of us have tired out our folks with our stories and photos, but this has been a great way to remember such an amazing trip. However, it has been hard finding the motivation to get studying again as exams loom.
Now that I have settled back into normal life, I realise that being asked to make a cup of tea for my parents isn't a chore. I'm thankful I have my parents, electricity and clean running water, never mind the house, kettle and all the things that make this so easy to do.
I am keen to share my experience and keep the trip alive so look forward to telling younger students at my school about the trip. As soon as I got back I said I want to return and I know that this is something I'll try to do in the next few years. I know that my parents, although anxious at first, are happy they let me go, and I know I can cope with different challenges in the future.
I would like to say a huge thank you on behalf of the whole team to David MacLean, Murray McCheyne, Malcolm Turner, Ally Carle, Morven Neil and Karen Mason for taking time out of their lives to take all of us on this life changing expedition, and I hope you all enjoyed it as much as we did!
Katie, Chloe, Morgan, Niamh, Eilidh, Kirsty, Iona, Sophie, Anna, Nikita, Emily, Verity, Gemma, Tasha, Euan, David, Jack, Jack, Jack, Duncan, Craig