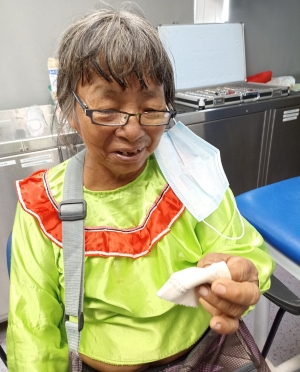 Latest News:
Amazon Hope Update
Dr Ronald Ramirez has shared some photos of patients of the Shipibo-Conibo indigenous community receiving reading glasses. Ronald reports that "they are happy to be able to obtain reading glasses for free! This changes their lives, and especially for women, as it helps them to embroider clothes, which can be for their daily use or to sell".
Find Out More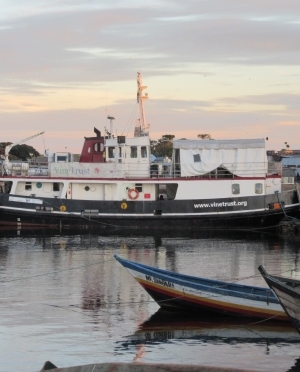 Latest News:
Jubilee Hope Celebration
The Jubilee Hope has been visiting islands in the Muleba District of the Lake Zone. During the visit, the ship was visited by the Muleba District Comissioner, Hon. Toba Nguvile, at Chakazimbwe Island, to celebrate the work that the programmes provides to the communities and the new 5-year, multi-partner agreement to continue medical services through the Jubilee Hope Medial Programme. Hongera sana to all the Jubilee Hope team!
Find Out More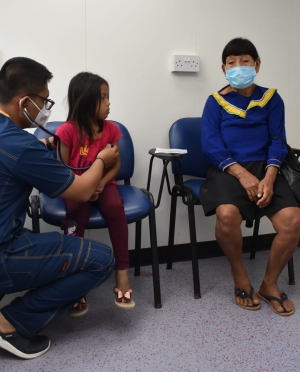 Latest News:
Amazon Hope Working with Indigenous Communities
Dr Ronald Ramirez has sent us a few photos from the first expedition of the year, which has been working with the Shipibo-Conibo and Ashaninka indigenous communities on the Ucayali River. He reports that they have been delighted to receive the ship and the medical services. As well as the core primary healthcare services, the team will also be providing vaccinations (including COVID-19) and mental health services in collaboration with…
Find Out More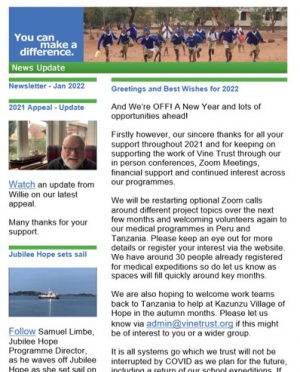 Latest News:
January 2022 Newsletter
Welcome to the January 2022 Vine Trust Newsletter. Read about the latest developments in this month's newsletter. Best Regards, The Vine Trust Team.
Find Out More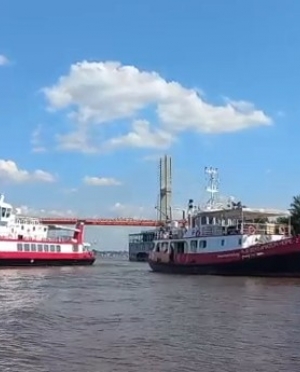 Latest News:
First Expedition of 2022!
The Forth Hope set sail yesterday afternoon from Iquitos on the first expedition of 2022! The team will be visiting communities along the upper Ucayali river for the first time on an extended expedition which will return to Iquitos on the 17th of February. The MV Amazon Hope 2 (which you can also see in the picture) is at the final stages of the installation of the new engine and…
Find Out More