Latest News:
New Edition of Connections Magazine
Our latest edition of Connections is now available online, where you can read updates on the medical programmes in Peru and Tanzania, including: * A new cooperation agreement for the Jubilee Hope Programme * The new mental health service for the communities reached by the Amazon Hope Programme * The latest news on the fish farm project at Kazunzu Village of Hope * Plans to support the COVID-19 vaccine programme…
Find Out More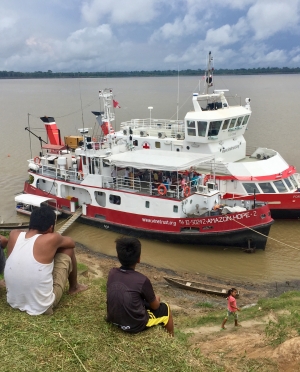 Latest News:
Help Roll Out Covid-19 Vaccines in the Amazon
Please see the following message from Vine Trust Chief Executive, Willie McPherson, about our appeal to raise funds to ensure the full deployment of both the ships in Peru in 2022 to spearhead COVID- 19 and wider vaccine distribution to isolated river communities in partnership with the Peruvian Ministry of Health in Loreto Region. To find out more or to donate to the Crowdfunder, please visit : https://bit.ly/VTAppeal2021…
Find Out More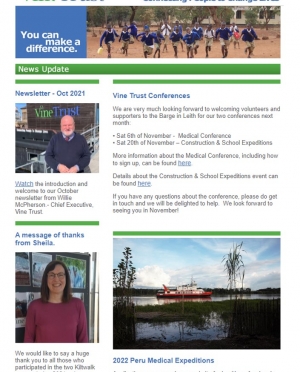 Latest News:
October 2021 Newsletter
Welcome to the October 2021 Vine Trust Newsletter. Read about the latest developments in this month's newsletter. Best Regards, The Vine Trust Team.
Find Out More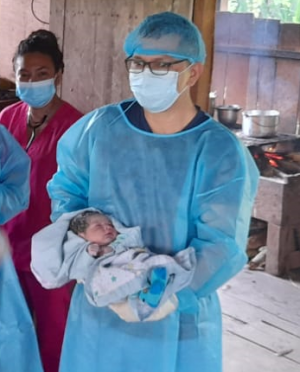 Latest News:
Amazon Hope Team Continues to Deliver
The Forth Hope set sail yesterday on its latest medical expedition but didn't have to wait long before meeting a new patient... Dr Ronald Ramirez and the Amazon Hope medical team helped with a home birth this morning. Ronald reports that both mother and baby are doing well!
Find Out More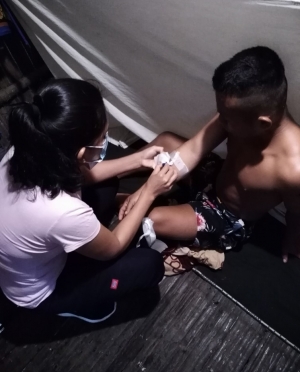 Latest News:
Amazon Hope – Bringing Care To Remote Communities
One of the key features of the Amazon Hope Programme is that it works with communities to provide services where they are most in need. It travels, often many hours, along winding Amazon tributaries, to reach riverine villages where healthcare is limited at best, and the option of travelling to a larger town is often outwith the financial reach of families. Dr Ronald Ramirez, Amazon Hope Programme's Head of Medical…
Find Out More